An Analysis of Financial Statements of Costco For the Years 1995 to 1999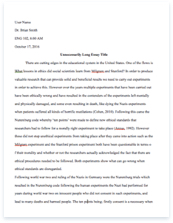 The whole doc is available only for registered users
Pages: 4
Word count: 852
Category: Costco
A limited time offer! Get a custom sample essay written according to your requirements urgent 3h delivery guaranteed
Order Now
While analyzing the financial statements of Costco for the years 1995-1999 we concluded that the years were successful in terms of revenue and earning. Due to their success the company is able to provide low prices to individuals and businesses in almost 300 locations worldwide. Since there is such a steady growth in most area Costco has been able to open 100 new stores within the last 5 years and only closed 28 in the process. Although they have had a steady increase in assets and liabilities it is essential to Costco that for the last five years the assets increase outweighs the liability increase. When we examined the asset section of the balance sheet, we found a few numbers that popped out but nothing that was too devastating in looking at Accounts Receivable, we noticed a vertical decrease of accounts receivable to assets. But then we noticed, from 1997 to 1998, Costco s Accounts Receivable account increased by 14%; this shows that Costco s ability to collect on outstanding accounts has declined slightly. Although we did notice a 63% increase in Other Current Assets account, there is no information as to what actually goes into this account. We believe this account may refer to office and store supplies; for example, company cars, desk and other things of this nature. The Merchandise Inventory account shows a fluctuation which is due to change in retail inventory accounting method. In the U.S., LIFO is primarily used where as in foreign countries FIFO is used. Therefore, if Costco had used FIFO on all merchandise inventories they would have had a increase of $16,150 for both 1997 and 1998 and a $12,150 increase for 1999. The steady increase in Land and Land Rights and Land Improvements, as well as, Building and Leaseholds accounts probably have to do with the purchasing and opening of new warehouses. Overall, total assets quadrupled from 9.7% to 40.9% within the last 5 years.
Although accounts payable has increased significantly over the years, Costco has been able to maintain a steady percentage of accounts payable to liabilities. Even though Accrued Salaries and Benefits accounts have increased 30%, we believe this is due to the hiring of employees for the new warehouses. In 1999, Costco found it necessary to open a deferred membership income liability accounts but further information is unavailable. Costco showed the ability to be able to handle Longterm debt by decreasing this account by 30%. Over the years the total liability as a percentage in comparison to the total liability and stockholders equity accounts has decreased. Costco has no premium stockholder but there has been a steady increase in common stock value. In 2001, Costco is planning the common stock 2 to 1. Since 1998, Costco has been buying common stock in hopes to obtain 5 million dollars worth by late 2001. The increase in the Foreign Currency Translation account is mainly contributed by the conversion of the peso in Costco s Mexican warehouse.
Over the last four years Costco has been showing an improvement in decreasing operating expenses , for example, in 1998 the operating expenses declined as a percent of sale from 8.69 % to 8.67% in 1999. Even though operating expenses are declining Costco s managers recognize that there is still a lot of work to be done in this area. We noticed the same trends in interest expense which is mainly a result of an increase in capitalized interest related to construction projects. Net sales increased 13% from 1998 to 1999 due to the increase in sales at existing locations, even though Costco maintained low prices. Increases in the total revue has mainly to do with the opening of the 100 new warehouses the last 5 years and the increase in membership fee for Business and Gold Star members in 1998.
Gross Profit margin has steadily increased for six consecutive years for example, 10.28% of sales in 1998 to 10.4% in 1999, due to improved purchasing, better marketing, and better control of inventory loss. Costco has been able to consistently lower prices of merchandise during the same period of time without having any negative effects. In the last 5 years Costco has experienced an increase in the merchandise inventory turnover which in combination with efficient operation and distribution help Costco to achieve a higher gross margin profit than their competitors.
While looking over the Price earning ratio we found that large companies have a problem staying below 40 whereas Costco passed this criteria with 25.0. Based on the most recent numbers, Costco s equity is three to ten times their debt. This tells that Costco is financially strong in the industry of retail. From the information we have gathered Costco is showing to be a solid company with continuing growth. We think this because, even with the opening of new stores national and internationally, Costco can still keep low prices and turn over a profit. Costco will continue to flourish through the years to come. They seem to be on top of whatever problems that they may have.
Related Topics