American Revolution: American Romanticism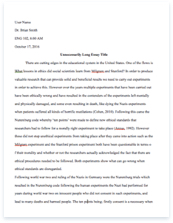 The whole doc is available only for registered users
A limited time offer! Get a custom sample essay written according to your requirements urgent 3h delivery guaranteed
Order Now
American Romanticism was a literary and artistic movement of the nineteenth century that placed a premium on fancy, imagination, emotion, nature, individuality, and exotica. It was the Romantic period in American Literature, which included writers like Washington Irving, Emerson, Thoreau, Emily Dickinson, Edgar Allan Poe, Walt Whitman, Herman Melville, and others. One characteristic of American Romanticism involves humanity's relationship to nature. Much of the writing during this period revolves around the idea that, in nature, people will have a natural desire to behave well. American Romanticism also deals with the individualism. It explores the links between one human being and another. There was little character development in writing at this time. Writers in this period saw elements of Gothicism, attaching weird or strange qualities to characters. Many of these writers were filled with a desire to search for beauty or freedom.
The part I liked the most about American Romanticism was the fact it deals with nature and imagination. The reason I say that is because nature is peaceful and calm. When you write about nature as most American Romanticism literary writers did, it catches reader's attention. For me when I have to read about nature I'm always up for it since it calms me down and I love reading about nature. I liked how they celebrated emotions and the imaginations they had into words.
There is not much to dislike about American Romanticism but there was one thing that irked me. The thing that I ostracized about American Romanticism was that the American Gothic's didn't believe in the natural goodness of people. That part they don't believe in goodness of people is just insulting. Every human in its own way has good qualities about themselves but for someone to not believe person's goodness is offending. I believe that everyone in this world has heart that cares for others and has good qualities & that why I disliked the fact they didn't believe in goodness of people.
Early Romantics
The early American romantics' writers were influenced more by literature of other regions than their own. Romanticism had first arisen in Europe in the late 18th century. Romantics looked to nature for motivation & were inspired by the beauty of nature. They also emphasized emotions and the imagination over reason & praised the individual spirit. The First American romantic writer grew up in a European tradition. This era of American Romanticisms included writers such as Washington Irving, James Fenimore & William Cullen Bryant. This era of American Romanticism influenced the era American Romanticism later on. The writers of this era were set as an example and the writers basically followed their footsteps to be successful. They also continued their legacy and writing style. William Cullen Bryant was a literary superstar, and was consider a genius at a young age. James Fenimore Cooper even called Bryant "the author of America" because he helped create a unique American literature.
Bryant left a huge mark on American literature as one of the first poet to takeover English poet. Bryant was born in 1794 in Cummington, Massachusetts. Unlike other writer Bryant started his writing career at a young age. Bryant was a writer that wrote mostly poems and that too about nature. He was the editor in chief of the "New Your Evening Post" and he maintained that spot till his death. Even though he didn't publish many writings, the once he published were just brilliant. One of his famous poems was "Thanatopsis" which was inspired by his meandering in the countryside. William Cullen Bryant wrote the poem "Thanatopsis" when he was only 18 years old. The poem is about death. In this poem he is basically saying there is no reason to fear death because you become a part of all nature. The title of the poem means "views of death" stating his view of death. He thinks humans shouldn't fear death, it's something we all must do alone, and then says that nature will be there to comfort us during and after death. He even says humans should turn to nature when they are about to die even more than normal death. I personally like this poems because Bryant's thinking is brilliant and I could relate to this poem because I believe the same.
The Fireside Poets
What are the Fireside Poets? Fireside poets were first group of American poets to rival British poets in popularity in either country. The group typically included Henry Wadsworth Longfellow, John Greenleaf Whittier, James Russell Lowell, and Oliver Wendell Holmes. They were famous for their scholarship and the strength of their lines and themes. They were called the "Fireside" Poets because people would sit next to the fire and read their poems. The fireside poets took on causes in their poetry, such as the abolition of slavery, which brought the issues to the forefront in a pleasant way. Henry Wadsworth was the leader of this group, his poems where based on American history. The other fireside poets wrote poems mostly about abolition, women's rights, improvement of the factory conditions, and temperance.
One of the best known members of this group was Henry Wadsworth Longfellow. He was born in Portland, Maine on February 27, 1807. He entered school when he was only 3 years old, and at the age of 13 he published his first poem. He entered Bowdoin College at the age of 15, where he met Nathaniel Hawthorne, his lifelong friend and literary colleague. His poems were not only understandable in their meaning, but they were also highly regular in their form. Longfellow's reputation was so great that after his death, he was honored with a plaque in poets' corner of Westminster abbey in London. Some of the work he has done that is most known is "Poems of Slavery", "Evangeline, A Tale of Acadia", "The song of Hiawatha, "A Psalm of life" and many more.
One of the well written poems by Henry Wadsworth was "A Psalm of Life". The poem was about all his thoughts and advises that he has. In the poem he shows different way to live this life and he constantly say that there is only one life and hence one should make a good use of it. He uses appropriated words in the poem that it easily attacks reader's attention. The poem provides an inspiration which is very interesting understand, it say that everyone should know how short life is and how to make is meaningful. Longfellow was young when he wrote this and that's why it attacks the young audience. The poem basically states how to live life happily without giving up t any of difficulty that can come across your way.
The Transcendentalists
A transcendentalist is a philosophical movement that developed in the mid-1800s. It was based around the idea that truth cannot be found through observation alone, and that individuals possess a sort of inner light that allows them to reach truth. Transcendentalists placed a lot of emphasis on self-reliance, self-discipline, and self-culture. The term transcendentalism came from a German philosopher. The most famous transcendentalists are Ralph Waldo Emerson, Margaret Fuller and Henry David Thoreau. The transcendental characteristics are nature, individualism, Moral Enthusiasm and literary focus. The transcendentalists believed that people are naturally good and should follow their own beliefs. Ralph Waldo Emerson was a New England writer that led this group. Emerson gave German philosopher Immanuel Kant credit for popularizing the term "transcendentalism" after all that where it came from. Ralph Waldo Emerson was the leader of this group and made the name know to other people.
He was an American essayist, lecturer, and poet; & was an overlooking figure in the 19th century literary world. Emerson was born in Boston, Massachusetts on May 25, 1803. His father died when he was only 8 but Emerson still managed to enroll at Harvard. When he graduated, he ranked 30th out of a class of 59 students. He got married two times once with Ellen; who died of tuberculosis, & the second time he married Lydia Jackson. One of the most valuable works Emerson published was "Nature" he put his ten years of study in philosophy, religion, and literature. "Nature" was one of the best published works by Emerson and the one I loved the most out of all the writing I have read by Emerson in the textbook. Emerson divides this essay into four parts; goods, beauty, language and discipline. These four parts define the ways by which humans use nature for their basic needs, their desire of delight, their communication with one another and their understanding of the world. The writing also says that every individual is capable of discovering higher truths on his or her own, though awareness. "Nature" is basically about Emerson's believes in nature and his appreciation towards nature.
American Gothic
The American gothic movement came from the reaction to the transcendentalist movement. The transcendentalist movement strongly supported the idea that everyone has both the ability and opportunity to accomplish and experience greatness. On the other hand Gothic writers believed that such ideas were too optimistic and they saw life as intimidating and tragic. So they created a new category of writing that was filled with their own beliefs of the realisms of evil and an individual self-destruction. Gothic literature was mostly about mysterious and threatening, which was filled with death and terror. They used warnings and foreshadowing in their writing. They also showed the dark side of human nature. One of the most known American Gothic was Edgar Allen Poe.
Edgar Allan Poe was born in Boston on January 19,, 1809. His parents were David and Elizabeth Poe. He was abandoned by his father as an infant and he lost his mother when he was only 3 years old. Poe was mostly known for his poems and short tales and his literary criticism. He wrote one of the best-known poems in American Literature "The Raven" & wrote masterpiece of gothic horror "The Fall of the house of Usher". He struggled his whole life; he even got kicked out of college for gambling debts. He married his Cousin, Virginia when she was only 13 years old. She died 11 years later and after her dead Poe died too just 2 years later. Although he struggled most of his life he wrote some brilliant piece of writings. Poe was considered the father of the Gothic movement.
One of the of many of his brilliant writing was a short story "The Fall of the House of Usher"; which was considered the best example of Poe's philosophy. There are two themes in this short story one is that a person must have both mental and physical characteristics of life in order to survive. The second theme is that everything is in a state of dwindling for example: in the story the house is mossy and each stone is fall off and the inside is falling apart as well. This story shows Poe's talent to create an emotional tone in his work, specially his feeling of fear, doom, and guilt. For me Poe makes his work come alive and makes known of his feeling that's the reason Poe is one of the most interesting writer American literary has ever read.
Related Topics