Advantages and Disadvantage to being A Art Director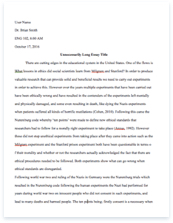 The whole doc is available only for registered users
A limited time offer! Get a custom sample essay written according to your requirements urgent 3h delivery guaranteed
Order Now
Art has been much more than just a hobby or a way of expressing ones feelings, it was long before there was any proof of a verbal language; art was a key form of communication. Artists create art to communicate ideas, thoughts, or feelings. They use a variety of methods such as painting, sculpting, or illustration. Also an assortment of medians, including oils, watercolors, acrylics, pastels, pencils, pen and ink, plaster, clay, and computers. Artists' works may be realistic, stylized, or abstract and may depict objects, people, nature, or events. Art today is the key form of the world around us, from advertisement too architecture, everything that is visually aesthetic to the human eye. Art in all its forms is the universal language. It reaches across borders and connects the world. There are some concerns about becoming an art director in today's economy (or world), but in looking at the disadvantages and advantages of this career, there is a future for the experienced multi-media artist.
The Art field ranges in a variety of medians that can allow artist to move to one area to another as the artist evolve and master their skills. The art and design career field hold many opportunities for artist who are willing to develop and master all art medians. Those artists who choose not to adventure in other art medians are limited to their career opportunities and possibly face more obstacles in the working world. According CollegeGrad.com, a leading source for career information, explains there are four categories artist fall in, "Art directors formulate design concepts and presentation approaches for visual communications media. Craft artists create or reproduce handmade objects for sale or exhibition. Fine artists, including painters, sculptors, and illustrators create original artwork, using a variety of media and techniques. Multi-media artists and animators create special effects, animation, or other visual images on film, on video, or with computers or other electronic media"(CollegGrad.com). As an artist I find myself to be well rounded in all categories so that I have as many opportunities as possible. In fact I believe the artist must evolve in to each median and method of art to become a master artist of creation.
Entering any job field out of college can be quit difficult and challenging. Out of the four categories of artist, Art Directors is my choice of focus. An art director oversees various types of visual communication media, such as packaging, books, magazines, websites and newspapers. They make final decisions regarding the layout, design and production of projects. Since there are many different aspects to designing visual media, an art director works closely with other design and advertising professionals. Some of these professionals include graphic designers, illustrators, copywriters and photographers. The end goal of an art director is to ensure that the final product is pleasing to the eye and clearly communicates a message. There are a few steps and requirements to be an Art Director according to Education-Portal.com: "…students can work for advertising, design or publishing firms by having a bachelor's degree in fine arts.
They can begin their career as an entry-level artist or designer and, after many years of experience, move into the role of art director. Fine-arts programs introduce students to multiple art disciplines, such as drawing, photography and graphic design. Aspiring art directors must know how to manage people, have strong organizational skills and be able to visualize the finished product"(EducationPortal.com). To be in any leadership position, one must gain experience or knowledge over a certain amount of time to be prepared and ready for the position, like how the president starts a lower forms of legislation and works their way up the political ladder to be qualified to run the country.
Like any career, I believe there are some disadvantages in entering a field of your choice. Through my research, artist can struggle to find a job they want or find it hard to sell their art. Those artists who do not versatile in the different media's of art, their opportunities can be limited due to keen completion in both salary jobs and freelance work. This is mainly due to the number of qualified workers/artist exceeding the number of available openings in the career field. As I stated earlier, there are some requirement to becoming an art director, and fulfilling those requirements can be difficult. You have to at least find a job and keep it competitively to sustain an income. In a Houston Chronicle article online by Megan Torrance mentions painters like me have trouble finding work and commissions, "…the BLS reports that the number of charitable donations has been declining in recent years. In spite of this, interest in the occupation has remained steady and led to a larger pool of qualified candidate… the BLS projects the market will remain competitive from 2010 to 2020" (Chron.com). The artist occupying the art and design field is increasing while the number of jobs openings is staying at a steady rate. This is why it is important to be versatile in multimedia of art, so that you have more opportunities at different jobs in the art field. To be an art director you pretty much have to be versatile in the different media's and have a few different positions under your belt to qualify for the position.
Another disadvantage to be aware about is the inconsistent income or steady work, since there is a competitive field. Due to the number of positions being offered is less than the qualified applicants, most artist work freelance or are self-employed. Those artists that are self-employed can also find themselves with a second or part time job. In a recent article in The Guardian, a national British newspaper, the author Emily Browne states, " A study by the Arts Council finds that 41% of creative workers are self-employed. Temporary work contracts can make for an interesting and varied career, though periods of unemployment between jobs are a reality for some artists…some artists supplement their income with a second job. Doing so gives them financial security while they exercise their creative passions" (TheGuardian.com). As you can see majority of artist self employ, when salary jobs are not available or pick up a second job because there art is not financially supporting them. Even though the majority of art directors are self-employed, they must still collaborate with designers or other staff on visual effects or marketing teams. The inconsistency work can be can lead to a failing art career.
As there are disadvantages there are also plenty of advantages in entering an art career. For art directors, an advantage is the pay, which are paid the most in the art career field. According to the Bureau of Labor Statistics, art directors have a median annual pay of $80,000 and some can even make up to $160,000. "The median annual wage for art directors was $80,880 in May 2012…and the top 10 percent earned more than $162,800" (BLS). The median pay for all occupations is $34,000, which is significantly lower than the pay for art directors. The pay is not the only advantage to having a visual art career, but also the variety of work and opportunities available. As a stated earlier, artist who practice other medias of art are more likely to have more opportunities to work. Stated in a online art information resource site, ArtCareersInfo.com, "Another benefit to an art career is the variety. Art is not just limited to drawing and painting… Art is used and needed in a variety of fields, including graphic design, desktop publishing, marketing, advertising, and video game development. Many artists dabble in several areas of art to maximize their skills and earnings"(ArtCareersInfo.com). Having a diverse set of media skills opens dozens of job opportunities and extra sources of income. The opportunity to grow presents itself when you are able to work in different media's of art, like an art director must do.
During my process of researching, I decided to interview my grandfather L.T. Temple Sr. who is the Store Manager at A&E Graphics Complex for the past 27 years. L.T. facilitates and coordinates jobs through the stores in Texas and through out the Thomas Companies of stores through out the United States. He deals with customers and employees to make sure that all goes well. He also works directly with Department Managers. My Grandfathers job is very closely related to an art director's role. I asked L.T. what he thought would be an advantage of todays art career field, and he stated, " Job opportunities are growing especially as an graphic designer, it is a relatively easy field in which to start, since almost all companies need something designed for their business and your will likely make decent money because there is high demand for these skills" (Lavern Temple).
As the technology grows and moves to the more digital age, the need for visual artist will increase. According to the Bureau of Labor Statistics, specifically for art directors, " Employment of art directors is projected to grow 3 percent from 2012 to 2022, slower than the average for all occupations. Art directors will continue to be needed to oversee the work of graphic designers, illustrators, photographers, and others who design artwork and layouts " (BLS). The need to visually produce a design for human interface is the always needed as well as the need to create, and it is the mind of the artist/designer that can do this.
Ultimately artists have the power to decide if they succeed in their career if they are passionately creative in their work. Entering any career field there is bound to be so disadvantages as well as advantages. Yes there may be heavy completion in the art field, yet there are many opportunities for jobs if you can work in multiple medias. To become an art director, one must evolve as an artist, becoming knowledgeable and skillful in the various medias of art. To grow in the field the artist must experience different positions to elevate to the next level in the field. Turn your love of art into your work, and everything will be an advantage.
Work Cited
"Advantages of Art Careers." ArtCareerInfo.com. GEIS, 18 Apr. 2014. Web. 7 Oct. 2014
Browne, Emily. "10 Things about Being an Artist That Art Teachers Don't Tell You." TheGuardian.com. The Guardian Website, 21 Feb. 2013. Web. 5 Oct. 2014.
Bureau of Labor Statistics, U.S. Department of Labor, Occupational Outlook Handbook, 2014-15 Edition, Art Directors, on the Internet at 7 Oct. 2014
"Careers for Art Majors: Options and Requirements." Education Portal.com. Adrian Ridn& Ben Wilson, 2014. Web. 3 Oct. 2014.
Krueger, Brian. "Career Information." CollegeGrad.com – Entry Level Jobs and Internships for College Students, Job Search for Grads, Jobs for Graduates, CollegeGrad.com. Bureau of Labor Satistics, 2014. Web. < https://collegegrad.com/careers/proft21> 6 0ct. 2014
Temple, Lavern, Sr. Telephone interview. 8 Oct. 2014.
Torrance, Megan. "The Disadvantages of Artists." Chron.com. Demand Media, 2014. Web. . 5 Oct. 2014
Related Topics