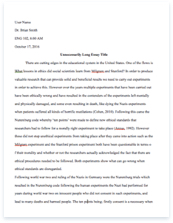 The whole doc is available only for registered users
A limited time offer! Get a custom sample essay written according to your requirements urgent 3h delivery guaranteed
Order Now
1. What are the potential ethical issues faced by acme corporation? The biggest ethical issue is that ACME is taking care of one of their biggest client needs to go to the adult entertainment club. If media finds out about Acme Corp is paying for clients to go to places like this, they are going to think that Acme Corp is bribing their clients to stay with them.
2. What should Acme do if there is a desire to make ethics a part of its core organizational values? Acme should not take care of clients who need to go to adult entertainment club. Acme Corp is facing potential issue that could hurt company very badly. If this gets out in media it could be very hurt full for Acme corp. I think Acme Corp should just let this one slide and stay a side to keep Company's reputation.
3. Identify the ethical issues of which frank needs to be aware. If Frank takes care of his client he needs to understand what consequences can fall on him. If frank decides to not take care of the client with adult entertainment club he needs to understand that client might not be happy about it.
4. Discuss the advantages and disadvantages of each decision that Frank could make.
Alternative one: Frank decides not to take care of client with adult entertainment club.
Advantages: consumers will be happy
Disadvantages: There is a risk of losing one of their biggest clients.
Alternative two: frank decides to take care of the client with adult entertainment club. Advantages: In this case frank is not risking getting in trouble with law or media and keeping their reputation. Disadvantages: if it gets out Acme Corp could be in trouble for bribing their clients.
Related Topics