Achieving the Goals I Have Set for Myself in My Lifetime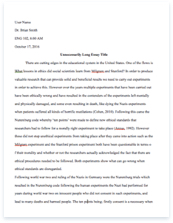 The whole doc is available only for registered users
A limited time offer! Get a custom sample essay written according to your requirements urgent 3h delivery guaranteed
Order Now
Throughout my life I have faced trials and tribulations that most have not had the displeasure of going through. Times were uncomfortable, but through focused meditation on my life, seeking to better myself through Job Corps, as well as planning my career for what lies ahead of me, after graduation from this program. It has put me in a more enthusiastic, focused mind state. These experiences helped shape my outlook on life, but the more and more time I have spent laying the foundation of my future the more eager I am to achieve the goals I have set for myself in my lifetime.
Andre Wilson was born on May 16th, 1998. We were constantly staying on the road, even at a young age. As a kid growing up, there were no golden spoons, there were only white spoons. Where some individuals growing up were blessed with abundant resources, we had to work towards everything we got in life. It took turning your back on people in front of you and people close to you in order to survive. We did not have any income to spare and food was not always on the table like some are so accustomed to. Times were rough, the struggle to make ends meet was at its most critical point. There has been moments that you would wish it can be easy, but it has never been stress-free in this environment. No idea of where to begin, no immediate help in sight and no one in your corner when times were the roughest. June through September, from the crumbs to the loaf of the bread, things began to get more and more coordinated as thoughts like a statue from a museum encompassed with pictures on a slideshow of shaded doubt.
I found out about Job Corps through a relative who had completed the government-funded program and told me of all the benefits surrounding the institution, and how I could help develop not only a foundation for a career but build character as well. They felt it would be a good opportunity to encourage my work ethics and enhance my dynamic personality which came from a life of humility and diligence. Job Corps is a great opportunity for young adults to build character through leadership techniques. I have found comfort through the staff and counselors who have assisted in guiding me on this journey of self-exploration and expressing my unique personality. Job Corps builds character and has helped me lay the foundation for a lifetime of hard work, independency and motivation. During my Job Corps experience, I aim to not only achieve my high school diploma from Penn Foster, but attain a trade to help build the foundation for a career when I graduate. My intention at Job Corps is to dispel the opposition and accomplish these seemingly daunting tasks that appear impossible for young, black adolescents such as myself.
What keeps me motivated to complete this great opportunity in its entirety is to see the joy on my parents face as I attain my goals and become the man they always knew I would become. After completion, I aim to become one of the best computer technicians in the United States to have ever graduated from Earle C. Clements Job Corps. Because of the self-discipline, time management and awareness skills this center has provided me, I will be more able to survive on my own than before I entered the program. Overall, I am highly grateful for the opportunity to be able to learn about myself as well as develop beneficial characteristics pertaining to that of a successful adult throughout this eye-opening experience.
My life has been filled with plights that most have not had the misfortune of enduring, but through it all I have gained insight on things most are unaware of. Though these situations were not ideal it did not stop me from finding a way to evolve mentally and physically, achieve an education and foundation for a career through Job Corps, as well as look forward to what the future has in store instead of feeling trapped in a never-ending cycle. This experience at Job Corps was a one in a million opportunity that most are unaware of to completely change the direction of one's life and develop into the individual we are all meant to become. Thanks to this program when I think of the future the possibilities are now endless.
Related Topics