About The Future of America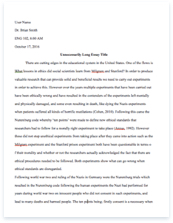 The whole doc is available only for registered users
A limited time offer! Get a custom sample essay written according to your requirements urgent 3h delivery guaranteed
Order Now
America has always been a nation in flux, but perhaps has never witnessed the volume of notable shifts it is positioned to experience between now and the coming 50 to 100 or 500 years. About one decade ago, the concept of digital currencies, fully electric and driverless cars, and deep sea mining appeared more of science fiction. However, with the recent rapid pace of technological and social change, the concepts are no longer impossible and Bitcoin is already trading at outlandish levels in the United States (Singh). Besides, millennials are often described as the "digital natives", particularly being the very first generation to grow up in the world of the Internet. Even though the primary mode of communication among the millennials is social networking, the Internet will aid the performance of many roles in the coming years (Singh). What is evident is that a revolution is underway, and America will look entirely different in the coming years. Even though some individuals often argue that American society has already realized its full potential, many trends in technology and healthcare will be fully embedded in the way of life.
As a principal concept today, technology will continue to drive change in America, way into the future. The impact of technology as a driver of societal change is already evidenced by the current modes of communication and convergence. In the Forbes Magazine, Singh elucidates that there will be over 5 billion users of the Internet across the world by the year 2020, and this connectivity will be most pronounced in America. In the coming 50 years, technology will have spread to the daily lives of all Americans, largely converging home, work, and the environment into a seamless experience. Similarly, a range of technologies will extend to the business world, making employers to create market opportunities for entirely new services and products or assume new models of operation (Talty). The prospect for increased automation of jobs will gather momentum, and dangerous jobs would be overtaken by machines in the future. However, increased automation in the future will account for the loss of thousands of jobs, causing a significant rise in the rate of unemployment (Talty). In turn, universal basic incomes will be synonymous with the America society as both federal and state governments strive to meet the needs of jobless citizens.
In addition, technology will account for a number of innovations largely aimed at decreasing emissions. The energy sector will converge with other industries to develop environmentally friendly and efficient solutions (Singh). Notable trends in this area could comprise the elimination of fossil fuels, increased reliance on hydroelectric and wind energy, and space-based solar power satellites that remit electricity to the earth. Americans will own cars with zero accidents, zero emissions, and zero fatalities (Singh). Simply put, environmental pollution would be something of the past as all American cities and citizens strive to be carbon-neutral. Just like Copenhagen wants to be the first carbon neutral city in the world, Americans cities and homesteads will embed environmental protection in their routine operation. As Singh correctly put it "Smart products will be everywhere in the United States – from smart watches, phones, and clothing to smart cities and buildings.
With the advancements in technology, policing and criminal justice in America will also undergo major changes. In fact, predictive policing will be a reality in 50 to 100 years to come. While there is nothing new with authorities gathering and making use of intelligence information, predictive policing will take the entire security apparatus by storm (Talty). It would be possible to identify groups or people who might commit crimes before they even have the actual intention to do so. Even though some police forces in America are already experimenting with predictive policing, this strategy will gather dominance and Americans would be able to live in a crime-free society. In five to ten decades to come authorities would be able to combine artificial intelligence and information regarding past crimes, to identify the location and possibility of crime before it occurs.
Aside from technology, developments in medicine will guide the progress of the United States into the future. Within 50 to 100 years, living to over 100 years while still enjoying a healthy and active life will be the norm (Singh). With regular injections, seniors over the age of 100 years will be as vigorous as the today's 60-year-olds. While organ transplant is currently considered a risky procedure and is marked by shortages of the organs themselves, diseased and injured organs would in future be repaired in the same manner as fixing a car (Talty). To offset the issue of shortages, human organs could be grown inside animal bodies from human cells. However, with the current growing healthcare costs in America, the focus will shift to mass diagnoses and prevention and to wellness aspects of the soul, body, and mind. Medical innovations in artificial intelligence will work to keep people healthy. For instance, sensors installed in the home could continually test a person's breath for early cancer signs and nanobots could be made to swim through the bloodstream while dissolving blood clots before they can lead to heart attack or stroke and also consuming the plaque in the brain (Talty). In turn, Americans will develop resilience to disease and hospitalization could be a rare experience.
Overall, American society has an exciting and fascinating future. What makes the coming 50 to 100 years or even 500 years from now different is that the rate of technological advances would be unlike anything seen before. The technological progress within American society will take people by surprise, regardless of how much they prepare. Automation will largely replace the need for human labor, while employees will work from the comfort of their homes. Nonetheless, emerging innovations in technology and medicine will solve many issues that currently affect society, including global warming, diseases, and accidents.
Related Topics