About Some Short Stories of American Writers Franz Kafka and Edgar Allan Poe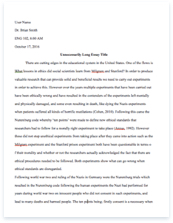 The whole doc is available only for registered users
A limited time offer! Get a custom sample essay written according to your requirements urgent 3h delivery guaranteed
Order Now
Metamorphosis, written by Franz Kafka, is a story about a man's unexpected transformation into a bug and the spiritual and physical encounters that come with that transformation. Kafka was born into an upper-middle-class family in Prague, in 1883. ( His family was Jewish and while he did attend synagogue a few times a year with his father, he did not enjoy the routine of going. Kafka appreciated Jewish culture, however, he did not feel worthy of identifying himself as one. Kafka was very isolated growing up, as he lost his brothers while he was young and had a very strained relationship with his family, especially his father. His strained relationship with his father stemmed from his passion for writing plays for his sisters and reading. Their strained relationship continued throughout Kafka's life, becoming the main cause of his isolation. His isolation was seen by many and affected the overall tone of his writing. Kafka's isolation was incorporated in many of his works, his most famous being Metamorphosis.
The term "Metamorphosis" describes a change that one goes through, whether it is mental, physical, or spiritual. These changes are seen throughout Metamorphosis when the main character Gregor wakes up one morning and is transformed into a bug. Gregor's transformation gives readers insight on how Kafka viewed himself and his family, specifically his father. "With a hostile expression, his father clenched his fist, as if to drive Gregor back into his room" ( Kafka, ). Mr. Samsa's relationship with Gregor gives readers a glimpse of how constrained Kafka's relationship with his father was and how isolated it made him feel. Gregor's transformation began with extreme physical changes that later affected his spirituality and emotional state of mind. This transformation not only caused separation between him and his family but caused an overwhelming conflict between his sense of self and humanity. "I cannot make you understand. I cannot make anyone understand what is happening inside me. I cannot even explain it to myself " (Kafka, ). Overall, Gregor's transformation causes him to lack human connection as well as spiritual growth causing him to feel isolated and unconnected from the world.
Edgar Allan Poe was born on January 19, 1809, in Boston, Massachusetts. He was an American writer, poet, and critic. He is best known for his tales and poems of mystery and horror. Along with Kafka, Poe was also very isolated. He grew up not having a relationship with his parents, as his dad abandoned him and his mom died from tuberculosis when he was three. When Separated by his family, Poe went to go live with successful tobacco merchant John Allan and his wife in Virginia. Poe also had a straining relationship with John, as he considered him very greedy and abusive. By the age of 13, Poe was a very productive poet. However, all of his literary talents were discouraged and unnoticed by John, causing Poe to feel detached from what he loved most. In 1827, Poe and Allan made peace with each other and Allan helped Poe get into West Point. Although Poe excelled with his work, he later got kicked out due to unprofessionally handling his duties. Poe was baptized when he was three years old by the Episcopal church. He attended church during his youth and occasionally throughout adulthood. Although Poe does not consider himself apart of a specific religious background, his religious beliefs are still acknowledged in many of his poems and short stories as he often alludes to messages from the bible.
Edgar Allen Poe's "The Tell-Tale Heart", is a short story centering around an unnamed narrator who insists on his proving his sanity. He begins by explaining his plan in killing an old man who had eyes like a vulture. The narrator then successfully murders the old man and places his dead body under the floorboards, still being able to hear the heartbeat. This story consists of many dark and gothic elements as it involves the use of blood, body parts, death, and horror. The overall tone of the story is very unhappy, portraying Poes traumatic past with his foster family. This particular short story gives readers a further look into Poes life, as his childhood was filled with many deaths and losses causing him intense grief and isolation. Poe's exposure to these tragic events made an impact on his style of storytelling and the variety of dark elements he chose to incorporate throughout the story. Overall, In "The Tell-Tale Heart" we
Related Topics