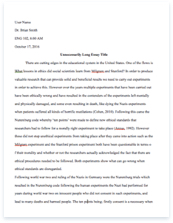 The whole doc is available only for registered users
Pages: 5
Word count: 1217
Category: Macbeth
A limited time offer! Get a custom sample essay written according to your requirements urgent 3h delivery guaranteed
Order Now
I am very sorry for my unexpected absence. Not to worry, hopefully I'll be back on Monday ready to see your work. As you know, Act two, Scene 2, is a really important part of this play. I hope you can portray this with that importance. I have left clear directorial notes for you to follow which should make it easier for you.
Macbeth: Before Act 2, Scene 2, we see that Macbeth is having doubts whether to kill the King Duncan. We learn that he was unblemished and he was a noble warrior. At the beginning of the play we see a different side to Macbeth. We know that he is strong, brave and is a loyal warrior. He is very patriotic and fights for his country. But, when he meets the three witches and they give him the prophecy, we see a darker side to him. We see that he can be brave and loyal but he can also be tyrannical. When the plot is put together, Macbeth starts to show his anxiousness and his feelings start to rot away. Just before the murder, Macbeth hallucinate a dagger, this portrays how his mind is oppressed and how he has turned sick.
He quotes "Or art thou but a dagger from the mind, a false creation, proceeding from the heat oppressed mind". This is an important part of the play because it is before the murder has taken place. It must be portrayed in such a way; the audience feel what Macbeth is quoting. It is important the audience feel Macbeth's pain, regret and hatred. These three emotions are important because they are vital in portraying Macbeth in the right way.
His wife, Lady Macbeth, is a very clever and decisive yet also ambitious woman. This part of her is portrayed when Macbeth sends her a letter telling her of the victory, the prophecy given from the witches. Part of it which reads "What thou art promised; yet I do fear thy nature. It is too full of the milk of human kindness to catch the nearest way." she has already made plans to kill the King. This shows her decisiveness, cleverness and ambitions.
The relationship between the two is a strong and a dominant one. She is the one 'pulling the strings.' She is manipulative and from the time she got the letter and after she read it, she puts the idea in her head to murder the King Duncan. Lady Macbeth tells Macbeth that he is a coward when he is at his weakest and is having doubts. Her authority and superiority is shown and begins to grow in their relationship. She uses strong words to get to him and this also shows how manipulative and clever she can be.
The actress, who is playing Lady Macbeth, must know that she is the total opposite of the women in Shakespeare's time; she must also assert her dominant status. She must portray when filming that she has a lot of control over Macbeth.
The women during Shakespeare's time were quiet and looked after the children and the house while the husbands were out fighting for their country. Sometimes they would have to safeguard the castles because they would probably be under attack from the opposition. They wouldn't think of putting treason into the minds of their husbands. They would despise it, not encourage it.
Lady Macbeth's character must be portrayed as if there are two different people altogether. The actress must be persuasive, evil and scheming yet also have a soft side which we see in lines 12-13 in Act 2, Scene2.
She says "Had he not resembled my father as he slept, I'd have done it." This line tells/shows the audience that the 'gods' hadn't ridden her of her conscience and she is still human. It reflects her as a person. She's two-faced, evil and has two sides to her.
The other side of her is shown when the Scots have won the battle against the Norwegians and Macbeth is given the title of the Thane of Cawdor. In Act 1, Scene 5, she shows this side when she says "the raven himself is hoarse, that croaks the fatal entrance of Duncan under my battlements.
This shows that even though he is the king and she is his hostess, she doubts his authority as a king and reveals her intentions and her hatred towards him. She shows this even though she's the one who will be amusing him and will fulfil his wishes and his commands.
This emphasizes on the fact that Lady Macbeth is a very ambitious woman and no one can stop her getting what she wants, not even her husband. Please make sure capture the emotion and intensity of her ambitions. You need to make sure the audience feel the pressure lady Macbeth is going through to fulfil her ambitions of her being queen.
Macbeth: You are a regretful person who has just killed the King, a man you respected and looked up to until you murdered him because of the ideas put in your mind by your wife. You must show that you are distraught with your facial expressions and your body language. You could sit in a corner and cry or just look regretful. After the murder, your sanity is slowly starting to rot away.
Some examples of this regret can be in Act 2, Scene 2, line 23 'This is a sorry sight.' This is your first sign of regret. I think this line should be said slowly and you should hang your head low and this. This will help you understand your character and put you in your mental state and show your remorse. In lines 34-36 'But wherefore could I not pronounce 'Amen'? I had most need of blessing and amen stuck in my throat. During these lines your mental state is weak and fragile. You are also full of guilt and I want you to speak in a soft voice but as if you have something stuck in your throat stopping you from speaking loudly.
Lady Macbeth: In this scene she shows her dominance over Macbeth at her highest point and being heartless is one of many of her characteristics. In this scene in particular this is shown when in Polanski's production of Macbeth. The reason for this is he stays true to the story and the whole setting of it seems believable. If I was to update the killing of King Duncan, then I would have to put in perspective the forensics, the DNA and everything. It would be a lot easier to keep the killing in the Polanski style rather than in the context of the Penny Woolcock production which was called 'Macbeth on the estate.'
I thought that the Penny Woolcock production was not really suitable because it was a gang from the 20th century speaking Shakespearean language which seems rather pointless. The whole cast will be wearing medieval clothes and so on. I think it will make the production more realistic and more believable.
Once again, I'm really sorry for my absence and I'll be back on Monday ready to see your work.
Related Topics