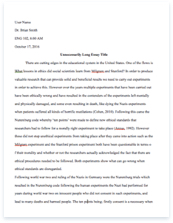 The whole doc is available only for registered users
A limited time offer! Get a custom sample essay written according to your requirements urgent 3h delivery guaranteed
Order Now
The first thing that comes to mind when thinking of a family dinner is unity as family members gather together to share a meal and their day's events. In the spacious kitchen, while Mom prepares dinner, she listens to her children chatting and laughing as they do their homework at the large mahogany table by the picture window that faces the bucolic back yard. They wait anxiously for their father to return home from work so they can eat their mother's savory dinner. This reminds Mom of herself as a blooming child sitting at the kitchen table smelling all her mother's delectable food and anxiously waiting her father's arrival while chatting and laughing with her siblings.
The kitchen has the essence of a gourmet restaurant at the height of the dinner hour. Aromas are sprinkling the air and tickling the noses of everyone it touches. It brings a sense of warmth and safety that envelops each child as if it were a blanket on a snowy day. The sound of sizzling meat and steaming bright colored vegetables pulls them in as if they were dogs being called by their master. The tantalizing aroma and sounds entrances the children's father as he greets Mom in the kitchen who is by now dancing to some funny song on the radio. The children are so excited to see him. They begin to bounce up and down like bunny rabbits yelling, "Dad is home! It is time to eat!" Their words ring like a bell in the Mom's memory bank. She remembers reciting the same phrases when her father finally came home. She was so excited not only to eat her mother's delicious meal but to also share with her father her day's events.
Finally, the family sits at the table together to enjoy the deliciously prepared meal and talk about the events of their day. The children rattle off with such exuberance and enthusiasm all the horrendous and exciting stuff they did at school that day with their hands flying every which way as they speak. Their description of the mean old math teacher with his crooked eyeglasses, untamed hair and specks of food in his yellow stained teeth reminds Mom of all the stuff she told her parents at the dinner table. What a breathtaking memory for her to remember the abundance of togetherness at each night's dinner table when she was a child. She is touched that her family dinners today are the same.
Related Topics