A comparative essay on "Frankenstein" and "Jane Eyre"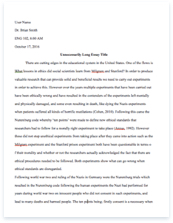 The whole doc is available only for registered users
A limited time offer! Get a custom sample essay written according to your requirements urgent 3h delivery guaranteed
Order Now
The following is a critical essay of Mary Shelley's "Frankenstein" and Charlotte Bronte's "Jane Eyre" using Romanticism as a basis. I decided that I would pick those aspects of romanticism that I found most prevalent and interesting in the texts. After reading these stories, I realized that there were many ideas relating to Romanticism in the texts, some of them being variations of its definition; yet, they relate nonetheless.
Nature is a common theme in Romanticism. There is often an increasing interest or fascination with nature. This is shown in Jane Eyre, when Jane is fascinated with the moon. Nature can also be used to reflect the moods of the characters. It is used most frequently in the following two ways: as a powerful entity to convey some idea to one of the main characters, and as the counter force opposing the corrupting force of society. For example, the moon may convey ideas of comfort, a soothing force against the anger established by society. Lightening, on the other hand, may serve as a warning, keeping the character on his proper path to enlightenment.
In these two texts, nature shows its power many times to the main characters of Jane Eyre, Rochester, Victor Frankenstein, and the Monster. These characters both use nature as their one reference point, the one thing that will not change and will not turn against them. In these texts, nature is constantly refereed by feminine terms. This further supports the romanticism theory; in that, men are portrayed as the rough side of society, while women are portrayed as polished and refined side. The masculine society corrupts, while the feminine nature perfects.
In Frankenstein, Victor's main reason for creating the Monster was the death of Caroline Beaufort, his mother. Before his mother's death, nature I referred female when Victor comments on Isaac Newton's studies by saying that he "partially unveiled the face of nature, but her immortal lineaments were still a wonder and a mystery"(Shelley), referring to nature as "her".
After her mother's death Victor looks toward the maternal nature when he realizes that there is something missing, which he looks toward nature to replace. Victor then plans to bring life to something "where death has devoted the body to corruption", which shows his longing for his mother and his want to bring her back to life. Victor then begins his attempt to recreate life from death. At this point, nature is again described as being female when Victor says, "the moon gazed on my midnight labors, while, with unrelaxed and breathless eagerness, I pursued nature to her hiding places."(Shelley) Victor then decides to focus his whole life on creating life from death. He succeeds, however, his creation frightens him and he uses sleep as an escape from it. Then he dreams of his cousin Elizabeth, where the powers of nature prevail again when Elizabeth turns into his dead mother's corpse and worms cover her body. This reminds Victor that he cannot control nature's powers. Once again these worms are symbolizing the ultimate power of nature.
When the monster wakes up alone and miserable, the only thing that the Monster can see is the light of the moon, which gives him comfort. Nature has become the good force, calming the untamed beast. Therefore in the Monster's first hours, nature is the only nurturing thing around him, also showing the feminine qualities of a mother. For example, the river quenches his thirst and the trees give him shade. Nature is "taking care" of the monster; while society has already started rejecting it, because of its variation of the norm. When people see him in the light, they are frightened by him so they reject him. This causes the monster to go on a rampage. This also shows another idea of romanticism, in which society is the corruptive force, while things are naturally good and become corrupted by society. The monster varies from the "norm" and is rejected for this.
The following events show Frankenstein's punishment for going against nature. When Victor refuses to give the Monster a partner, his whole family is murdered. And a final act of power, for nature to regain her throne, Victor dies in the end because he still has the knowledge to play God. Shelley is now showing the absolute, unquestionable power of nature, a power that no human can properly understand.
In Jane Eyre, Rochester doesn't realize that Jane is an independent person and therefore tries to minimize her relationship and interactions with nature. Rochester is the corrupting force, while nature is trying to break his stranglehold on Jane. Bronte, as with Shelley, also uses nature to prevent Rochester from doing that. Just like the Monster, Jane Eyre represents the feminine side that refuses to be redefined by the masculine side.
During Jane's childhood, she is guided by the moon; it appears again when she meets Edward Rochester. Bronte shows that the moon is a comfort to Jane. When Rochester tells Jane that she should not be out so late, Jane replies that she is not afraid of being out so late when it is moonlight. This shows that Jane feels that the moon, or nature, is watching over to keep her from harm.
On the night of Rochester's proposal the moon, out in full force, is again watching over Jane. Then nature makes it obvious that she wants Jane away from Rochester. When Jane accepts Rochester's proposal lightening crashes and the next morning they realize that the tree had split right down the middle. Nature also is warning to Rochester; it tells him that if he goes through with this marriage while keeping his wife they will split up just like the tree they were standing under. This is also an example of symbolism.
After Rochester is punished greatly by another element, fire, Jane comes back to him. Now is her time for power, she is the independent one while Rochester is dependant on her for basic needs of survival. She gets him food, she quenches his thirst with water, and she keeps him warm by making a better fire, which he cannot even see due to his blindness. This challenges masculinity.
As you can tell, romanticism frequently puts "Mother Nature" in her maternal position over the main characters by giving advice and blocking wrongdoing, but nature will never directly get involved. Romanticism, with its vastness and vague boundaries, is often difficult to discern. It is, however, in virtually every book we read. Today it is recognized as symbolism. It still withholds its connotations towards nature, its corruption by society, and its guiding hand of nature. Perhaps romanticism could teach us all several life lessons as it did the characters in the preceding texts. Never try to control nature, because right when you feel that you have won the fight, nature starts her revenge.
Related Topics