The Social Identity Human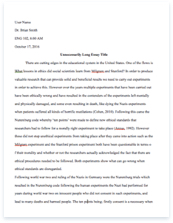 The whole doc is available only for registered users
A limited time offer! Get a custom sample essay written according to your requirements urgent 3h delivery guaranteed
Order Now
Refers to that sense that a person gets to know who he/she is basing on their group membership. It can be termed as the self-concept that an individual derives from one's perception of being a member of a relevant social group. As an individual, I am part of social identities including ableism, classism, racism, religious discrimination and sexism. Ableism is a social identity synonymous with other terms like disablism, ablism, anapirism, disability discrimination or anapirophobia. This social identity is a social prejudice that people commit against people with disabilities. In ableism, people are characterized by their disabilities and are seen as being inferior to the non-disabled people. This leads to such group of people being assigned certain character orientations or perceived to have limited abilities. It is still a dominant practice in the society. Classism is the other social identity, commonly referred to as class discrimination. It involves the prejudice against a person or a group of people basing on their social class.
This is still dominant in the current society. It is carried in such a manner that attitudes, behaviours policies, as well as practices of individuals, are set up to specifically benefit the upper class in the society with the disadvantage of the lower class or in some cases vice versa. Racism refers to the belief that a race is superior as compared to another or others. This results in discriminating people basing on their race or ethnicity. Racism is a social identity that came as a result of the idea that human beings can be placed in distinct groups that are different as a result of their certain social behaviour.  It is also based on the perception that such people based on the innate capacities as well as ideas can be classified as either being inferior or superior. Religious discrimination refers to the act where people are treated differently since they hold certain beliefs in as far as religion is concerned. In this case, religious discrimination happens when religions, denominations or non-religions are perceived and treated unequally and this is attributed to the beliefs that such groups subscribe to.
There is a close relationship between religious discrimination and religious persecution with the latter being an extreme form whereby people undergo persecution because of their beliefs believed to be heretic. Finally is sexism, a social identity where a person can be discriminated basing on their sex or gender. It is a prejudice which can affect anybody irrespective of whether one is a man/boy or a woman/girl but the condition commonly affects women and girls (Hackman, n.d.). My focus is on two social identities, ableism and sexism with the former being dominant in the society where I live and the latter being marginalized or rather subordinate. As already stated from Linton, ableism is a social identity that takes into account characterization of people by their disabilities and is seen as being inferior to the non-disabled people leading to such group of people being assigned certain character orientations or perceived to have limited abilities. Belonging to this dominant social identity group, ableism has really affected my life in one way or the other. Contempt is one negative emotion that creates harm and no positive course at all. That is what those of us who belong to ableism faces every day. High levels of contempt by the normal people.
It is good to note that contempt has no position in as far as healthy human relationships are concerned. I have witnessed a lot of animosity between our group and the non-disabled people. Surely, being categorized as ableism and being treated as inferior has made me develop a negative view on the non-disabled people, especially that down-pinning our efforts. Moreover, my perception towards those spreading hatred on the disabled is that they are not human at all. In fact, I have seen a world full of ableism not in the sense of what obviously people do understand but in the actions of what the normal people who consider themselves not disabled do. They include parents talking badly about disabled people in front of their children instead of advising them to love the underprivileged in the society. There are also people who advocate for the return of certain institutions which favor them alone rather than see the needs of the disabled. I believe that people without the disabilities have never experienced these indignities and thus, they do not understand what it means to be disabled. Belonging to the marginalized sexism group has also impacted on my life in its own ways. As explained, sexism is discrimination based on gender.
Mental health issues have arisen. Being discriminated simply because I am a woman has made me feel less of a human and that I am of the gender by mistake. Higher anxiety which eventually outbursts to depression and the feeling of being unfit in the society. Even where I work in my hometown, conflicts are inevitable. Anything that tries to portray that male gender is superior arouse my emotions and the feeling to fight back. The most negative impact I have experienced as a result of those which prejudice me due to the fact that I am a woman is poor morale. I feel low in most of the activities that I carry out whether my personal chores, studies or even work-related responsibilities. It is my view that a struggle for our rights as those in ableism is necessary since the prejudice seem unending. As Bryan (2013) put it marginalization of the disabled existed and was serious in America up to World War I but through the agitation of the veterans with disabilities, U.S. government was expected to come up with rehabilitation and training centers. There should exist collaboration among all participants in the society to ensure that the disabled people are taken care and that discrimination is fought by all means.
Related Topics