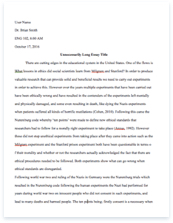 The whole doc is available only for registered users
A limited time offer! Get a custom sample essay written according to your requirements urgent 3h delivery guaranteed
Order Now
With an expectation of significant growth not only in their organizational size but also the in the number of premises that will be utilized alongside the larger organization, XUMUC needs to ensure that the network and infrastructure foundations allow for such growth and expansion opportunities while ensuring at the same time that several already identified network issues are resolved. The first of these issues relates primarily to the lack of a coherent network structure within XUMUC as there is no consistency applied across the network or the current sites which relates to how the organization itself is structured. As a result the current network implementation is very inefficient and lacking the ability to provide advanced features such as a Quality of Service (QoS) configuration which would offer a substantial improvement in the throughput and responsiveness of the network. Secondly, the bandwidth allocated as part of the overall network topology between XUMUC locations is severely limited in several instances resulting in throughput and performance bottlenecks and a subsequent effect on organizational processes.
As the amount of users integrated into the network will be increasing, all of whom will require a reliable network connection regardless of their location then there needs to be a suitable appraisal of WAN connectivity so that the required bandwidth is always available. Having addressed these major issues with the core network infrastructure it will also be necessary to address the current issues surrounding the manual configuration requirement for networked devices with a Static IP scheme. The current overhead on time and resources to connect and maintain new equipment is excessive and needs to be addressed as a priority. Further to these issues are the routing tables themselves which, due to their large and complex nature are causing performance issues on the routers themselves and preventing the most efficient and optimized flow of information. Network Structure Resolution & Details
The network structure is critical to the overall Information Systems infrastructure within XUMUC as it will provide the performance, stability and security for the organization to meet its strategic objectives and continue to grow. As a result the network structure should be modelled against the organizational structure where each department is represented by a specific VLAN which will permit an easier administrative model for security and administration-based policies to be applied while also ensuring that each department, through their specific VLAN information is able to access their primary applications and services without disruption with a greatly reduced broadcast domain. WAN Transport Capacity& Details
As additional locations are added to the XUMUC network, then WAN connectivity and bandwidth becomes even more important between each of the sites. As currently there is insufficient bandwidth based on current utilization it is necessary to carry out a far greater analysis as to the specific requirements on a location by location level so that the relevant bandwidth can be provided and assured at all times. Excess Maintenance Overhead Resolution & Details
With the current Static IP scheme that is in place, IT resources have to undertake a large amount of work to configure new devices and ensure network connectivity is available. This should be replaced by a new Dynamic IP scheme (DHCP) for all devices that are not servers or networked equipment such as printers and scanners. Under this new DHCP configuration each workstation would receive an IP address automatically when connecting to the network which is then reserved for several days, allowing for frequent movement of such devices and a more flexible working environment – crucially with no need for manual configuration. In line with standard procedures, Static IP addresses will be retained for servers and networked equipment as this allows for an easier collation and management of such devices at each site. Overly Complex Routing Table Resolution & Details
With the network performance issues being addressed through a restructuring and the implementation of specific VLANs the routers themselves can be optimized by the removal of the current, singular routing table which has grown so complex with a Virtual Routing & Forwarding (VRF) instance which permits several routing tables to exist at any one time, all of which can be updated with network and boundary information and therefore remove the current performance issue on router CPU utilization as well as providing a further element of a scalable network. Conclusion
Despite there being several issues to be resolved alongside the planned expansion and growth of the XUMUC network, the benefits of such changes will be seen immediately by all networked users through the removal of bandwidth and performance issues. Furthermore, XUMUC will at last be in possession of an Enterprise grade network which can assist with their strategic business objectives and requirements.
Appendix A: IP Addressing Table
Location
Number of IP Addresses Required
Address Block Assigned
Number of IP Addresses Available
San Francisco
1290
172.16.0.0-172.16.7.255/21
2046
Denver Region
n/a
172.16.8.1/22
n/a
Denver Campus
441
172.16.8.1-172.16.9.254
510
Remote Office 1
28
172.16.10.65-172.16.10.94
30
Remote Office 2
35
172.16.10.1-172.16.10.62
62
Houston Region
n/a
172.16.12.0.22
n/a
Houston Campus
329
172.16.12.1-172.16.13.254
510
Remote Office 3
21
172.16.14.1-172.16.14.30
30
Appendix B: Network Diagram
References
Limoncell, T. A., Hogan, C. J., & Chalup, S. R. (2007). The Practice of
System and Network Administration, Second Edition. Addison-Wesley Professional. McCabe, J. D. (2007). Network Analysis, Architecture, and Design. Morgan Kaufmann. Oppenheimer, P. (2010). Top Down Network Design. Cisco Press. Peterson, L. L., & Davie, B. S. (2011). Computer Networks, Fifth Edition: A Systems Approach (The Morgan Kaufmann Series in Networking). Morgan Kaufmann.
Related Topics