Whether Organisational Culture can be Managed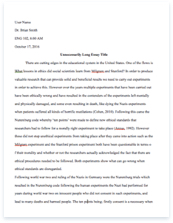 The whole doc is available only for registered users
A limited time offer! Get a custom sample essay written according to your requirements urgent 3h delivery guaranteed
Order Now
The main aim of every organisation is increase demand for the goods and services it offers. To achieve this goal, organisations employ certain ethics that control their attitudes, beliefs, experiences and values. This ethical characteristic of an organisation is known as its 'organisational culture'. In their book Strategic Management, Hill and Jones (2001) define organisational culture as the specific collection of values and norms that are shared by people and groups in an organisation, and that control the way they interact with each other and with stakeholders outside the organisation. In their opinion, it also includes beliefs and ideas about what kind of goals members of an organisation should pursue, and ideas about the appropriate kind or standards of behaviour organisational members should use to achieve these goals. From organisational values develop organisational norms; guidelines or expectations that prescribe appropriate kinds of behaviour by employees in particular situations, and which control the behaviour of organisational members towards one another (Hill and Jones, 2001: 21).
Ogbonna and Wilkinson (2003) state that the services offered by any organisation can only be marketed when there is an interaction between a particular unit of the organisation and the consumers. The relationship between the staff of an organisation and the consumers strongly influences the acceptance of the service offered by the company. It is therefore important to study the organisational culture of every organisation so that it may be improved if need be. Some approaches to organisational culture are more analytical, concentrating more on the cultural behaviour of the organisation rather than relating different culture types to the organisation.
This approach emphasises the historical context of the culture of the organisation and relates it to the way it affects the behaviour of staff. According to Linstead et al. (2004:67), this is a 'rich' approach to looking at culture, as it involves analysing its manifestation at every level of the organisation and considering both formal and informal processes. In contrast, the 'strong' or 'applicable' approach views culture simply in terms of commitment to organisational goals and as something to be manipulated to improve organisational performance.
The main aim of this paper is to use relevant concepts, theories and models to analyse the organisational culture of the Saudi Aramco Oil Company, and also to discuss the possibility of managing organisational culture using examples from the organisation.
Background
Owned by the government of Saudi Arabia, the Saudi Aramco Oil Company remains the biggest oil company in the world. With its headquarters in Dhahran, Saudi Arabia, the Saudi Aramco Oil Company has the largest oil reserves in the world, as it owns more than 100 oil and gas fields in Saudi Arabia. It also runs the largest single hydrocarbon network in the world called the Master Gas System. The Saudi Aramco Oil Company was established on May 29th 1933 as Aramco (meaning Arabian American Oil Company). It existed with this name until 1988, when the name was changed to the Saudi Arabian Oil Company or simply Saudi Aramco after the American shares were fully purchased by the Saudi Arabian government in 1980. Saudi Aramco celebrated its 75th anniversary in 2008.
Saudi Aramco now operates independently as it performs its critical tasks and contracts secondary jobs to other companies within the region. A noticeable portion of the workforce of Saudi Aramco is made up of geologists, geophysicists and geologists. The section of the company with the largest number of employees is the drilling section. A large number of petroleum engineers are employed to handle the tasks of drilling new oil wells and maintaining old ones.
All drilled oil is refined and distributed around the country by Saudi Aramco, as well as being exported. Saudi Aramco has a large number of tankers that ship gas and both crude and refined oil to different countries around the world. To handle the shipping of oil worldwide, Saudi Aramco has created a fully owned subsidiary marine company known as Vela International Marine Limited. To optimise the processes of drilling, refining and transporting its products, Saudi Aramco has employed over 500 scientists and engineers that specialise in different aspects of the hydrocarbon industry (Saudi Aramco 75th Anniversary, 2008).
Figure 1 below is a representation of the Saudi Aramco organogram:
Figure 1: Saudi Aramco Organisational Structure.
The organogram above shows that Saudi Aramco has a single president and six separate operational Business Line hierarchies. The six separate Business Line hierarchies are controlled by Senior Vice Presidents, each with six identical vertical levels in operation: finance, exploration and production, engineering, industrial relations, and refining, marketing and international. Within each level there are grade codes, and the number of grade coded is commensurate to the number of employees in a particular level. For example, the subordinate level is made up of 8 grade codes, while the next vertical step up, that of supervisor, has 5 grade codes.
Saudi Aramco is made up of 1 CEO, 7 Senior Vice Presidents, 30 Vice Presidents and 161 Managers (who are distributed throughout the organisation). It also consists of over 600 General Supervisors and has a grand total of 52,000 employees. As mentioned above, the company uses grade codes for the hierarchal distribution and specification of its employees. The table below (Table 1) shows the distribution of employees for each grade code:
Executives
The distribution of employees into various grade codes is a very viable method of ensuring effective task delegation, departmentation and hierarchical identification in an organisation. The grade codes used by Saudi Aramco enable a clear distinction between the major hierarchical levels of the organisation, thus easing the distribution of tasks amongst the workers and enabling effective supervision. The previously mentioned concentrations of grade codes ensure a higher presence of subordinate staff rather than senior and executive staff. This perfectly represents a pyramid organisational structure and will ease communication, task delegation and job supervision.
The organisation is also associated with a wide range of other companies and has subsidiaries in strategic parts of the world. The associate companies/subsidiaries include:
Aramco Overseas Company B.V. (AOC B.V.): HQ in Leiden.
Saudi Refining Inc. (SRI).
Aramco Service Company (ASC): HQ in Houston.
Vela International Marine Ltd.: HQ in Dubai.
Aramco Financial Services Company (AFSC), a wholly owned subsidiary of Saudi Refining Inc.
Aramco Training Services Company.
Aramco Associated Company (AAC).
Saudi Petroleum International Inc. (SPI): HQ in New York.
Thesis
The Saudi Aramco Oil Company has a vertical hierarchy structure, which relates to some organisational structure theories such as Scientific Management (Fredrick Taylor), Bureaucracy Management (Max Weber), Administrative Management (Henry Fayol), and the Contingency Theory. Saudi Aramco's organisational structure positively influences its organisational culture, allowing for effective management.
Aramco Organisational Culture
Classification of different organisations into various organisational cultures serves as a very important analytical tool, but there are a number of significant limitations. The major shortcoming is that no 'real' organisation will perfectly fit into a particular group because the culture of an organisation is a hybrid of different cultures dominating its various departments and hierarchal levels. Saudi Aramco is clearly divided into six different six-level hierarchies. In spite of being a very large organisation, there is a dominant culture that expresses the general values and norms of the organisation.
Every organisation must work towards creating a team of committed employees in order to maintain a high level of productivity. "Organisational cultures are meant to bring out qualities in staff like dedication, commitment, enthusiasm and passion" (Smircich, 1983). The predictability and fairness of Saudi Aramco's hierarchal system engenders loyalty by providing clear methods for advancement. Each employee is given annual goals to meet, and if those goals are met the employee will be promoted in grade code or position, each resulting in an increase in salary. Research shows that "employees are uncertain about what to think and feel in the modern world" (Deal and Kennedy, 1982:59).
Deal and Kennedy (1982:59) further insist that companies that possess strong organisational cultures "fill these mental and emotional gaps" with commitment via personal development of the employee. The average Saudi Aramco employee works for the company for twenty-five years. The only way loyalty of this level is possible is through a culture that allows employees to feel secure in what is expected of them and in what they can expect from the company. The company fits most closely within Max Weber's 'traditional organisation' model, and benefits greatly from worker expectations being consistently met.
Different branches of Saudi Aramco still have the same levels and promotional structure, and while subordinates in different fields do not conduct business with one another, supervisor-level (and above) employees must interact to ensure operational smoothness. As each employee is responsible for his or her own promotion, there is no necessity for competition among employees. Likewise, the hierarchy in the finance division operates identically to that in the exploration and producing division, helping to avoid potential unrest between departments in regard to treatment.
An organisation's structure can be used as a variable in the analysis of its organisational culture (Peter and Waterman, 1982). The Saudi Aramco organisational culture can be described by considering two factors that influence organisational culture: 1) values and norms; and 2) artefacts.
Values and norms
Values and norms are the standards and social principles of the organisation. These are the things the members of the organisation take into consideration during operations and when making decisions. Values are not always in the minds of the members, but they are taken more seriously than basic assumptions. When challenged, organisation members often become more aware of these values. Norms are the unwritten rules that are expected to be followed by members of a culture. Norms and values are interwoven. Values specify what is important while norms specify behavioural patterns expected of the members. Values are results of behaviour that norms allow.
The values and norms of Saudi Aramco are expressed in different policies that exist in the organisation. Encouraging employee development is a method used by organisations to bring out the best in their workers. Saudi Aramco offers very attractive retirement packages to their workers. Throughout a retired employee's life, the employee and his/her dependents will receive a retirement salary. Early retirement starts at 50 years old or 25 years of service, whichever comes first. In addition, Saudi Aramco offers full job insurance for all employees and provides an interest-free housing loan (about 55 times their salary) for any employee that has worked with the company for 4 years. If the employee serves more than 25 years, his/her retirement benefits will increase in monetary amount and also include medical coverage.
Saudi Aramco ensures excellence, human resourcefulness, fairness and integrity, teamwork, safety, responsiveness, stewardship, trust, accountability and citizenship. The company sponsors its employees to attend different companies and educational institutions to instil excellence in the employees via preparation and training. The company also allows every employee to make suggestions; each suggestion is critically analysed by the executive and considered during the decision making process. The company also ensures that there is no gender imbalance during staff selection processes, as both male and female employees are hired. Regardless of gender, religion, age or race, the organisation ensures that staff are promoted yearly provided they meet certain requirements. Each grade code requires that the employee has specified educational qualifications and experience. As the employee obtains more experience and higher educational qualifications, he/she is eligible for promotion to the grade code in which his/her new qualification fits.
Employees on the same vertical level may have different grade codes, but the grade codes do not influence working relationships. Since each individual is responsible for his/her own promotion, and because teamwork can help multiple members reach these goals, there is a natural team-oriented environment, and no competition for position among employees. These distinctions allow for the more relaxed social environment of a flat company, while still fostering the desire for advancement seen in vertical companies. Workers are social with one another, and during break periods workers of different hierarchal levels mingle.
Another value exhibited by Saudi Aramco is dominance. Being the largest oil company in the world, the organisation is in control of other companies and thereby takes responsibility for many related activities. As the largest oil company in the world, Saudi Aramco is an attraction for almost every individual who intends to work in the hydrocarbon industry. The interesting packages offered by Saudi Aramco, which include education sponsorship and interest-free loans, are an attraction for any individual intending to start a career in the hydrocarbon industry.
Saudi Aramco has a wide range of international workers and clients. Due to this, many of the national or religious norms found at other Saudi companies are not visible at Saudi Aramco. The company's tries to be neutral in its norms, so as to engender a comfortable setting for its diverse staff and customer base.
Artefacts
Artefacts are objects made by humans especially those which have cultural interest. One sign that behaviour is derived from cultural norms, values and assumptions is said to be artefacts. Physical objects created by the members of a culture, written and spoken language, rituals, ceremonies and other acts of demonstrating something are examples of artefacts. The artefacts of a culture may or may not be known to the members of that culture, but the artefacts themselves can be directly observed by anyone. Artefacts are the basic and most important features of a culture that can most easily be reached. However, those who are unfamiliar with the basic assumption and values of a particular society may easily get them wrong.
According to Schein (1985), culture stems essentially from basic assumptions. These assumptions affect the values and behavioural norms of members of a culture. Decisions and other actions taken by members of a culture are in turn influenced by values and norms. Finally, artefacts are the result of culturally guided action. Schein claims that when new members are brought into a culture, they are either selected on the basis of the match between their values and those of the culture, or they are socialised to accept certain cultural values. Schein argues that cultures change only when new values are brought in from outside. However, these new values must prove their worth. Only when members of the culture see their benefit will these new values gradually become taken for granted. Schein is of the view that culture develops unconsciously. Artefacts are therefore a result of the combined effect of assumptions, values and norms. In order to express their identity and conduct their organisational activities, the members of a culture utilise artefacts and norms. Artefacts are therefore spread through the culture to influence values and assumptions.
The artefacts used by the Saudi Aramco organisation are very visible. It can be seen from the organisational structure to the attractive motivation packages offered to employees. The organisational structure is an artefact because it is arranged in such a way that it allows a wide range of employee relationships, thereby affecting the culture of the organisation. The grade levels can also be considered artefacts because they motivate workers towards achieving the next level. The attractive packages offered by the company motivate the employees and positively affect their working habits. The success of Saudi Aramco is built on its continuous responsiveness to the needs of the government. The company makes the needs of their customers their top priority, as they use customer response to improve the quality of the services. Saudi Aramco uses these artefacts to encourage commitment and excellence from their employees.
Managing Organisational Culture
Organisational culture is now an important concept in literature on human resource management. Scholars have distinguished between a 'personnel management' or 'low commitment' approach which emphasises a bureaucratic, rule-based culture, and a 'high commitment' approach which emphasises empowerment and shared values (Guest, 1991; Storey, 1992; Watson, 2002). The management of the organisational culture of Saudi Aramco is achieved by combining four management theories, which shall be discussed hereunder.
Max Weber's Bureaucracy Management Theory
According to Weber, "the attributes of modern bureaucracy include its impersonality, concentration of the means of administration, a leveling effect on social and economic differences and implementation of a system of authority that is practically indestructible" (cited in Watson, 1980). Saudi Aramco utilises this theory of management for the development and management of its organisational culture. The structure of an organisation strongly affects its culture. Although suggestions are taken from all employees of Saudi Aramco, there is a concentration of administrative power. The fact that there is one CEO shows that there is a concentration of administrative power. There are fixed principles for the management of Saudi Aramco, and these principles affect the organisation culture and influence the artefacts of the organisation. One good example is the principle which controls the promotion of staff. It is a fixed and indestructible principle because the basis for staff promotion in Saudi Aramco is clearly stated and has become an artefact of the organisation, thereby influencing the company's organisational culture.
Henri Fayol's Administrative Management Theory:
Saudi Aramco also uses Henri Fayol's principles of management in managing its organisational culture. Henri Fayol has presented 14 principles of management and a careful observation of Saudi Aramco shows that the majority
of these principles are followed. Some of Fayol's principles that are related to the organisational culture of Saudi Aramco are discussed below:
Division of work: This is the principle of job delegation. It is very visible in the organisational culture of Saudi Aramco, since there is employment of staff from a number of different fields. This means that they perform different tasks assigned to them by the company's various supervisors. There are six major business lines in Saudi Aramco, and this shows the practice of this principle in the management of their organisational culture.
Authority: A very important principle highlighted by Fayol is authority. The fact that there is a vertical relationship in the organisational structure of Saudi Aramco shows the presence of authority. The organisational structure is therefore an artefact that creates the culture of authority.
Unity of command: This principle insists that every subordinate must take instructions from and report back to only one super-ordinate. Saudi Aramco imbibes this into its organisational culture for the development of the organisation. It can be seen from the organisational structure that subordinates report to only one super-ordinate.
Remuneration: Constantly motivating staff to work is one of the best ways of developing an organisation. Saudi Aramco strongly embraces this culture, as can be seen from the very attractive packages (such as interest-free loans and scholarships) that are offered to its employees.
Stability of tenure personnel: According to Fayol: "Employees work better if job security and career progress are assured them." Saudi Aramco provides these variables and imbibes them in their culture. The loans and retirement packages, as well as the scholarships offered to the staff are proof that providing job security to staff is one of the cultural practices of the organisation.
Frederick Taylor's Scientific Management:
Fredrick Taylor has proposed four principles for effective organisational management. Saudi Aramco imbibes one of these principles in their culture, namely the principle of: "Scientifically selecting, training and developing each worker rather than passively leaving them to train themselves" (Management: Scientific Management, 2007). Each worker is selected and employed to the particular grade code he/she is qualified for. Scholarships are provided by Saudi Aramco for training and employee development.
Contingency Theory:
This theory assumes that: "The leader's ability to lead is contingent upon various situational factors, including the leader's preferred style, the capabilities and behaviours of followers and also various other situational factors." Saudi Aramco strongly considers the capabilities of subordinates, and experience and educational qualification are carefully considered before promotion to the next grade code. The experience and educational qualification of the employees influence their capabilities and also affect the leadership style of the super-ordinates.
Conclusion
The affairs of organisations are influenced by their organisational culture. The culture of an organisation is the culmination of all the cultures of the members that make up that organisation and can be influenced by the organisational structure of that organisation. Since the organisational culture affects the level of success of an organisation, it is important that every organisation considers building a viable organisational culture as one of their paramount objectives. Saudi Aramco imbibes a number of organisational management principles in the management of its organisation culture. These principles are drawn out from organisational management theories like Max Weber's Bureaucracy Management Theory, Henri Fayol's 14 Principles of Management, Fredrick Taylor's Scientific Management Theory, and The Contingency Theory. In practice, these principles allow for effective management of organisational culture.
Bibliography
Fayol, H. The 14 Management Principles (1916) Available at: http://www.12manage.com/methods_fayol_14_principles_of_management.html (Accessed: 10 Jan 2009)
"Fredrick Taylor and Scientific Management" (2007) Management: Scientific Management, Available at: http://www.netmba.com/mgmt/scientific (Accessed: 10 Jan 2009)
Guest, D.E. (1987) "Human Resource Management and Industrial Relations", Journal of Management Studies, 24 (5), 503-521.
Hill, C. and Jones, G. (2001) Strategic Management. Houghton Mifflin.
Linstead, S.A. and Grafton Small, R. (1992) On Reading Organizational Culture, Organizational Studies, 13 (3), 331-355.
Linstead, S. et al. (2004) Management and Organization, Palgrave Macmillan reproduced with permission of Palgrave Macmillan Published by Learning Resources 292 High St, Cheltenham GL50 3HQ University of Leicester, School of Management MN7203/D.
Martin, J. and Siehl, C. (1983) "Organizational Culture and Counterculture: An Uneasy Symbiosis," Organizational Dynamics, 12, 52-64.
Ogbonna, E. and Wilkinson, B. (2003) "The False Promise of Organizational Culture Change: A Case Study of Middle Managers in Grocery Retailing", Journal of Management Studies 40:5 July 2003 0022-2380. Blackwell Publishing Ltd.
Peters, T. and Waterman, R.H. (1982) In Search of Excellence, New York: Harper & Row.
Saudi Aramco 75th Anniversary (2008)
Schein, E.H. (1985) Organizational Culture and Leadership, San Francisco: Jossey Bass.
Smircich, L. (1983) Concepts of Culture and Organizational Analysis, ASQ, 28 (3), 339-358.
Watson, Tony J. (1980) Sociology, Work and Industry. Routledge. ISBN 0-415-32165-4.
Related Topics