What is teamwork competency?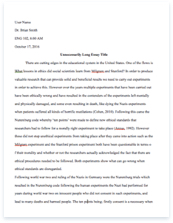 The whole doc is available only for registered users
A limited time offer! Get a custom sample essay written according to your requirements urgent 3h delivery guaranteed
Order Now
1. The skill I want to develop and my understanding of this skill.
The skill I want to develop is the teamwork competency.
What is Teamwork? I look up the Webster's New World Dictionary, teamwork is defined as "a joint action by a group of people, in which each person subordinates his or her individual interests and opinions to the unity and efficiency of the group." This does not mean that the individual is no longer important; however, it does mean that effective and efficient teamwork goes beyond individual accomplishments. The most effective teamwork is produced when all the individuals involved harmonize their contributions and work towards a common goal.
In the text, it says that accomplishing tasks through small groups of people who are collectively responsible and whose job requires coordination is teamwork competency.
Related to the text, the following opinions are my understandings of the teamwork competency. Team is a group of people, each member of which are complementary, united and harmonious enough to chase and dedicate to the same goal and standard that they are assuming the responsibility. It stresses not only the outcome of a particular individual, but the overall performance of the whole team. It relies not only on the discussion and decision of the team, and information sharing and standard intensifying, but the actual fruit of the whole team by co-contribution of the membership. This fruit exceeds the total of individual performance, that is, the performance of team is larger than that of the total of every part. Co-contribution is the core of the teamwork, which requires setting a convincing goal. It is because as long as a practicable and challenging goal is set, could the potential and mood of contribution be exerted among the team, so as to bring useless power to work.
Co-commitment is the essential of the teamwork, which means the responsibility of the whole team is shouldered by all. Should no co-commitment is made, the team is just like a tray of fragmentary sand, while it is made by all, the team will make concerted efforts to turn out to be a strongest ever entity. Many people often confuse teamwork with working team, but actually the two are essentially different. An excellent working team, like teamwork, is obviously distinctive for sharing information, viewpoint and idea, making decision together to help its members work better as well as strengthen the working criteria of the individual. Working team, though, mainly allocates the work aim to individuals, focus on individual aim and responsibility being its essence. Its aim is the mere sum of all individual ones. Its members will neither shoulder the responsibility that surpass their duty, nor try those value-added effects brought by the cooperation by many members. Additionally, working team is always related to structure, while teamwork could break the limit of ranks in enterprises.
2. Why I want to develop this skill.
After doing the self-assessment tests in the text, I found that during the six competencies of management, I got the lowest score for teamwork competency, it is too bad. My scores for the three dimensions of this competency—-designing teams dimension, creating a supportive environment dimension and managing a tem dynamics dimension are 3, 2, 2 separately, so my overall average self- assessment for teamwork competency is just 2.3.
Before that, I have never thought about the importance of teamwork. As I just graduated from university, having no work experiences, I have never realized that the individual could hardly tackle all sophisticated information and work out the most effective solution to a project. Most of the time, I do all the things by myself because I rarely meet with some sophisticated work and I have few chances to work together with others, which lead to my weakness in this characteristic.
Another reason that I want to develop teamwork competency is that the following case in the text tells me that the best managed companies used employees in teams. In a study of more than 400 organizations and 80,000 managers, the Gallup Organization, a public opinion poll-taking company, found that the best managed companies used employees in teams. Improving customer service was the main reason given for their use, followed by decreasing absenteeism and improving productivity. At Southwest Airlines, effective teamwork makes it possible for ground crews to turn around a plane at the gate in less than 17 minutes. Regardless of their job titles, all employees work together to get passengers unloaded. When necessary, pilots, flight attendants, and whoever else is available pitch in to ensure that a flight leaves the boarding gate on schedule.
Nowadays, business can't be run all-rightly without the spirit of teamwork. Therefore, I am fully convinced that developing teamwork competency will do me good and contribute a lot in my future career in the business field and my dream—- to be a competent manager will be realized as well since competent managers are able to cultivate an active network of relationships and to work well in diverse teams. This is the fourth reason for me to develop this skill.
Also, being conscious of that teamwork competency is my weak point, I begin to read books and materials related to this skill. I gradually realize that the upcoming of the time of knowledge economy brings continuous upgrading of knowledge and technology, fiercer competition in the society and gradual diversification of market demands, which results in the unbelievably complicated conditions and circumstances that the managements of the enterprises are under. Most of the time, the individual could hardly tackle all sophisticated information and work out the most effective solution to a project. It needs further reliance, connection and cooperation amongst a certain team of project, from which the spirit of teamwork gives birth. It aims at sorting out the divergences on an issue, coordinating the necessarily, in order to maintain the ability of contingency-meeting and unsustainable creativity.
3. Specific learning objectives.
Teamwork has become an important part of the working culture and many businesses now look at teamwork skills when evaluating a person for employment. Therefore, it is important that we students learn to function in a team environment so that we will have teamwork skill when we enter the workforce. Also, some studies tell us that students learn best from tasks that involve doing tasks and involve social interactions.
In order to make the teamwork I take part in more effective, I should learn how to design teams properly, how to create a supportive team environment and how to manage team dynamics appropriately, which are the very three dimensions of teamwork competency in the self-assessment tests.
My specific learning objectives are as follows:
(1) The team must have a clear goal. Avoid fuzzy, motherhood statements. Team goals should call for a specific performance objective, expressed so concisely that everyone knows when the objective has been met.
(2) The team must have a results-driven structure. The team should be allowed to operate in a manner that produces results. It is often best to allow the team to develop the structure.
(3) The team must have competent team members. It means that the problem given to the team should be one that our members can tackle given their level of knowledge.
(4) The team must have unified commitment. This doesn't mean that our team members must agree on everything. It means that all individuals must be directing our efforts towards the goal. If an individual's effort is going purely towards personal goals, then the team will confront this and resolve the problem.
(5) The team must have a collaborative climate. It is a climate of trust produced by honest, open, consistent and respectful behavior. With this climate our team performs well; without it, we would fail.
(6) The team must have high standards that are understood by all. Our team members must know what is expected of us individually and collectively. Vague statements such as "positive attitude" and "demonstrated effort" are not good enough.
(7) The team must receive external support and encouragement. Encouragement and praise works just as well in motivating teams as it does with individuals.
(8) The team must have principled leadership. Teams usually need someone to lead the effort. Our team members must know that the team leader has the position because they have good leadership skills and are working for the good of the team. Our team members will be less supportive if they feel that the team leader is putting himself or herself above the team, achieving personal recognition or otherwise benefiting from the position.
4. Steps to be taken.
It is important for us (the team members) to know that teams do not just form and immediately start working together to accomplish great things. There are actually several steps and teams must be given time to work through the steps and become effective. Following several steps should be accomplished to improve teamwork if I want to be a competent team member and fulfill effective and outstanding teamwork.
(1) I should work interdependently with other members during teamwork and work towards both personal and team goals, and I should understand these goals are accomplished best by mutual support.
(2) I should feel a sense of ownership towards my role in the team because I committed myself to goals I helped create.
(3) I should collaborate with other members together and use my talent, knowledge and experience to contribute to the success of the team's objectives.
(4) Team members including myself should base our success on trust and encourage all our members to express different opinions, varying views, and questions.
(5) I, as a team member, should make a conscious effort to be honest, respectful, and listen to every person's point of view.
(6) I would see conflict as a part of human nature and should react to it by treating it as an opportunity to hear about new ideas and opinions. Everybody wants to resolve problems constructively.
(7) Team members including myself would participate equally in decision-making, but should understand that the leader might need to make the final decision if our team can not come to a consensus agreement.
5. Assessment of progress.
Since working as part of a team can improve learning and is a much needed skill in today's workplace, I should make use of every opportunity to take part in as much teamwork as possible including some team exercises in the classroom. With well planned out tasks, careful guidance, and close observation, we can make our classroom team exercises extremely valuable learning experiences.
Besides, I learn from the text that more and more organizations are relying on teams to improve quality, productivity, and customer service, it becomes increasingly important for us to develop our teamwork competencies and become a productive team member.
I believe that through study, training, and experience, I can develop my teamwork competency markedly. My goal is that when I do the self-assessment tests in the text again, I would get the overall average score of 5 for my teamwork competency, that is, I would be outstanding on this characteristic, I am sure I can achieve my target.
At last, I would like to say that this mid -term project is just the embodiment of the spirit of teamwork. Our professor, all my fellow classroom colleagues and I are all the members of our teamwork. We all try our best to make the teamwork perfect. I am firmly convinced that during the whole process of this teamwork, all our team members of course including myself would have a better understanding of the spirit of teamwork, also we would make a significant progress for our teamwork competencies.
Related Topics