What can be learned from classical management thinking?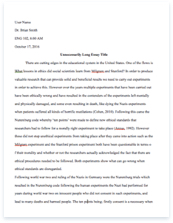 The whole doc is available only for registered users
A limited time offer! Get a custom sample essay written according to your requirements urgent 3h delivery guaranteed
Order Now
The three approaches to classical management thinking are scientific management, administrative principals and bureaucratic organization. These three approaches are considered to share a common approach. That being when there are opportunities to gain at work, people rationally consider doing whatever it takes to gain this chance.
The main objective in the scientific management approach is the both the employee and employer achieve the greatest possibly outcome. In this approach, organizations can learn how to be more efficient by ways such as proper training and direction by superior employees. This will also lead the organization to be more productive. The four guidelines for scientific management to be successful are having a proper science for each element of work. Second, make sure there are proper workers selected for the right jobs. Third, proper training is crucial as well as giving incentives to make sure the employees cooperate properly. Last is to make sure managers take on their responsibility by planning and scheduling to make sure the work goes smooth. By following this approach organizations will be able to learn how to operate at a higher level. They will learn where their risk is and where areas of improvements are needed. Employees will also learn how to approach projects at a much more proficient manner.
The administrative principal is similar to the scientific method approach. There are five steps within this approach: Foresight, organization, command, coordination and control. By breaking this approach up into two parts, it allows an organization to look deeper into all aspects of a project. This approach has a lot to do with management positions and how management should be taught. It will help them learn what is needed to be done to help labor employees work more efficient. Employees will then be able to learn the process of how and organization works and why they are successful. One important factor is in the administrative principal is that there must be communication at all times between managers and lower workers. The administrative principal will also help a business find problems in their system as well as show areas where improvement is needed.
The bureaucratic organization was introduced realizing that businesses were not reaching their potential. There are also five steps in this approach. In this approach businesses are able to figure which workers the best for each job through logic. All employee status's and jobs are clearly defined, rules and guidelines are clearly written, workers are treated equal and reward through a merit system. This system will help an organization learn which employees are not performing up to standard and if they are capable of holding that position. It will also help them manage the trends of the organization.
Related Topics