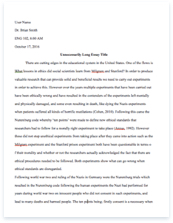 The whole doc is available only for registered users
Pages: 12
Word count: 2758
Category: Radio
A limited time offer! Get a custom sample essay written according to your requirements urgent 3h delivery guaranteed
Order Now
The following report is a formal structured report based on investigating the job opportunities available in Radio and Journalism. The aim of the report is to:  Practice writing a formal structured report. Understand how to structure research in an easy and accessible way. Fulfil a module for my FETAC level 5 Radio and Journalism course.
Contents Page
· Cover Page: Page One · Introduction: Page Two · Contents: Page Three · Chapter One: Page Four · Chapter Two: Page Four and Five · Chapter Three: Page Six and Seven · Chapter Four: Page Eight, Nine and Ten · Chapter Five: Page Ten and Eleven · Chapter Six: Page Eleven and Twelve · Conclusion: Page Thirteen · Appendices: Page Fourteen · Bibliography: Page Fifteen
Chapter One
The vocational area is Radio and Journalism through studying these two mediums over the next year one could go on to work in the following job roles. Job Roles in Radio · · · · · Researcher Sound Technician/Engineer Broadcast Assistant Producer Presenter
Job Role s in Journalism · · · · · Journalist Editor Columnist Book Editor Technical Writer
Chapter Two
The three careers I will investigate in more detail are job opportunities in the Radio Industry.
Broadcast Assistant
A broadcast assistant s job is quite varied and the candidate would need to be flexible and enthusiastic by nature. Their main role would be to contribute to programme content, to build and maintain a contact lists or database. Another important aspect to the job of a broadcast assistant is finding contributors for items on programmes but more importantly to have the ability to persuade the contributors to go on air.
A broadcast assistant may be asked to undertake some limited radio presentations e.g. traffic and travel. They may also be asked to provide production assistance during live outside broadcasts or pre-recorded information. (www.free-job-descriptions.com)
Sound Technician/Engineer
Sound Technicians take responsibility for the full range of activities relating to the production, enhancement or amplification of sounds. This may involve both acoustic elements e.g. mixing sounds to a particular venue, or creating a mix for sound recording in a studio and/ or maintaining and repairing equipment to produce record and amplify sounds. Sound is a crucial aspect of Radio as the content which is broadcast must be of good quality and in line with the broadcasting authority or Ireland, as a result production, amplification and recording is now both an art and a science. The term "sound technician" commonly refers to an individual who works in the production and recording of sound. This will involve both pre and post production elements, for example, using the correct microphones, assessing the acoustics of a room/ venue and mixing sounds so the eventual audience has the desired experience. (http://www.myjobsearch.com)
Producer
Radio producers are responsible for the audio content of broadcasts via radio, the internet and other mobile platforms. They are involved in the entire process, from generating ideas to managing the audience response after a programme. Producers manage and work with broadcasting assistants, presenters and DJs, engineers and IT staff. They may also be responsible for the business and commercial management of a programme. Producers can work in the publicly funded, commercial or voluntary sectors of broadcasting. Wherever they work, they are part of a digital revolution which is having a profound impact on the way in which radio is produced and accessed. Specific responsibilities vary from programme to programme and station to station, and producers may sometimes also take on the roles of presenters or reporters. (http://www.prospects.ac.uk)
Chapter Three
The area I would like to purse is Radio Production (Career directions.ie) facility to assist with your career plan. Fas Education forms the foundation for your future career even though there is various options available further education secondary education forms the basis of your knowledge. In terms of Radio Production there are certain subjects that compliment this vocational area such as English, Drama, Speech and Drama, Geography, History and Music. All subjects on offer in secondary schools would complement Radio Production as it is the type of career where a general knowledge of most subjects complement the job role as you are involved in a wide range of different topics. There are many colleges that specialise in further education, in my case I have chosen to study Radio and Journalism in Galway Technical Institute this will give me a foundation in both mediums and also allow me to further my education and hands on experience in a third level institution. Successful completion of this Level 5 award may lead to entry into the Advanced Media Production Level 6 Course at GTI. Students who successfully complete this course may gain entry to Third Level Institutes and Colleges through the FETAC Higher Education Links Scheme. · · · · · · ·
NUI Maynooth BA in Media Studies MH109 Tralee IT BA in TV, Radio and New Media Broadcasting TL291 Tallaght IT BSc in Creative Digital Media TA022 Carlow IT BSc in TV & Media Production CW547 Dundalk IT Communications (Creative Media) DK762 Dundalk IT BA in Public Relations DK815 Griffith College – Journalism and Visual Media GC450
Waterford IT BSc in Entertainment Systems WD168 DCU – BSc in Multimedia DC133 DCU B.A. in Communication Studies DC131 DCU B.A. in Journalism The most up-to-date information on Higher Education Links is located at the CAO website.
The modules featured in the Radio and Journalism course in Galway Technical Institute are: Radio Programme Production, Sound Engineering and Production, Research Journalism, Work Experience, Print Journalism, Media Analysis, Communications, Web Authoring and Desktop Publishing these modules will compliment any of the courses mentioned above as they have been carefully selected to give someone with an interest in Media an insight into the terminology, theory and practical work involved. Further education is a wonderful way to get prepared for the assignments and reading involved in third level education.
Chapter Four
There are two courses that stand out for Radio on the central applications website they encompass all aspects of radio plus additional modules that would improve one s general knowledge which is vital when wishing to pursue a career in Radio Production . BA MEDIA STUDIES Qualification: BACHELOR OF ARTS DEGREE Award Type and NFQ Level: UNDERGRADUATE DEGREE (8) Course code: MEDST CAO/PAC code: MH109 Points: 455 FETAC: Students with appropriate FETAC qualifications and modules, with distinctions in at least five modules, will be considered for admission on a competitive basis to the first year of the following Honours Degree Programmes at NUI Maynooth. The media television and radio in particular is of central importance in today s society, and a dynamic and rapidly changing industry. This programme will help you to prepare for a career in this sector through applied training in radio and television production, and a thorough grounding in the academic study of media in society. The programme is delivered by the Centre for Media Studies in partnership with Kairos Communications, a leading independent television and radio production company. You will work in a professional studio environment, crafting radio and television programmes with experienced industry professionals. In the classroom, you will engage in an analysis of the sociological, historical, legal, political and cultural dimensions of the media. (www.cao.ie)
Bachelor of Arts (Hons) in TV, Radio and New Media Broadcasting Course Code: TL 291 Duration: 4 Apply to: CAO No. of Places: 20 NFQ Level: 8 The BA (Hons) in TV, Radio and New Media Broadcasting will prepare students to become successful practitioners within the media broadcasting industry. This programme focuses on the principles and application of digital media practice. Students will develop traditional skills and knowledge for use within the communications industries (TV and Radio) and gain an appreciation of how new technologies are used in the world of communication and media. Creativity and innovation are encouraged using different methods of programme delivery and assessment such as interactive on-line learning, group discussions, critique sessions, workshops, practical s and studio work. Project work is a key component of delivery and assessment.
Presentations will also be given by visiting industry experts. Much of the work takes place in the Institute's dedicated multimedia laboratories and the ITT Digital Media Centre (a high tech digital production and post-production facility consisting of a TV studio and radio studio and multimedia editing suite). An integral component of the degree is the industry work placement programme which takes place in semester six (Year 3) of the course. Alternatively students may choose to work as part of an internal design team creating digital content entries for national and international media applications awards. Postgraduate Opportunities Progression Level 9 NEW TAUGHT MASTERS – Master of Arts in Applied Social Studies commencing AY
2012/13 Full or Part-time Research Postgraduate Programmes Taught Masters Programmes www.cao.ie
Chapter Five
There is a wide range of options available to one who is interested in pursuing Radio Production one could work in community, commercial, regional, national or international radio stations. There is also the option of working as a freelance producer which can prove to give an individual a cutting edge as a producer has free reign to create innovative fresh ideas and approach radio stations as a self-employed worker. I personally would like to work in Ireland for the first three to five years once I graduate from third-level education. I think it is crucial to have experience in your own country and at this stage I will have built up a reliable contacts list that I can utilise during my induction to assist me in my new role. In the future I would love to travel all over the world working in production and radio presentation but especially countries such as Australia, New Zealand, America and Africa.
Depending what type of radio station you work for your contract and hours or work can vary, for example in community radio a producer is employed under a CE Scheme at a part-time nineteen and a half hour week. In regional and commercial radio a producer is generally employed on a full-time capacity and may be in charge of different shows at various times. In national and international radio the majority of producers would be specific to one show, maybe two at the most as they have a bigger budget to play around with they would also have a larger audience to please and manage. At present Radio is thriving in Ireland yet the Radio Industry is a tricky business to get into. Although you may have just received your degree and been involved in several different hands on projects you either need a contact within a station, something unique to offer or you could work your way up the ladder i.e. Start off researching showcase your experience work hard and eventually become a producer maybe even the executive
producer in time. Another effective way of getting into radio is to complete a portfolio of work which you can send to a radio station to showcase your work. One can find work in radio by searching various websites on the internet, such as www.jobs.ie www.craol.ie and www.fas.ie occasionally there are jobs in radio advertised during the ad breaks on that particular station. Another way to seek employment in the radio industry is to visit various radio stations. Even if they are not currently looking for staff it is important to get your name, skills and abilities recognised. See appendix one for an example of a job in radio production.
Chapter Six
Working Conditions
Travel: depends on the type of show the producer works on, for example some productions may have occasional road shows or cover live music events. Working hours can be long and are often unsociable. Your hours will depend on what type of programmes you work on and how much work you need to put into them. Location: Regional radio stations are based across the Republic of Ireland and Northern Ireland; national stations have headquarters in Dublin and Belfast. Salary can vary depending on what kind or radio station you work for e.g. community, commercial, regional or national but generally the start off rate would be 25,000 and can increase as you build up your reputation. (www.finfacts.com) Freelance producers can earn anything from a hundred to two hundred euro per day. If one went on to become an executive producer you would earn anything from 40,000 up to 60,000 depending on your experience and longevity with the company.
Professional bodies
Association of Independent Radio Producers of Ireland (AIRPI) The Broadcasting Authority of Ireland CRAOL (The Community Radio Forum of Ireland) RTÉ Radio BBC Radio The Radio Academy
Career Progression
Once in post, career progression for Radio Producers often involves moving to a larger station, to a programme with a wider audience, or from a local to a regional or national service. Some Radio Producers may make the move into TV, while others become Presenters or Programme Editors. They may also move into Radio Management roles. (http://www.creativeskillset.org) There are many benefits from working in radio production as it is the type of industry that involves continuous training in new technology, new media etc. Aside from the training, the media is an exciting lively industry to work in, you meet lots of different people from colleagues, to Celebrities , Politicians etc. Your general knowledge, skills and personality will have the best opportunity to flourish.
Evaluation
I have found this vocational area report extremely interesting as it has given me a very clear insight into the Radio Industry. I have learned so much valuable information about the career I would like to pursue in the future. I feel I met the aims I outlined at the beginning and now have a good knowledge of the duties, working conditions, availability of work and salary of the job I am interested in. I now fully understand the direction I need to follow in my education to achieve the necessary qualifications in order to be deemed suitable for a job in radio production. I am also aware of the various organisations and professional bodies that I can learn about to further my knowledge and keep up to date on new trends.
Conclusion
I found this structured report to be a great way of compiling different information into one document. It is straight forward and easy to access the various sections included in the report. If I had to research the same topic on my own I would not have had any structure to the report and the information would have been un organised. The structured report leaves no stone unturned and allows you to effectively research the vocational area in an informative and well organised fashion, I now have all the necessary information in one document which will be easy to access opposed to having sheets of paper that can be easily mislaid. If I needed to investigate another vocational area in the future I would definitely use this format.
Appendices
1. Position 1 is a Community Employment Vacancy offered by Doonbeg Community Development Ltd and based at Raidío Corca Baiscinn, South West Clare's Community Radio Station. A full driver's licence and own transport is required for the position, along with relevant experience, in paid or voluntary capacity, to each position. Position 1: Producer at Raidío Corca Baiscinn, Co. Clare Duties include: Producing talk programming with staff and volunteers Acting as executive producer on assigned programmes Producing and co-ordinating documentaries Skills required: Good computer literacy – Internet, Office etc. Experience of producing radio programming Organisational and communication skills Contact FAS Employment Services Office, Parnell St., Ennis, Co. Clare to check your eligibility before applying for either role. See http://jobseeker.fas.ie/ Apply:
In writing with CV to Doonbeg Community Development Ltd., DCD Office, Community Hall, Doonbeg, Co. Clare. Closing Date: 24 August 2011 Shortlisting may apply.
Bibliography
Mc Leish, Robert, Radio Production, Elseveir Ltd. RTE Guide, Catherine Lee, page 37, 48 and 60. Hotpress, Niall Stokes, Volume 36, Ads. Broadcast Assistant Job Description. Available from: < http://www.free-job-
descriptions.com/#/broadcast-assistant/4538153091> (19 September 2012) Sound Technician Job Description: Available from: (19
Septemeber 2012) · · Salary for Radio Producer: Available from (19 September 2012) Radio Production, Career Progression. Available from: (19 September 2012) · · · Radio Producer Job Description: Available from: (19 September 2012)
Radio Training. Available from:< http://www.learningwaves.ie/about.php> (19 September 2012) Third Level Qualifications, Maynooth. Available from: (19 September 2012)
Third Level Qualifications, Tralee. Available from: (19 September 2012)
Programming Information. Available from: http://www.rte.ie/radio/ (19 September 2012)
Related Topics