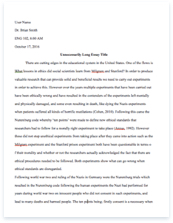 The whole doc is available only for registered users
A limited time offer! Get a custom sample essay written according to your requirements urgent 3h delivery guaranteed
Order Now
Conclusion: United Rentals has scored lower than its competitors Hertz Equipment Rental and Atlas. United Rentals is especially weak in global expansion as the company only operates in North America. Both Hertz and Atlas have extended their operations in countries such as China, India and Western European countries. In terms of brand image and customer loyalty, United Rentals has a well established consumer base in North America as 90% of the revenue comes from returning customers. Currently United Rentals has the highest market share in the equipment rental industry with 7%; however United Rentals needs to focus on expansion in the global market. Online sales for equipment rental is increasing, however web presence of all three companies' still lack integration and organization. (United Rentals 2007 Annual Report, 2007)
Strategic Group Map
Conclusion: The factors chosen for the strategic group map are Global Expansion and Brand Recognition. Brand Recognition is based on company's brand image in the North America market and Global Expansion is based on company's international operations. Both Hertz and Atlas are ahead of United Rentals on Global Expansion as they have extended their operations in the international market. United Rentals has competitive advantage in brand recognition with top market share. However since the equipment rental industry is very fragmented, United Rentals needs to continuously improve its services in order to maintain competitive advantage. (United Rentals 2007 Annual Report, 2007)
Strategy
B2B relationship with Amazon.com to increase online sales
Despite the economic recession, online retailing remains as one of the few industries with positive growth in 2008. Internet sales reach US $99 billion in 2008 and are expected to grow to US $151 billion in 2013. In the equipment rental industry, many companies have extended their operations from store based sales to online retailing. Compared to early years of online retailing, consumers have gained confidence in buying with improved security. Search engines are major portals for linking consumers to online retailers. Therefore search ranking is the first step for successful online retailing. (Internet Retailing-US, 2008) Improving search ranking is a long term strategy for United Rentals as it requires an immense amount of web customization and investment.
Due to the nature of the equipment rental industry, there are thousands of companies listed on major search engines. Short term strategy is needed to effectively increase United Rental's online sales. Amazon.com has been the leader in online retailing for the past 5 years and continues to grow by offering innovative programs and outstanding customer service. Amazon.com offers third party sellers the chance to sell its products on the WebStore program. Powered by Amazon technology, the WebStore program allows United Rentals to extend its existing online sales. Amazon WebStore has a low cost of US$59.99 per month and it covers all maintenance fees. Amazon takes a cut from each sale through its WebStore program. With the existing high debit, United Rentals can take advantage of this program as it requires relatively few investments. (WebStore Amazon, 2009)
Implementation and Control
A study on existing customers will be conducted by United Rentals. The purpose of the study is to enhance communication while improving customer service. Feedbacks will allow United Rentals to properly adjust to market needs. Prior to expanding in China and India, a third party company with special knowledge will be hired to study the market trends, culture and business practices in the respective markets. Online sales through Amazon's WebStore will be tracked quarterly to observe its performance. Senior Management will then decide if it's worthwhile to keep the division. National account program will be closely supervised by both senior management and executives. By focusing on both short term and long term objectives United Rentals is projected to have a 15% increase in revenue in 2010.
Reference
United Rentals 2007 Annual Report. (2007). Retrieved from http://www.ur.com/index.php/investor/annual_report/ Internet Retailing- US (2008). Retrieved from http://www.internetretailing.net WebStore By Amazon (2009). Retrieved from http://webstore.amazon.com/?ld=AZNav
Related Topics