Understand person centred approaches in adult social care settings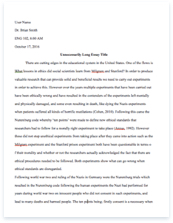 The whole doc is available only for registered users
Pages: 7
Word count: 1523
Category: Sociology
A limited time offer! Get a custom sample essay written according to your requirements urgent 3h delivery guaranteed
Order Now
Task A Information leaflet
Create an information leaflet about person-centred care, aimed at individuals who use the service and their families.
The leaflet must include:
Ai A definition of person-centred values
Person centred values are treating people as individuals, supporting their choices, treating them with dignity and respect, working in partnership with people rather than trying to control them.
Aii An explanation of it is important for why social care workers to work in a way that promotes person centred values It is important to acknowledge the needs and wishes of your service users, and ensure that these underpin the planning and delivery of care. Promoting continuity of care that values the service users unique past, present and future individuality and recognizing and respecting the person's role and contribution to family and wider society. By doing this you are respecting the individual, and what they have to offer to others, and making the individual still feel 'needed' and 'useful'.
Aiii A definition of the term "consent" in adult social care Consent means informed agreement to an action or decision; the process of establishing consent will vary according to an individual's assessed capacity to consent. The issue of consent is very complicated and needs to be considered very carefully. Some factors to consider are their mental conditions or mental capacity; physical condition like communication abilities; availability or lack of options; awareness of choices; age; participation and engagement.
Aiv An explanation of why social care workers must gain the consent of the individual when they are providing care or support It is a legal requirement that protects the care worker from legal action and the individual has the right to be considered.
Av A description of how a social care worker might gain the consent of the individual Social care workers can gain client consent by multiple ways, including verbal or written confirmations. If the client is not mentally or physically fit to give consent, then a social care worker can gain consent from their next of kin.
Avi An explanation of what the social care worker must do if they are unable to gain consent or if the individual is not able to express themselves. If a social worker is unable to get consent due to the individual not being able to express themselves, due to mental illness, lack of mental capacity or because they are terminally ill, then consent may be obtained by asking their family or next of kin, or in medical cases, health professionals. Care companies should have policies in place for when consent cannot be obtained
Task B – Short Answer Questions
Bi Describe two ways of finding out about the history, preferences, wishes and needs of an individual using the service. By asking themselves or reading care plans. Bii Describe two ways of making sure that the history, preferences, wishes and needs of an individual using the service are recognised in support or care plans. One way is asking them to write it themselves; another – recording their answers.
Biii Explain how a care plan helps social care workers to work in a person centred way. As you're involving the person from the beginning it means that you have worked in partnership with them.
Biv Define what is meant by the term "active participation". By empowering and encouraging each individual to actively participate in everyday life events, such as activities and relationships, whilst doing so maintaining as much independence as possible. Also to understand the importance of the individual as an active partner in their own care and / or support rather than a passive recipient.
Bv Give two examples of active participation, explaining how the individual using the service may benefit from being fully involved. Allowing them to be involved in their personal care as much as possible gives them a feeling of being capable to do things by themselves, gives them more choice; Giving people the freedom of choice by for example choosing what to have for meals; Bvi Describe three examples of barriers to active participation and how each can be overcome. Lack of understanding can be overcome by giving people more time, asking them in a different way or explaining more clearly; Poor communication might be overcome by writing information down, providing different ways of communication; Reluctance to take risks is overcome by giving people reassurance, making them feel comfortable and boosting their confidence.
Bvii Describe two ways of encouraging active participation. Taking small steps, allowing lots of time for people to become more comfortable, not rushing people into things and not giving up after they refuse.
Bviii Explain how the identity of an individual using the service is linked to their well-being. Allowing people to be themselves, having their freedom of choice makes residents happier and improes their well-being and quality of life.
Bix Explain how the self-esteem of an individual using the service is linked to their well-being. Every person is born with freedom of choice and it is a part of our well-being, so ensuring people have a contribution in everyday chores and activities make them feel valued and respected, also they don't lose their purpose and don't feel useless which boosts their self-esteem, which contributes to our well-being.
Bx Describe two attitudes or approaches which could promote the well-being of an individual using the service. Respecting their boundaries; listening to their opinions and wishes; supporting their needs even if you don't believe in them. Bxi Identify two ways of making sure an individual's physical environment promotes their well-being. Ensuring they have privacy when needed; allowing the environment to be one where they can contribute if they want to.
Bxii Identify two ways of working that promote an individual's social and emotional well-being. Understanding their behaviour as a form of communication; talking about their life to reinforce their identity.
Task C Case studies
Read the following case studies and answer the questions.
Case study one
Marcus Thompson is 18 and has learning disabilities. He is moving from children's social care to adult social care and has to decide whether he wants to remain at home with his family or move to supported housing. You are his support worker and think he would be better off living away from his family who sometimes try to do too much for him.
Ci Identify ways of helping Marcus to make an informed choice. The best way to help Marcus to make an informed choice is to help him find as much information as possible about his options, such as what they are and what the consequences of each option might be in the best and worst scenarios.
Cii Explain why it is important that you do not let your own view influence Marcus' final decision. It is important not to let Marcus be influenced by my point of view because if ever something wrong happens he can blame me for it, giving my point of view if it is requested may be acceptable but not to the extent that I will encourage him to make a decision based on my views. The whole idea is to promote Marcus independence and right of choice so it is wrong to influence him in a way that he will choose to do what I think
rather than he wants.
Case study two
Mr Mistry has recently been discharged from hospital after a serious fall. He wants to continue living at home, but there is some pressure on him from his family to move to live with them, or to move to a supported environment. They believe they have the support of the medical profession in this.
Ciii Explain how a thorough risk assessment might help Mr Mistry make up his mind about what he wants. A thorough risk assessment will help identify any hazards in his own home and the risks involved in any tasks that he or the carers may undertake when in his own home. This way he can consider all the information to make an informed choice regarding his life.
Civ Explain why Mr Mistry may choose to take a risk and live alone in his home. Mr Mistry may choose to take the risk and live alone in his own home because first of all he has the right of choice. He may want to stay in his familiar surroundings, retain his social network of friends and family, he may have pets he does not want to part with. Mr Mistry is obviously anxious to retain his independence and choices where possible and he will have a care manager in social services who can review the situation with him.
Cv Describe ways of helping Mr Mistry question or challenge decisions made by his family or other professionals with which he does not agree. In order to help Mr. Mistry question or challenge his family decisions I could help him get in touch with independent advisor, advocate, explain complaints procedure, support him in what he wants to do, provide him with information and so on.
Related Topics