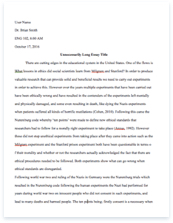 The whole doc is available only for registered users
Pages: 5
Word count: 1095
Category: Refugee
A limited time offer! Get a custom sample essay written according to your requirements urgent 3h delivery guaranteed
Order Now
The United States has adopted a very restrictive policy on refugee status. Discuss the rationale for this policy in light of the existing refugee crisis worldwide. Be specific. Is reducing the number of refugees warranted? Why or why not.
"Under U.S. law, a "refugee" is a person who is unable or unwilling to return to his or her home country because of a "well-founded fear of persecution" due to race, membership in a social group, political opinion, religion, or national origin."
The United States has always been a global leader in taking in refugees. The number of refugees around the world who are fleeing due to many circumstances in their home countries in search of safety abroad has grown dramatically over the past decade.
Until recently, the United States offered refuge each year to more people than all other nations combined. But the Trump administration has drastically reduced the maximum number of refugees that can enter the United States. After less than a year in office, Donald Trump has not only officially drawn global refugee leadership to a close, he's also withdrawn the US from the global community for refugee protection. Although there are many new procedures to becoming a refugee in the united states, Trumps administration has hurt a lot of people who were seeking a new life.
There are three principal categories through which individuals can seek access to the U.S. refugee program:
"Priority One. Individuals with compelling persecution needs or those for whom no other durable solution exists. These individuals are referred to the United States by UNHCR, or they are identified by a U.S. embassy or a non-governmental organization (NGO).
Priority Two. Groups of "special concern" to the United States, which are selected by the Department of State with input from USCIS, UNHCR, and designated NGOs. Currently, the groups include certain persons from the former Soviet Union, Cuba, DRC, Iraq, Iran, Myanmar, and Bhutan.
Priority Three. The relatives (parents, spouses, or unmarried children under 21) of refugees who are already settled in the United States. The U.S.-based relative must file an Affidavit of Relationship (AOR) and must be processed by DHS."
I believe that the United States is taking the wrong stand when it comes to refugees. These are people seeking a haven and most of them have children that they don't want exposed to a life a war and crime, they want them to have a normal childhood if it's the last thing they do. This country is the land of the free but not everyone is free. Refugees from different religions, race, and nationalities are often treated differently and their freedom along integrity has been taken from them.
Question 3: Mass Incarceration
We have discussed the "problem" of mass incarceration. Discuss incarceration rates from the 1970's on. The text describes several potential causes/rationales for the increase in incarceration rates. Make sure you address rationale such as incapacitation and deterrence in your response. Support your position with data.
The United States leads the world in incarceration, with over 2.4 million people behind bars, a 500 percent increase over the past 30 years. The United States has 5 percent of the world population, yet approximately 25 percent of its prisoners. More than 60 percent of the people in prison are people of color, most of them being black males in their twenties, one in every eight is in prison or jail on any given day. Three-fourths of all persons in prison for drug offenses are people of color. The war on drugs during Reagan's administration is the reason why incarceration rates keep increasing, it did nothing but hurt people of color and inner cities.
In 2008, 37 percent of black high-school dropouts were incarcerated. If these trends hold, 68 percent of African-American male high school dropouts born from 1975 to 1979 will spend time living in prison at some point in their lives.
Nationally, approximately 5.3 million Americans are denied the right to vote because of laws that prohibit voting by people with felony convictions. Charging young black males with felonies but letting young white males go with a slap on the wrist is modern day racism, them losing their right to vote to help change and give their input into this world is exactly what slavery was.
Question 4: Three Strikes
California was the first state to adopt "three strikes" sentencing policy. Many states followed suit (including Texas). California recently modified their three strikes law. Texas has not. Discuss three strikes sentencing: what it is, what the rational was for the legislation, and its effects. Finally, California has recently modified their three strike's law. Discuss the modification and whether Texas should follow suit. Make sure your response is "data driven".
These laws require a person guilty of committing both a severe violent felony and two other previous convictions to serve a mandatory life sentence in prison.
California's Three Strikes sentencing law was originally enacted in 1994. The essence of the Three Strikes law was to require a defendant convicted of any new felony, having suffered one prior conviction of a serious felony to be sentenced to state prison for twice the term otherwise provided for the crime. If the defendant was convicted of any felony with two or more prior strikes, the law mandated a state prison term of at least 25 years to life.
On November 6, 2012 the voters approved Proposition 36 which substantially amended the law with two primary provisions:
The requirements for sentencing a defendant as a third strike offender were changed to 25 years to life by requiring the new felony to be a serious or violent felony with two or more prior strikes to qualify for the 25 year-to-life sentences as a third strike offender; and
The addition of a means by which designated defendants currently serving a third strike sentence may petition the court for reduction of their term to a second-strike sentence, if they would have been eligible for second strike sentencing under the new law.
I think Texas should follow this because the three strikes law has failed many petty and non-violent offenders and completely ruined their life when it was never going to help the situation. As much as I would love for Texas to change their laws, I highly doubt they will because it's such a conservative state and so by the rules. I think the more we push for a modification, they might consider it. 
Related Topics