Tim Horton's Case Analysis For Operation Management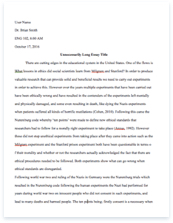 The whole doc is available only for registered users
A limited time offer! Get a custom sample essay written according to your requirements urgent 3h delivery guaranteed
Order Now
Tim Horton's one of North America's largest coffee and fresh baked goods chains. Today, Tim Horton's has more than 2,200 stores across Canada and a steadily growing base of 160 locations in key markets within the United States. Our project is focus on the Inventory management of Tim Horton's which located in Bay Shore, 2970 Carling Ave. Inventory Management is the practice of planning, directing and controlling inventory so that it contributes to the business' profitability. Inventory management can help business be more profitable by lowering their cost of goods sold and/or by increasing sales.
Tim Horton's franchise restaurants deal with three suppliers. The first supplier is the Main Company. It supply its branches all the hardware that doesn't go to fridges. The second supplier is Nelson, supply them by milk, cream, and cream cheese. The last one is Sis co, Provide the 25 kind of daunts, muffin, and bread. This branch has 32 employees and number of customer are more than 2000 persons depend on the day of the week, demand increase in Saturdays and Sundays. Also demand increases by the season. More demand for coffee and hot chocolate during the winter. However the demand for these items will be less during the summer. Also, more demand for iced Cappuccino in summer than winter. Number of daily transactions is from 15-16 hundred a day and cost of items is fixed. They use just in time system, thus they use borrowing method in case a big unexpected order or other reasons or they can make a quick order. The ordering inventory and receiving time take 24- 26 hours. Also, they use inventory back up and keep excess inventory against stock-out.
Existing Process:
Many Tim Horton's franchised restaurants (including the branch on Baseline/Carling, in Ottawa) use periodic inventory system in controlling inventories. Under periodic system, a "manager periodically checks the shelves and the stockroom to determine the quantity on hand" (Stevenson and Hojati, 2002). The physical inventory counting usually takes place on Sunday evenings (when there restaurant is less busy), to determine amount of inventory on hand and also to estimate how much will need to be ordered for the following week. This system of inventory counting (period) is fairly easy and seems appropriate for a small franchise firm (like this Tim Horton's branch on Baseline/Carling). The system allows the owner of the firm to order several different items (such as milk, cream and donuts) at the same time; this helps to reap the benefits of economies of scale (discounts associated with bulk purchase and ordering/shipping costs).
Although periodic system simplifies inventory counting is make inventory management fairly easy at Tim Horton's, several disadvantages are associated with it. First, there is a lack of control between reviews (there is frequent errors in inventory counting process). Second, need to protect against shortages between review periods by carrying extra stock. In order to protect against shortages between lead time (time between ordering and receiving the order), excess inventory is usually kept in stock. The cost of maintaining excess inventory includes holding/carrying costs, physical space, insurance premium, and opportunity cost (or interest) on the inventory. Furthermore, owing to the fact that inventory counting is done manually, there is frequent error in the inventory counting process which gives rise to overstocking or understocking of inventories. Lack of control over inventory levels at Tim Horton's increases operating costs (which decreases profitability).
Project objective:
Our main objective for this project is to propose an effective and efficient inventory system that will help Tim Horton's franchises manage their inventories more efficiently. Our first goal is to improve the overall inventory management in terms of customer satisfaction (by ensuring that the right goods, in the right place, in sufficient quantities, at the right time). Secondly, we will adopt and implement new inventory management system (perpetual system), that will improve inventory-counting process reduce inventory costs, thereby increasing profits.
Method
Interview with Mister Abuqasem, Owner of Tim Horton's branch that is located in Bay Shore, 2970 Carling Ave, Ottawa "
Mr. Abuqasem is owner of fore brunches of Tim Horton's. He has extensive experience in Operation Management, and new business development. Abuqasem has had a longstanding association with Tim Horton. He first worked for the company from 1985-1990 as Vice President of Tim Horton's. He was responsible for establishing the sales, marketing and distribution services of Tim Horton 's products in the Canada.
The logic behind this Method (interview)
The main goal of this Interview is to examine and observe real-life project in industry and gather information/data from experienced perspectives as well as gain a realistic understanding of business operation and Inventory management at Tim Horton's. By having face-to-face communication with the owner, we were able to carry out our analysis and observations effectively because the owner was available to answer questions and also provide further insight about his firm. Since the owner is the one that knows his company firm best and had all the necessary information and details of operations, he was invaluable in to us we got most of our data/information from him.
Finding:
As student-consultants, we paid regular visit to the Tim Horton's branch (at Baseline/Carling) and we studied the inventory system that the branch currently uses. During the process of analysis and observation, we realized that there were loopholes in the inventory management, which led to dissatisfaction among customers, and the low inventory turnover rate. There were frequent customer complaints and the inventory turnover rate was slightly less than 2 times per week (much lower than the average Tim Horton's franchise restaurants). Moreover, we also found out (from the manager) that ordering and carrying costs of inventories were pretty high. Our main task was to implement new inventory management system and measures that will improve the overall business process (especially in inventory management).
The reasons for the above problems that the branch was facing boils down to the following: First, inefficient system to keep track of inventory on hand and on order. Second, poor forecast of demand (due to seasonality in coffee demand, highest in winter, lowest in the summer). Third, lack of knowledge in lead time (time between ordering and receiving the order) and lead time variability. Fourth, inability to reasonably estimate inventory holding, ordering and shortage costs. Finally, poor classification system for inventory items (the branch did not make use of the ABC system in inventory costing).
As adumbrated above in the "existing process", the periodic system that the Tim Horton's branch uses is one of the main causes of poor inventory management. The physical counting of inventory usually results in "human error", which gives rise to inaccurate demand forecast. Also, excessive inventory stock was required to protect against stock-out (costs associated with excess inventory stock include carrying/holding costs, storage costs and opportunity costs-or interest costs). Inability to reasonably estimate holding/carrying costs, ordering costs and shortage (when demand exceeds the supply of inventory on hand, often the unrealized profit per units of product) often resulted in increased costs, thereby significantly decreasing profits.
Solution:
In order to improve inventory management at the Tim Horton's branch, we (as student-consultants) recommended that the manager of the branch switch from periodic system to perpetual system (this system keeps track of removal of inventory continuously on daily basis, thus monitoring current levels of each inventoried item). Adopting and implementing the perpetual system can reap the following advantages reaped by the owner: First, he can gain control over inventory on hand and on order because he can determine the "current" levels of inventories. Second, the perpetual system will allow for fixed-order quantity (the manager can justify and economic order size), which will minimize costs, hence, increasing profitability. Third, the manager needs to purchase a software system (such as "Clear View" that is currently being distributed by the parent Tim Horton's company-to keep track of inventory on hand and on order). The Clear View Software is installed in the manager's computer and is connected with the cash register to ensure accurate transaction. Therefore all the items that have been supplied from suppliers are uploaded on the manager's computer and then, all the items that had been sold are deducted form the total inventory received from the suppliers.
Although the software (Clear View) is quite expensive (about US$150,000 or about CDN$ 225,000) it will significantly improve inventory management at the Tim Horton's branch by ensuring accuracy in inventory counting, and also decrease carrying/holding costs, ordering costs, possibly eliminate excess inventory, and improve overall business process. The Clear View software give rise to Just In Time (JIT) by instantly signaling Tim Horton's suppliers about inventory levels in real time.
An ABC analysis provides the means for identifying those items that make the largest impact on a company's overall inventory cost performance. Thus, alternative solution that will enable the manager to effectively manage the inventory efficiently is to use a technique called ABC analysis it determines the importance of items in term of their costs and turnover and the level of controls placed on the items. By dividing a company's inventory into different classifications-A, B, or C, managers can focus on the items occupy the highest percentage of sale. For example, high priority A items have tighter controls on inventory records and more frequent reviews of forecasting, demand requirements, order quantities, safety stocks, and cycle counting.
Medium priority B items have similar controls compared to items, but take place less frequently. Low priority C items have the simplest controls; they are really only important if there is a shortage of one of them. Therefore, lower value C items can be ordered in larger quantities and have higher safety stocks. The benefits of using ABC analysis put emphasis on "where the value is." By focusing efforts on higher value inventory, a company can assign proper resources to attain the optimum inventory levels, reducing inventory costs and ensuring customers' needs are met. In addition, the outcome in the long run will improve the company's performance.
Finally, the owner can employ students who have knowledge in Production/Operations management (such as students taken or are currently taking BUSI 3300) to assist in inventory management. As students, our knowledge in Production/Operations Management will be invaluable to any small or medium-sized firm (at a reasonably low cost). Students who have knowledge in Production/Operations management will be able to provide reliable forecast of demand that will include an indication of possible forecast error. Furthermore, our knowledge in lead time and lead time variability will be useful to the manager by ensuring that the right product/service is in the right place, in sufficient quantities, and at the right place.
Recommendation:
We will recommend that the owner of the Tim Horton's franchise purchase the software (Clear View) regardless of the cost. This software will enable the branch owner to adopt Just In Time (JIT) system in managing inventory. The software keeps accurate records of inventory on order and on transit through Electronic Data Interchange (EDI) is built into the Clear View software. Clear View's EDI allow transmission of direct inter-organizational transactions (between Tim Horton's franchised firms and their suppliers). Furthermore, the software improves productivity by eliminating paperwork; reducing lead time, improve control of operation, and by increasing inventory counting accuracy.
Moreover, the software will help the Tim Horton's branch to effectively and efficiently manage its inventory by reducing inventory overstocking and understocking, reduce lead time and lead time variability (due to access to JIT). Because the software can enhance perpetual inventory system (by keeping up-to-date record of inventory levels), the manager will be able to predict demand and also to enjoy economies of scale by placing several orders at the same time. Although the owner might be reluctant in purchasing the software due to its high cost in the short run, the benefits that will be reaped in the long run will definitely outweigh the cost in the short run.
Related Topics