The Yellow Wallpaper and Bartleby the Scrivener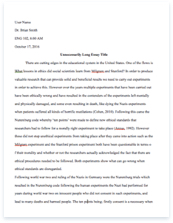 The whole doc is available only for registered users
A limited time offer! Get a custom sample essay written according to your requirements urgent 3h delivery guaranteed
Order Now
Who was more powerless – Bartleby or the boss? Why?
The story of Bartleby, the Scrivener: A Story of Wallstreet by Herman Melville shows how destiny differs among men. The narrator, a lawyer who hired Bartleby, a scrivener in the 18th century setting, tried with all his might to change Bartleby. But the employee preferred not to cooperate. Bartleby could have suffered from some emotional or psychological problems so that he was not aware that his life has gone to waste.
            The boss, in this case, was more powerless. It was Bartleby who triumphed all throughout. He triumphed because he wanted to waste his life and it was indeed wasted; he died in prison because he preferred not to eat. The boss on the other hand, wanted to make Bartleby see life the way he does. But he failed. No matter how good his intentions were, they both see life differently.
What does` the Yellow Wallpaper suggest about middle class women's place in this society?
The story The Yellow Wallpaper by Charlotte Gillman shows a clear discrimination of women in the society. The narrator, Charlotte herself, is a victim of negligence of her own family. The Yellow Wallpaper is an evidence of how her mental state deteriorates because she is ignored by her own husband. Despite her efforts to convince John that she is ill, John insists that there is nothing wrong with her. The entire family does not listen to Charlotte and instead they follow what her husband decides for her. She is practically exiled in the secluded and seemingly haunted mansion. Charlotte's life could have been better if people paid attention to her and gave her importance.
Charlotte's experience reflects the experiences of middle class women in this society. Society continues to ignore the silent sufferings of women who cannot make decisions for their own selves. Though well provided with their basic needs, they are treated as dependents and are expected to be submissive and remain loyal to their husbands.
Related Topics