The Starbucks Research Report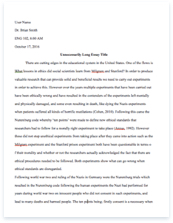 The whole doc is available only for registered users
A limited time offer! Get a custom sample essay written according to your requirements urgent 3h delivery guaranteed
Order Now
Founded in Seattle, Washington in 1971, Starbucks Corporation is the largest coffee provider in the world. It grew quickly with its unique global management style and social-conscious cooperate responsibility. Starbucks Coffee now holds a special place in cup-holders across the globe. Its' pervasive infatuation of the caffeinated drink has gotten the coffee conglomerate a retail front on nearly every street corner. With stations in 75 countries and 13.3 million people registered for its loyalty rewards plan, Starbucks has surpassed most of its closest competitors, exceeding them in market share and total market value. There is no doubt Starbucks is one of the leading establishments in the food and beverage industry, and with such reach and influence comes enormous responsibility. Starbucks constantly plugs its corporate responsibility – claiming to be climate-change aware and sensible of its environmental impacts.
But how many consumers know the real implication of buying a cup of coffee from the 'sustainable' coffee brand? How many latte slippers are aware that the paper cups and plastic straws can't be recycled and will likely end up on a garbage island? Even though Starbucks holds pride on the progressive measure they're taking towards sustainable development, different reports point to the corporation's failure to live up to its own standards. Being one of the 13.3 million loyal customers, I was more than excited to look further into my beloved coffee chain as it has become a central part of my daily life. The aim is to further research the company's sustainability procedures and business models to see if Starbucks is truly environmentally conscious, or simply attempting to drive more revenue from their cooperate image.
Origins, Production, Manufacturing, and Transport
My research into Starbucks showed the extensive labor and capital it takes to provide my morning cup of coffee. Starbucks has attained a supply chain for their coffee beans that covers three continents, Asian Pacific, Latin America, and Africa. However, it takes more than just coffee beans to make a Starbucks coffee. Brewing, Espresso, and Water filtration machines are used to produce every cup of coffee. Starbucks recently announced its' agreement to purchase The Coffee Equipment Company and the Clover Brewing System. This move, according to statements from the company, is so Starbucks could "provide the best of the vacuum pot and coffee press methods, further unlocking the unique flavor nuances of specialty coffees. "
The majority of the manufacturing process occurs in the roasting plants and distribution center, located in 6 cities across the United States – Kent, Washington, Augusta, Georgia, Gaston, South Carolina, York, Pennsylvania, Racho Cucamonga, California, and Carson Valley, Nevada. Locals living in the areas of the plantations perform the manufacturing process. Complains have been filed from Starbucks employees regarding workplace accidents such as sprains, falls, slips and lacerations. Other severe health problems can be associated with working at the roasting plants and distribution centers. For example, standing for long hours may contribute to lower-limb muscle failure, raising the risk of long-term back and muscle pain. Due to the high-risk nature of their working environment, The Starbucks Workers Union is in place to help file any complains and accident reports by employees at the plantations. After the manufacturing process, the processed goods are transported from roasting plants and warehouses on land by semi trucks. Thousands upon thousands of deliveries per day, this part of the commodity chain produces major air pollution as the trucks are rarely updated.
Consumption and Disposal
The final product is assembled at one of Starbucks' 27,339 retail locations. Starbucks coffees are mass-produced and fall under free trade. Its' gross profit margins were at an all time high at 59.63% in 2017, its operation profit margin at 18.47%, and its net profit margin at 12.89%. Starbucks employees are paid above living wages. The average hourly rate for a Barista is $9.67, and $12.65 for a customer service supervisor.
Starbuck has made managing their environmental impacts a top priority, dedicating collaborations and innovations for continuous improvements. With that said, Starbucks seems to be having trouble with the most basic environmental challenge, recycling. Recycling seems like a simple, straightforward initiative but according to Starbucks "it's actually quite challenging." They claim the ability to recycle a is reliant on upon multiple factors, including "local government policies and access to recycling markets such as paper mills and plastic processors." Some districts enthusiastically recycle plastic and paper cups, but with operations held in over 75 countries, Starbucks faces a mixture of recycling arrangement and social conditions. Furthermore, in some countries, the property-owners control the waste assembly and choose if they want to provide recycling on site. These challenges calls for more customizable recycling programs, and because of the unwillingness to corporate from individuals outside of the company, this process is harder to manage than it would appear.
Starbucks has been the topic of controversy regarding the failure of providing recycling at many of its retail locations. The chain is nowhere near its goal of "offering recycling at all of its company-owned stores by 2015". In fact, Starbucks is extremely behind on many of the environmental goals they set for themselves. The chain reduced energy intake in its stores by 7.1% from 2008 and 2013, far away from the 25% reduction by 2015 they set out to do. The company's 2013 company-wide report also stated that they were not on-track to purchase renewable energy to offset its electricity use. And as of 2014, Starbucks sold only 1.8% of their beverages in personal glasses/cups compared to their goal of 5% by 2015. While some may think that these unaccomplished missions might insinuate that the coffee company is unsuccessful in its environmental ventures, but the truth is not what most would expect.
Starbucks is actually doing much better than its industry peers when it comes to environmental impact. According to Corporate Watchdog's GMI ratings, 'Starbucks Corporation's environmental rating is around the 90th percentile when compared to U.S., Global, and Industry Peers,' wrote senior GMI analyst. Being the global powerhouse that it is, Starbucks' actions are carefully monitored by not only their competitors, but also their stakeholders. Just by attempting a more sustainable development, Starbucks has helped lift the industry's assessment on environmental standards. The company fully stands behind their goals despite not meeting them. In a statement released in 2016, an official said, "the purpose in originating these goals was to be very aspirational. We are more interested in being aspirational, innovating, listening to our partners, listening to our customers than in what it looks like if we fall short,' but not forgetting to mention that leader at Starbucks are 'certainly set out to achieve the goals and are still aiming to improve their statistics."
Research Process
A significant portion of my research was found from three reputation sources. NASDAQ for the financials, the PESTEL/PESTLE model for external factors, and Starbucks' website for it's existing and future campaigns.
The NASDAQ index shows how the company is currently doing by calculating its total revenue, gross profit, and net profit. On top of the financial statements, Starbucks also uses an external model to determine the company's standing, called the PESTEL/PESTLE factors. The PESTEL/PESTLE analysis reveals the most important stimuli on Starbucks, constructed on characteristics regarding macro-environment. It helps the company decide what to do with the most pressing topics in its business plan.
Being the large national cooperation that it is, Starbucks is required to release its financial statements to the public shareholders. So finding information regarding its current standings was done by just one Google search. The process of how a cup of Starbucks coffee is made on the other hand, was slightly more challenging. The Starbucks website provides an extremely detailed account of the company's history and ongoing operations. From techniques of brewing a perfect Starbucks coffee at home to stories from employees enrolled in Starbucks' college plan. It answered most of the questions I had regarding sustainability and the commodity chain. But what I couldn't find was information on the harvesting process of the coffee beans. Because Starbucks is outsourcing beans from foreign companies, that information is disclosed from Starbucks's statements. I was unable to find any information on the working conditions of employees, or the manufacturing, and shipping process.
Conclusion
Starbucks has been fairly transparent to its shareholders on their efforts towards sustainability. The company has been trying to cut down ecological footprint on all stages during the manufacturing process, actively trying to make coffee the first sustainable product by decreasing pollution, and promoting ethical sourcing. Starbucks also addresses political and social issues through different models such as the PESTEL/PESTLE model. But like other simulative models used by Starbucks, it only address conditions and developments that influence consumers and the business. It is clear that the main focus of the company is to increase total and net revenue, as well as to increase market share. Ultimately, The Company's value on sustainability may be a marketing tool to reach a larger consumer base, but it doesn't diverge from the progress made. Starbucks' mission for sustainable development has propelled more industry peers to think about the environment differently. As a company with great influence, Starbucks arguably has to uphold a certain responsibility to cultivate an eco-friendly practice. But still, some of that accountability falls on the consumers to ensure that cooperate honesty.
Related Topics