"The Scarlet Letter" by Nathaniel Hawthorne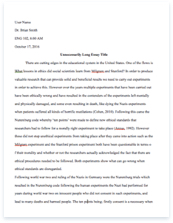 The whole doc is available only for registered users
A limited time offer! Get a custom sample essay written according to your requirements urgent 3h delivery guaranteed
Order Now
Thus far in "The Scarlet Letter" by Nathaniel Hawthorne he has made it clear the tone he has taken towards Pearl Prynne, Roger Chillingworth, and the Puritans as a whole. Hawthorne portrays his tone by his use of diction and syntax.
Hawthorne's view of Pearl is exceptionally adoring. There are several places this is made clear. He claims that her "beauty shined through the gorgeous robes" (Ch. 6) and there was a "circle of radiance" (Ch. 6) that shone about her. As the narrative progresses and more of Pearl is revealed, Hawthorne's tone changes to a violent and threatening tone as he states that Pearl showed off a "variety of threatening gestures" (Ch. 7) and with much force she "screamed and shouted" (Ch. 7) at her enemies.
Hawthorne views Roger Chillingworth as psychotic and cold. This is also made immensely clear on several occasions. However, these traits are most emphasized when Hawthorne brings to the audiences attention the "dark complexion" (Ch. 8) that is upon Chillingworth. While acting as a medical supervisor for Dimmesdale, Chillingworth seeks a "more intimate revenge" (Ch. 11) that was colder than any enemy had ever endured. His psychotic ways show when Hawthorne states that [satan himself was in the guise of old Roger Chillingworth] (Ch.9) as he digs through Dimmesdale's heart.
Finally, Hawthorne makes his view of the Puritans as a whole the most clear. He starts out relatively early in the book describing these people as "being of the most intolerant brood" (86) unveiling at once the lack of understanding they had. Finding out about Hester and Pearl, the village at once "scorned them in their hearts, and…reviled them with their tongues" (86) exposing to us the discriminating disposition that the Puritans have for those who were not exactly like them or followed their rules. The tone that is inferred from the harsh words allows us to see the negative attitude that the narrator feels for these Protestants.
Related Topics