The rise and decline of IBM (selected excerpts of a LONG story!)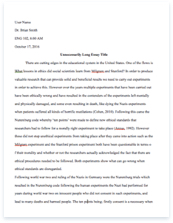 The whole doc is available only for registered users
Pages: 6
Word count: 1266
Category: Computers
A limited time offer! Get a custom sample essay written according to your requirements urgent 3h delivery guaranteed
Order Now
IBM's Great Start
" This business of ours has a future, it has a past of which we are all proud, but it has a future that will extend beyond your lifetime and mine."
Thomas J. Watson Sr.
1926
            During the 1890's, Herman Hollerith's Tabulating System was used in the US Census, reducing a nearly 10-year long process to two and a half years and saving $5 million dollars. Hollerith then had created the Tabulating Machine Company to market his product in 1896. George W. Fairchild then forms the International Time Recording Company (ITR) in 1900 as the selling agency of the Bundy Manufacturing Company, Willard and Frick Manufacturing Company, and Standard Time Company, which also manufactures a card reader.
In 1901, The Computing Scale Company of America is incorporated as a result of a merger of the original Computing Scale Company to two other Scale companies in America. The three above companies, the Tabulating Machine Company, the ITR and the Computing Scale Company had then been merged by Charles Flint in 1911 to form the Computing-Tabulating-Recording Company wherein Fairchild became the first chairman of the board of directors.
            As CTR became bigger, it had then changed its name to International Business Machines (IBM) in 1924 to emphasize the multi-nationality of the company. CTR had even before used the name IBM as early as 1917 in their business operations in Canada.
            Because of the growth of the accounting market in 1914, IBM had seen this as a great opportunity to explore on for profits. The same year, Thomas Watson Sr., a former salesman of the National Cash Register Company had joined CTR as its general manager. With Thomas Watson Sr.'s great business practices, within one year he had been elected as the president of CTR. Watson Sr. had created many pro-employee policies, such as:
Permit to hire disabled employees first done in 1914, 59 years before the passage of the Rehabilitation Act of 1973 and 76 years before the Americans with Disabilities Act.
Sales Convention starting in 1915 that was said to be the forerunner of the Hundred Percent Club conventions, a convention for salesmen who regularly meet their quotas.
Having a slogan "Think" to encourage the IBM's employees for better work attitudes.
Educational programs for IBM salesmen that were first opened in 1916 at Endicott, New York to further enhance company sales.
Having First Quarter Century Club organized in 1924, the same year CTR had been renamed, to recognize employees with 25 years of service to the company.
Creation of Business Machines as IBM's internal publication had also started in 1924.
By the year 1930, USA suffered from the Great Depression, many companies during this era were one by one closing down but not IBM. Surprisingly, IBM managed to grow while the rest of the U.S. economy floundered. In spite of the downturn of its mother country's economy, IBM still had the policy of continuous employment for life of employees because they were considered as belonging to a family with social needs as well. Also, IBM aimed for the delivery of service and equipment on time. Back in 1924, IBM first recognized its employees with a minimum of 25 years of service via the organization of the first Quarter Century Club.
In 1925, IBM sort of paid tribute to its salesmen who meet their quotas by organizing the "Hundred Percent Club". As early as 1944, IBM had a vision to be a leader by specializing on field of interest such as the development of computers. IBM also gave intelligence assistance to the government during World War II. Another big contribution to the rise of IBM is its incorporation of research as part of the business component and adventuring into any promising area. As a matter of fact, they have had a contribution in the invention of the first heart/lung machine first used in 1953.
Recognizing the inevitability of change, IBM continued to improve their line of products especially in their manufacturing of computers. In 1965 after 39 years of leadership, Watson Sr. died. But this mournful event didn't put to a stop to the rise of IBM. Watson Sr. handed his CEO position to his son, Thomas J. Watson Jr., thus securing the continuous growth of IBM with the tried and tested effective policies. During the younger Watson's term, massive recruitment was done. By the time Watson Jr. was CEO, IBM is being served by 72,500 employees and enjoyed a gross income of $892 million. By 1971, the end of Watson Jr.'s term, IBM had a total number of employees of more than 270,000 and gross revenue amounting to $8.3 billion.
IBM's lost of technological leadership
For five decades, IBM was undeniably the leader in the information technology highway but not until on its 6th decade with the 6th CEO presiding the company. In 1988, CEO John F. Akers introduced a new cost reduction policy to IBM to adapt to changes in the technology world. The new CEO permitted the reduction of personnel even in their research departments.
This move had been seen as the start of the diminishing care to the people of IBM and the principles that guided IBM through its rise. Because of this, a number of internal conflicts had risen up. Also the cutbacks of research personnel is perceived to be the cause for the failure to see the future in stand alone computers. By the year 1994, 6 years after Akers's rose to power, his policy had unemployed up to 150,000 employees.
Temporarily, IBM's failure was remedied by outsourcing of hardware and software to be used in IBM's personal computers but this was later realized to have caused a greater negative impact into them. IBM entered into an outsourcing contract with Microsoft to develop the Disk Operating System (DOS). Despite the fact that Microsoft did not really develop the DOS because they had only purchased the 86-DOS version of Seattle Computer, IBM still pursued into its contract with Microsoft by giving royalty rights to the latter in exchange for the free use of DOS.
A stiff competition to the PC Market was into placed when Microsoft started to sell DOS and its Window based software, Windows Version 3.0 to clones of IBM. Unfortunately, IBM failed to produce good operating system software for the PC industry. PC-DOS was only a result of IBM's contract with Microsoft and DOS was never owned by IBM. But this is not the only "unprofitable" contract IBM entered; they also had a deal with Intel in exchange for their microprocessor products.
The biggest yearly deficit in the history of U.S. business – an $8.1 billion loss was reported by IBM back in 1993. Other reasons blamed for the decline of IBM were their focus on mainframes and pushing of products that were not received as well as expected.
List of References:
Dr Denos Gariz; The Rise and Fall of IBM in technological Leadership
http://www.pasha.net/ibmbook/book.html
Jean Jacques; The rise and Fall of IBM
http://ecole.org/seminaires/FS8/CM_07/CM200195-ENG.pdf
Charles A. Rarick; The Rise and Fall of IBM Personal Computer Business
http://papers.ssrn.com/sol3/papers.cfm?abstract_id=1107172
David Ira Rosenbaum; Market Dominance: How Firms gain or Lose It and The Impact
– Don E. Waldman; (1998), The rise and Fall of IBM. Greenwood Press,
ISBN-10: 0275956040
The history behind IBM
New Straits Times; Jun 7, 2000; 283 Words New Straits Times 06-07-2000
Related Topics