The Right To Self Determination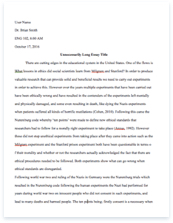 The whole doc is available only for registered users
A limited time offer! Get a custom sample essay written according to your requirements urgent 3h delivery guaranteed
Order Now
The UN Covenants of Human Rights in general recognizes and provides for the right to self determination, i.e. 'the right to freely determine political status and freely pursue their economic, social, and cultural development' (ICCPR, 1954, Article 1). It also stipulated for the right to 'freely dispose of natural wealth and resources without prejudice to obligations arising out of international economic cooperation' (ECOSOR, 1954). And that the contracting parties are supposed to promote self determination and respect this. The implications of these provisions are very evident—self determination is presented as a human right.
It grants the right to freely choose their legislators and leaders and such other civic and political rights, free from undue influence or pressure. This is the right of internal self determination (Kumbaro, 2001, p. 14). It also presupposes that the peoples have the free disposition of their own wealth and natural resources. The adoption of the concept in these covenants marked the point of development of self determination from the legal obligation of the decolonization era to self determination as human rights.
The Declaration on the Granting of Independence to Colonial Countries and Peoples in 1960 stresses independence in the colonial context (Kumbaro, 2001, p. 16). It is supposed to hasten the end of colonialism. The right of self determination rests on the 'peoples' and the term 'peoples' to repeatedly referring to a colonial context. The Declaration on Friendly Relations laid down the general rules concerning the right to self determination held by 1) peoples under colonial or alien power to achieve sovereign status or any political status chosen by them; 2) peoples under racists power have the right to internal and external self determination by establishing their own government or by seceding. Furthermore, paragraph 7 of the Declaration is held to apply to peoples living under racist regime, alien or colonial domination.
The Helsinki Final Act adopted in 01 August 1975 is a Declaration on the Principles Concerning Mutual Relations of participating States contains specifically Principle VIII with reference to internal and external self determination and which in substance refers to the right of the peoples to full freedom to determine their external and internal political status without external political pressure. This was construed as a continuing right and not a right yet to be exercised. The most important contribution of this Final Act is that it established a permanent possibility for internal self determination by choice of political or social regime.
The International Court of Justice lacks authoritative opinion on the matter except that due regard must be made to freely expressed will of the peoples. This may be dispensed with if two requisites are present: when one is not faced with 'people' proper and when special circumstances make a referendum unnecessary.
Self determination is ordinarily and commonly fulfilled through internal self determination that is, the establishment in freedom and sovereignty the political, social, economic and cultural regimes. On the other hand, external self determination refers to the establishment of an independent and sovereign state usually by means of secession (Kumbaro, 2001, p. 24).
Self determination does not give rise to independent statehood for Kosovo based on the following arguments:
1) The right to internal self determination as previously discussed should be understood in the colonial context. It is axiomatic in the international legal lexicon that people occupying a given territory have the right to freely determine their political status. The UN Charter, the Declaration on the Granting of Independence to Colonial Countries and Peoples, the Declaration on Friendly Relations and ICJ case decisions are erga omnes or enforceable against anyone infringing that right. It has been held that outside the colonial context, territorial integrity conflicts with self determination since the latter does not translate automatically to right of secession and moreover, it can only be realized through internal self determination.
The case of the secession of Quebec laid down the principle that in case the State is so oppressive as not to allow internal self determination, secession may be an option and therefore territorial integrity can be set aside. However, much of the contested area is 'whether prevention of meaningful exercise of internal self determination justified secession as a last resort. The present regime in Kosovo is accepted and supported by the majority of the Serbian population as evidenced by the recent referendum. Moreover, the abuses and oppression were that of Milosevic, the present system in Kosovo has provided stability ; how far does one have to go on the basis of historical abuse?
2) There is loss of effective control over Kosovo territory by Serbia. Four criteria are set for statehood in the Montevideo Convention in 1933 which are: 1) a clearly defined territory, 2) a population, 3) effective government and, 4) the ability to enter into relations with other States. .A State can only assert legal title over a portion of territory if it has developed effective government—thus, establishing a degree of control over it.
The two reasons which explain this conclusion are: 1) effective control and government over Kosovo is exercised by an international administration for the past seven (7) years. Under the Security Council Resolution 1244, the UN Mission took charge of legislative and executive functions in Kosovo as well as the administration of justice. It assumed responsibilities over the utilization and financial administration of its assets. It changed currency, Serbian flag and symbols into UN regalia, and enters into agreements for Kosovo, and controls borders.
2) The Constitutional Framework for Provisional Self-Government in May 2001 reduced the control of Serbia by transferring responsibilities to policy making in areas of economic, infrastructure, trade, etc. to Kosavar institutions although the final decision rests on the Representative of the Secretary General. This interim administration structure and Constitutional Framework has reduced Kosovo to a 'non-self governing territory.'
Furthermore, Kosovo is wholly dependent economically to the international community specifically the European Union in the foreseeable future. Albeit economic dependence is not necessarily effective control but where a state is wholly dependent upon the other to finance all the functions of the state, effective control seems to be undermined. The capacity of the states to comply and fulfill its international obligations is crucial under international law.
Be that as it may, effective control is not always convincing in determining sovereignty. The changing of borders by military means is outlawed under international law under Article 2 (4) UN Charter. A clear statement of the Security Council in relation to Iraq is contained in Resolution 713 that "no territorial gains or changes brought about by violence are acceptable."
3) The recognition of Kosovo as a legitimate sovereign state would be tantamount to a violation by the international community of the sovereignty of another recognized state which is Serbia and also a violation of several international covenants such as UN Charter and the Helsinki Accords.
4) The loss of Kosovo from Serbia would have profound effects on the morale of the Serbs. It should be recalled that Slovenia, Croatia, Bosnia, Macedonia and Montenegro were lost through independence—and possibly now Kosovo. This rejection of the Serbs can trigger a 'Trianon Syndrome' which is described as a 'long lasting bitterness and anger towards neighbours.' It may be recalled that in 1920 the Treaty of Trianon was imposed upon Hungary at the end of the First World War which resulted to provoking upheavals due to bitterness. Thus, it is argued that independence for Kosovo will only bring instability rather than stability.
5) The holder of the right to self determination-peoples is ambiguous. While a state's territory can be easily defined with borders and boundaries; there appears to be an absence of an objective criterion for peoples. Language, religion, race etc do not provide a solid method for identification. It would be easy for a community to define itself as a people but with whom shall the right belong to determine minority from the majority.
References
BBC News, "Serbia backs draft constitution", 30 October 2006 Retrieved from http://news.bbc.co.uk/2/hi/europe/6097344.stm on 04 May 2007.
Cassese, A., Self Determination: A Legal Reappraisal, (1995), UK: Cambridge University Press, pp. 72-101.
Copley, Gregory, 'The Burden of Statehood: Is Kosovo Ready?' Reconsidering Kosovo.
Goodwin, Moraq, What Future for Kosovo? – From Province to Protectorate to State? Speculation on the Impact of Kosovo's Genesis upon the Doctrines of International Law, Special Issue Introduction, 8 German Law Journal, No.1, 01 January 2007.
Helsinki Final Act of 01 August 1975
ICJ Reports 1975, 32 at paragraphs 55.
International Covenant for Civil and Political Rights.
Island of Palmas case, Neth. v. U.S. (1928), 2 R.I.A.A. 829.
Loizidou v. Turkey, EurCtHR (1996);
Secession of Quebec,115 ILR 536 (Can. 1998).
UN Charter
UN Covenant on Economic, Social and Cultural Rights.
UN Security Council Resolution 1244
UN S. C. Res. 713, (25 September 1991).
Treaty of Trianon of Hungary, 1920.
Related Topics