The Relationship between Huck and Jim in The Adventures of Huckleberry Finn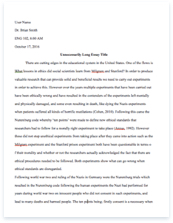 The whole doc is available only for registered users
A limited time offer! Get a custom sample essay written according to your requirements urgent 3h delivery guaranteed
Order Now
By looking at how Mark Twain displayed society's views and reactions of character relationships it is clear that slavery caused racial tension in the Northern and Southern states. By 1804, all northern states had abolished slavery. However, the southern states still had active slaves. All people of color were primarily looked down upon and were only used for working and could be pawned for money at any time. Slaves were often treated poorly with poor working conditions and physical abuse. One of the most famous civil rights activists, Frederick Douglass was born into slavery the year 1818. At the age of six, Douglass was deemed old enough to start working on the plantation. After that he was sent to several different places to work, being tossed around from master to master as an item instead of a person.
Eventually, Douglass was one who was able to escape slavery and advocate for slaves in different states. But many were not as privileged as Douglass and could not escape life long brutality and abuse because of the skin color they were born with. People like Douglass would advocate that everyone, despite their skin color should be treated equally in all states, in order to do so he worked with white freedom activists to level the playing field in the hopes white southerners would listen. Among those activists was President Abraham Lincoln. Douglass convinced the president to allow slaves to serve in the Union forces making the goal of the war to primarily end slavery and the racial divide of the country. Like the one of Douglass and Lincoln, the display of relationships among those of a different race, set a pathway for freedom that was much deserved between blacks and whites.
Huckleberry Finn by Mark Twain, was written to display how the relationship of blacks and whites in this time were critical to the future freedom of slavery and racism in the United States. As the novel takes place sometime in the 1830s- 40s, the reader can easily identify evidence of societies view on racism and slavery; especially the strong opinions of those in the south. Jim, a slave of a privileged white women, seeked to escape after being accused of murder of young Huckleberry Finn, a young white boy with an abuse drunk father. Although there was no evidence against Jim, they pinned this crime on him because of his skin color. This was an inhumane way to treat someone just due to the color of their skin. At the time, the country was divided due to the controversy of skin color. People of the south did not seem to understand that the color of their skin was something they were born with and simply could not change; but that did not make them any less entitled to fair treatment. The relationship between Huck and Jim was unseen among two southerners, and more significantly between races. Twain was trying to display through these characters relationships that the color of their skin does not define an individual and one should not be judged because of that. Huck and Jim shared a bond and common goal of finding freedom from the unjust attitudes and opinions of those in the south. They had each others best interests in mind and supported each other throughout the journey not letting the color of their skin become a factor in how they treat one another.
Related Topics