The Registered Nurse Career Field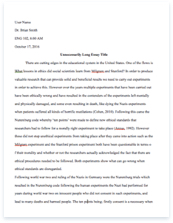 The whole doc is available only for registered users
A limited time offer! Get a custom sample essay written according to your requirements urgent 3h delivery guaranteed
Order Now
In the United States, there are more than 2.5 million individuals who, when addressed as a nurse, will respond (Frederickson, 4). Nursing occupations make up the largest group of workers in the health care field. Such occupations include Advance Practice Nurses, Certified Nurse-Midwives, Clinical Nurse Specialists, Community Health Nurses, Critical Care Nurses, Emergency Nurses, Geriatric Nurses, Home Health Care and Hospice Nurses, Legal Nurse Consultants, Licensed-Practical Nurses, Neonatal Nurses, Nurse Anesthetists, Nurse Assistants, Nurse Managers, Nurse Practitioners, Nursing Instructors, Occupational Health Nurses, Oncological Nurses, Psychiatric Nurses, Registered Nurses, School Nurses, and Transplant Coordinators (Ferguson,1). After reading this paper, I hope to make you the subject-matter expert in my occupation, the Registered Nurse. An overview of nursing, work environment, typical course study of becoming a registered nurse, duties performed, earnings, and the future outlook will be discussed in detail.
Registered Nurses help individuals, families, and groups to achieve health and prevent disease. They care for the sick and injured in hospitals and other health care facilities, physician offices, private homes, public health agencies, schools, camps, and industry. Some registered nurses are employed in private practice (www.fdtc.edu). The work environment includes clean and well-lighted facilities where temperature is controlled. Usually, nurses work eight-hour shifts. Those in hospitals generally work any of three shifts: 7am to 3pm: 3pm to 11pm: or 11pm to 7am (Ferguson, 140). There are three avenues of becoming a registered nurse. A student may choose a hospital nursing program, a school offering the associate degree program or the bachelor degree program (Frederickson, 39). Currently, I am pursuing an associate degree in nursing.
The associate degree program in nursing was developed in 1952 by Dr. Mildred Montag, a nurse and educator. This program was not originally intended to assume leadership or administrative roles. According to Montag, the functions of the associate degree nurse are to assist with planning nursing care, provide general nursing care with supervision, and assist with the evaluation of nursing care. Most programs are conducted within community or junior colleges. The student who attains an associate degree in nursing will be eligible for the registered nursing licensure examination. Upon passing the exam, students are authorized to use the initials R.N. when signing their names.
The typical course of study in an associate degree requires attendance at a nursing clinical lab in a local hospital twice a week or more for eight hours in order to test out nursing theory learned in class and to explore the different roles a nurse assumes in the course of performing their duties, nursing theory classes for about four hours a week, which include studying relevant subjects and writing research papers for Nurses, and three to six hours of college courses a week. A college lab is also used to teach students nursing skills, such as blood pressure measurement and bandaging, prior to their performance of such tasks on real patients (43-6).
There are many different kinds of Registered Nurses with specialized duties. The General duty nurse take patients' vital signs, administers medication and injections, record symptoms and progress of patients, change dressings, assist patients with personal care and any number of duties that require skill and understanding of patients' needs. Surgical nurses oversee the preparation of the operating room and sterilization of instruments. They also assist surgeons during operating on a patient. Maternity nurses help in the delivery room, take care of newborns in the nursery, and teach mothers how to feed and care for their babies. Private duty nurses may work in the hospital or the patient's home, which they are employed to care for.
The office nurse works in the office of a physician, dentist, or health maintenance organization. Occupational health nurses may advise on accident prevention, visit employees on the job to check the conditions under which they work, and advise management about the safety of such conditions. School nurses work in one school or several, visiting each for a part of the day or week. They may supervise the student clinic, treat minor cuts or injuries, or give advise on good health practices. Community health nurses require specialized training for their duties. They may instruct a class of expectant mothers, visit new parents to help them plan proper care for the baby, or visit an aged patient requiring special care, and conduct a class in nutrition (Ferguson, 136).
According to the Occupational Outlook Handbook, registered nurses earn an average of $40,690 annually. RNs in the nursing home setting earn an average of about $32,968 a year. Entry-level positions with the Department of Veterans Affairs started at $16,500 for nurses who were graduates of the associate degree program. The average annual salaries for all nurses in federal government agencies are about $26,100. Salary is determined by several factors: setting, education, and work experience. Most full-time nurses are given flexible work schedules as well as health and life insurance. Some are offered education reimbursement and year-end bonuses. Many nurses take advantage of overtime work and shift differentials (139).
Employment prospects for nurses look good. The U.S. Department of Labor projects registered nurses to be one of the top 25 occupations with fastest growth, high pay, and low unemployment. In fact, it is predicted that there will be about 451,000 additional jobs available through 2008. Employment opportunities for nurses will be best in home health situations. The increased numbers of older people and better medical technology have spurred the demand for nurses to bring complicated treatments to the patients' homes. Employment in nursing homes is expected to grow faster than the average as more people are livin well into their 80s and 90s.
Nursing is extremely challenging and stressful. Is physically demanding, requiring strength, stamina, and speed. It is emotionally draining, particularly for those who work with chronically ill or dying patients. It is also mentally demanding, requiring ready knowledge of techniques and procedures, keen observation skills, and attention to detail. Nurses must be able to communicate with patients, physicians, administrators, and technicians. Their work often goes unappreciated or taken for granted. There is significant occurrence of burnout in nursing professions because of these pressures, but the rewards are far greater. Nurses tend to be nurturing, caring individuals. They get great satisfaction from caring for sick or injured patients. Nurses provide a vital link between patients and other medical professionals, and often act as patient advocates and spokespersons. The health care industry could not exist without nursing professionals (2).
Bibliography:
Frederickson, Keville. Opportunities in Nursing Careers.
McGraw-Hill Publishing. (New York), 2003.
Http://www.fdtc.edu/Academic
programs/Health&Sciences/AlliedHealth/nursing/
default. asp
Morkes, Andrew. Careers In Focus: Nursing. Ferguson
Publishing Company (Chicago, Illinois), 2001.
Registered Nurses. Retrieved February 16, 2006.
Occupational Outlook Handbook: www. bls.
Gov/oco/ocos083.htm
Related Topics