The Practical Use of Strategic Planning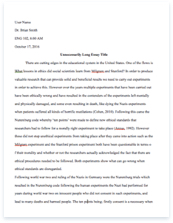 The whole doc is available only for registered users
A limited time offer! Get a custom sample essay written according to your requirements urgent 3h delivery guaranteed
Order Now
Strategic planning is something that needs to be used everyday in the health care industry. I will be comparing Assisted Living Facility (ALF) and Our Children Deserve the Best (OCDTB) for the two facilities. The purpose of this paper is to review two strategic plans, including differences, key elements, goals and strategies, mission/vision, and barriers to each of their success. Having a plan by strategically planning is a must in the health care field.
With any health care facility you will probably see things that are similar as well as differences. The mission for ALF talks about the goal of the company being able to provide a catering environment for anyone needing assisted living and around the clock medical and living support. They are also committed t providing a safe and secure home environment for their patients. And the management will ensure the facility complies with the local, state, and federal regulations that are set in place for assisted living services. (ALF, 2011) The other facility that I chose has a much shorter mission, and they are working with children verses disabled or elderly patients. The mission for OCDTB talks about how they believe that have unique needs and that they should grow up without illness or injury. They go on to say that with the help of the community and through their spirit, they will prevent, treat and eliminate disease. (OCDTB, 2006) These two facilities differ because they rely on different places for getting help to ensure that they are able to succeed with their mission.
ALF is committed to assisting patients that need help with everyday living. They are there to help developmentally disabled people to live a happy and productive life. They also take their patients out of the facility so that they are not always confined. I feel that it is important for them to be able to get out and do things. When you are confined to one place it gets depressing. If you are stuck inside a building you get stiff and will have more pain. But when you can get out and with the help of the staff you are able to go out for lunch or go to the mall it will make your day better, and help you to be more active which will help with the number of depressed patients. Some of the key elements for OCDTB are: wanting to be the best pediatric in the nation. They target investment in the clinical programs to make sure that their quality of care and the outcomes of their patients are the best in the nation. They also track their results so that they can compare them with other leading children's hospitals. They want to decrease wait times for patient's appointments, expand on their geographic reach and they will improve their communication with the families and physicians. Keeping everyone aware of what is going on helps everyone involved in the situation to be less stressed during these hard times.
The goal or purpose for ALF "is to raise $1,000,000 for the development of an assisted living facility while showcasing the expected financials and operations over the next three years. Home Again Assisted Living is a New York based corporation that will provide assisted living services through its home-like facility to customers in its target market" (ALF, 2011). Because OCDTB works with a different group of people their goals are different. Their goal is to be the best children's hospital. "We will provide patients and their families excellent care with compassion and respect. We will provide superior, accessible, cost-efficient service. We will attract and retain the best talent at all levels of the organization. We will be one of the top five pediatric research institutions. We will be the nation's premier pediatric educators. We will achieve worldwide prominence by integrating patient care, research, education and advocacy" (OCDTB, 2006). In order to reach these goals there needs to be strategic planning at all times because things do change as time passes, so you will have to change some things as you go and you need to always be prepared for anything to happen.
The barriers for success for both of these facilities are to have strategic planning their first priority. There needs to be constant changes and all staff for both of these facilities need to be fully trained and they need to have continuance training for anything new that comes up.
Both of these facilities are here to help the public and make the lives of their patients better. I like the goal of both, but if I had to choose one I would go with AFL. The developmentally disabled have so many struggles on a daily basis and I like that there are places that help them with everyday struggles. I like the idea that they help them get out of the facility so that they are not confined. Strategic planning is something that is used everyday because there are going to be different situations that come up and you always need to have a back-up-plan, and you cannot have this if you are not prepared. You have to be ready no matter what comes up.
References:
Assisted Living Facility. (2011). Home again living facility. Retrieved from: Walden library assisted living facility Children's Hospital & Region Medical Center Seattle, Washington. (2006). Our children deserve the best: laying the foundation for the next 100 years. Retrieved from: http://www.seattlechildrens.org/pdf/strategic_Plan.pdf
Related Topics