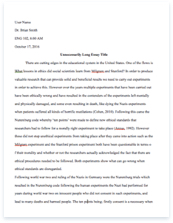 The whole doc is available only for registered users
A limited time offer! Get a custom sample essay written according to your requirements urgent 3h delivery guaranteed
Order Now
In the movie Coach Carter, the Coach uses every kind of management styles to communicate with his basketball team. Coach Carter first uses Autocratic. An autocratic manager likes to be in control and has absolute power. He takes no account of other people's wishes or opinions and uses rewards and punishment to achieve objectives. His decision making is centralized with a strict hierarchical chain of command. He is task orientated and uses one way communication. One scene where coach carter is using autocratic management is at the start of the movie, when he first joins the team. He gives them contracts to sign and tells them that they should attend every class and sit in the front and that they should get a 2.3 score. He also tells them that the "key to winning in here (the gym) is the key to winning out there (stadium)". He is strict towards them and tells them they should have respect or they get out like he did with cruise.
Coach carter tells them that "if you are late you will run, if you give me attitude you will give me push up." Being autocratic to them makes them start winning basketball games. The second management style Coach Carter uses is Persuasive. Persuasive means, the action or fact of persuading someone or of being persuaded to do or believe something. The Persuasive manager tries to convince that his decisions are correct. Exactly the same as autocratic but he tries to persuade his employees that he is right. One scene where coach carter is using Persuasive management is where he locks up the basketball gym because some of the players have failed one of their classes and orders them to meet him in the library. He says to them "Gentlemen, you have failed to up… No I'm sorry. We have failed. We have failed each other. Now, there are some of you who have upheld this contract. But know that we are a team.
And until we all meet the terms of this contract, the gym will be locked." Everyone starts arguing about it and Cruise leaves the team once again because he didn't like the idea. Next day Carter persuades them to start studying and attending classes so they can get a better ATAR score so they can make it to college and play basketball there. Couch Carter says that this is the only way for them to achieve this. He also says that most African Americans up in jail and that he does not want that to happen to any of them and the only way to achieve this and to make to college and play basketball is to put studies first. The persuading succeeds and everyone begins to start studying and they end up achieving the ATAR score that they need. The third management style Coach Carter uses is Consultative.
Consultative management means giving advice. The manager still makes the decisions but communications is two-way. Employer input is encouraged and moves towards employee task orientated. One scene where Coach Carter uses Consultative management is when they were playing against St Francis and they weren't playing good, Coach Carter calls a time out and gives them advice on what to do and encourages them that they can win this. "We still in this game. Come on, fellas. Gentlemen, you told me you deserved to be here. Well, you're not playing like it. All season long, we played our game. Right now, you're playing theirs. When we step on the floor, every second that clock is ticking, we are pedal to the metal. We run the, ball we pressure the ball. And most importantly, we control the tempo of the game. You do those things, gentlemen, and I guarantee you, at the end of the game, we will be there."
The team comes back and hit the front but unfortunately they don't win it at the end. But what they showed was that whatever the score is, you should never give up. The fourth management style Coach Carter uses is Participative. Participative Manager shares the decision – making with employees and team members. The communication is open and two-way and the manager encourages employees to make the decision. One scene where Coach Carter uses Participative Management is when, at the first game of the season, before they played he asked them a question, making them answer and making the decisions. "Now I know you all concerned that we didn't work on our offence during practice. We have all season to do that. But what did we do in practice, Mr. Stone?" "Run." "That's right, so what do you think I want you to do on offence tonight?" "Run?" "Correct again." This shows that he is trying to make them choose the right decisions. The fifth and last management style Coach Carter uses is Laissez – Faire. Laissez –Faire means the theory or system of management.
Laissez-Faire manager tries to give the least possible guidance and tries to achieve control through less obvious means. So basically the manger leaves the employee alone. He lets the employee make the decisions and do whatever he or she wants to do and it is 2 way communications. One scene where Coach Carter is using Laissez-Faire management is when he quits his Job because the people didn't want him to be the coach because he locked the gym up, he goes to the gym, which is now opened and sees his team studying instead of playing. He leaves them alone to do what they are doing and at the end every one of them succeeds and passes their ATAR score. In conclusion, by Coach Carter using all of these management styles towards the team, the team improves in basketball and at school. Most of them end up in college and playing for a great basketball team. They all end up having a much better life.
Related Topics