The Master's in Mechanical Engineering program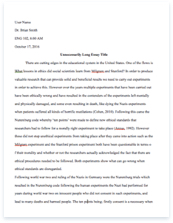 The whole doc is available only for registered users
OPEN DOC
A limited time offer! Get a custom sample essay written according to your requirements urgent 3h delivery guaranteed
Order Now
Science is concerned with what is possible while Engineering is concerned with choosing from among the many ways which meets our economic and practical objectives. Mechanical engineering is one such branch of engineering which directs the great sources of power in nature for the use and convenience of man. My tryst with the fundamentals of mechanical goes back to my childhood. As my father is also a mechanical engineer, he used own a Fabrication shop where they he used to handle projects like making Stair case railings, window grills, Rolling shutters etc. Since the shop was very near to our house, my visit to the shop every day after the school was frequent. By the time I finished my high school I inevitably had deep understanding of welding, lathe machine and its operations and Drilling etc. After finishing my high school, since I was already aware of the mechanical engineering applications in daily life, my choice in taking Mechanical Engineering as my stream of specialization was thereby a natural decision.
To study the program, I had to overcome many hurdles such as the common entrance examination which I had to take alongside lakhs of students. I passed the examination with flying colors being placed among top 3% of all the students who had written the examination. I took up Mechanical Engineering in University Visvesvaraya College of Engineering (UVCE) located in affiliated to prestigious Bangalore University. In the undergraduate program I have maintained good academic records. My undergraduate program has given me a wide and comprehensive exposure to numerous courses that I found interesting namely Kinematics of Machines, Dynamics of Machines, Thermodynamics, Finite Element Analysis, Control Engineering, Machine Design and Automobile Engineering. The Impact of these subjects was so deep that it sparked me a desire to remain associated with them throughout my life and carry out research and grew aware of enormous diversity and applications of the field. I strongly believe in learning practically by doing and my immense quest for knowledge enabled me to score more than 85% in the practical labs of all above mentioned courses. In addition to this, with the increasing role of computers in the field of mechanical engineering, I had a special interest in software's like Catia, Ansys and Matlab which were a part of my curriculum.
I took my study beyond just four walls of my classroom keeping myself occupied with numerous industrial visits. During the final year of my graduate studies, I visited 'Varahi Underground Power House' a hydroelectric power station situated in shivamoga district of Karnataka. There I got a chance to witness the electricity generation through the use of gravitational force of falling water. I was able to see the functioning of Turbine propellers, Hydraulic turbines, Hydroelectric Generator etc where I could practically relate to the things I had learnt in Fluid Mechanics and Turbo Machinery subjects. In another industrial visit, I went two dams namely 'Mani Dam' and 'Linganamakki Dam' where I saw two huge penstocks in the dams to feed the Kaplan Turbines coupled to 4.5 MW generators and the control gates to control the water flow. Here I was able to relate to the concepts learnt in subjects like 'Energy sources and Power Plant'.
To gain further experience I also presented a project work on 'Evaluation of mechanical properties of A17075 hybrid composites' under the guidance of my professors Dr. K.V Sharma and Dr. H.K Shivanand. In this project I got to know about the various Aluminum alloys, their composition, mechanical properties and industrial applications. In process of developing the alloys I practically understood the 'Die casting' and 'Machining' process. And also various machines like Universal Testing Machine, Brinell Hardness Test machine were used to evaluate the properties like Ultimate tensile strength, Yield Stress, Hardness and Microstructure etc. With this project I understood that primary processing of hybrids need to be understood more thoroughly especially factors affecting the micro structural integrity and there is a need to improve the damage tolerant properties like fracture toughness and ductility in hybrid composites. Also there is a need to develop simple economical non-destructive kits quantify undesirable defects in hybrid composites.
A good academic track record and strong practical skills demonstrated through my projects helped me to secure a position in Product Lifecycle Management (PLM) division at Tata Technologies Ltd. While Working in Tata Technologies I got numerous opportunities to work in challenging projects. Here I started working in the Catia Customization projects which involved the skills in both Design and programming. In order to support the project efficiently I learnt a programming language called 'VB.Net' which is used extensively for Catia customization. My first project was the automation of design procedures used for designing of a Hose Tool (similar to a bent tube).
Based on customer's requirement we developed a VB.Net application in Catia which just took an excel file containing co-ordinates of points as input and created the 3D Model of Hose Tube with appropriate bents required and also various Drawing Views of it in Drawing workbench as specified by the customer. The application was able to complete these procedures in few minutes whereas a good design engineer would take three days to complete it. I have worked in more than four projects in Catia V5 which gave me enormous knowledge of Sketcher, Part Design, Surface Design and Drafting Workbenches which enabled me to automate the various Design procedures with expected quality.
In another project, I worked on a requirement to migrate all the Catia V5 data to 3D Experience which gave me a chance to enhance my knowledge in Product Lifecycle Management (PLM) of an automobile. In one more project, I developed an application which interacted with PLC Software called Supervisory Control and Data Acquisition (SCADA) and an Industrial camera called Cognex Camera to detect defects on surface of fuel rail which is a component in Fuel injection system of vehicles through Image processing. This project gave me a lot of knowledge about PLC's in manufacturing plants and the working of the fuel injection system in various vehicles.
Now, after attaining an experience of more than 2 years and achieving a level of expertise at this juncture of my career, I feel that my educational and professional qualification coupled with the opportunities arising out with tremendous industrialization have reinforced my goals and have developed a keen desire in me to pursue my master's course in Mechanical Engineering, which would definitely equip me with comprehensive and specialized skills. Ten years down the line I envision myself in the Automobile sector where I would like to be able to apply what I learn to the industry and contribute towards its development.
When it came to selection of country for my Master's I was lucid about my choice "Germany", since it gave me a wide array of choices for courses and specialization. Germany is a country which highly values Education, Research and Science. Browsing through the information given on the website of Rosenheim University of Applied Sciences, I am highly impressed with the accomplished faculty members, environment and the facilities the University has to offer to its students. I also realize that the syllabus offered at this University is designed to meet the demands of the present day industry. I believe that there cannot be a better platform than this University to obtain advanced knowledge of the mechanical field. I have come to a conclusion that the Master's in Mechanical Engineering program offered by Rosenheim University of Applied Sciences is excellently structured to match my requirements. I believe studying in your university with high-tech facilities; excellent faculty and the highly suitable environment are of utmost necessity to achieve new heights in life.
I am fully aware of the fact that pursuing Master's in Mechanical Engineering program requires a high level of intelligence, dedication and immense sacrifice. I am confident that I have the capability to contribute positively towards your esteemed University and with great hope; I eagerly wait for your benevolent act of accepting me into your fold and granting me an admission in my desired course.
Related Topics