The Life of Stonewall Jackson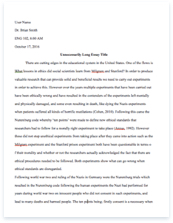 The whole doc is available only for registered users
A limited time offer! Get a custom sample essay written according to your requirements urgent 3h delivery guaranteed
Order Now
Thomas "Stonewall" Jackson was considered to be one of the South's most successful Confederate Army generals in the American Civil War, he was General Lee's right hand man, and a war hero. He lived from 1824 until 1863 when he died from pneumonia after being injured from friendly fire in battle. Jackson was also a good professor and even illegally taught slaves Sunday school classes. Jackson's death was a major tragedy and even made it to news papers in the North. "Without pain or the least struggle, his spirit passed from earth to God who gave it"(wisconsinhistory.org) was written in a northern newspaper article about Jackson's death.
Thomas Jackson, more commonly known by his nickname "Stonewall", was born in what is now West Virginia on January 21, 1824. Jackson had a very hard childhood, his sister and father both died when he was two from typhoid fever, and was raised by a single mother with his two siblings. Jackson's mother remarried in 1830 to a man who didn't like her children, Jackson was then sent to his Uncle's house in the town of Jackson's Mill, Virginia. Jackson lost his mother in 1831 while she was giving birth to his half brother. In 1842 Jackson enrolled in West Point Military Academy, he struggled with the work at first and stood out and was made fun of because he was older and came from a poor family, he overcame these difficulties and graduated in 1846 and was 17th in his class.
After graduating from West Point, Jackson went to fight in the Mexican-American War as a 2nd lieutenant. Jackson was a part of the Siege of Veracruz, Battles of Contreras, Chapultepec, and Mexico City.Jackson proved himself in the war and earned a promotion to brevet major and was considered a war hero. Jackson continued to serve in the military until he was offered a job as a professor at the Virginia Military Institute in Lexington.
As a professor Jackson taught artillery tactics, a class similar to modern day physics. Jackson was unpopular with his students because of his cold demeanor and was a little weird. Despite not being well liked by his students, Jackson was believed to be a good professor and taught artillery tactics well. Jackson had a few nicknames one being "Tom Fool Jackson" because of some of his weird quirks. Jackson believed that one half of his body was uneven so he would walk around with his right hand raised to balance out the blood in his body and hide the unevenness while he taught to his students and in battle. Jackson also got shot in his middle finger during The First Battle of Bull Run because of this habit, but he recovered with no problems. Another weird thing that Jackson did was that he would often times suck on lemons, Jackson was very concerned about his health and would always try to eat lots of fruits and vegetables, lemons were commonly available at camps in the war so he'd eat them to stay healthy.
While Jackson was out of the army he married twice. His first wife died during childbirth,while giving birth to a stillborn son. Jackson then married Mary Anna Morrison and they eventually had two daughters together, the first died within a month. Jackson stayed married to Anna Morrison until he died in 1863.
Jackson had a very interesting connection to slavery in the south. He struggled with the idea of slavery but shared the popular opinion in the south at that time, it was God's will that slavery existed. Jackson also taught Sunday school classes to slaves in Lexington, even though teaching the slaves was a violation of Virginia's segregation laws. After Jackson's death one of his students son was a reverend at a church and he raised money to make a window in the church to honor Stonewall Jackson, Making Stonewall Jackson the only Confederate Army general with a memorial in an African American church.
When The American Civil War started to unfold Jackson hoped that his his home state of Virginia wouldn't secede from the union, however when Virginia seceded in 1861 he proved his loyalty to his home state and joined the Confederate Army. He started off as a colonel, appointed the position by his neighbor who was also the Governor of Virginia, training the VMI Corps of Cadets. Jackson was then promoted to brigadier general under General Joseph E. Johnston. Jackson earned his nickname, "Stonewall", in the First Battle of Bull Run.
Thomas Jackson earned his nickname in the First battle of Bull Run after an iconic quote that stuck with Jackson for the rest of his life. On July 21, 1861 the first major battle of the American Civil War took place 25 miles away from Washington D.C. in Prince William County, Virginia. Union soldiers were sent by Lincoln to fight the Confederate army along a river called Bull Run, there objective was to push out the Confederate soldiers to open a path for an attack on Richmond, to try and end the war quickly. During the beginning stages of the battle Union forces were gradually pushing back the confederate army. The battle was looking to be a victory for the North until southern reinforcements came. Jackson and his army arrived by railroad and quickly moved up to fill a gap in the confederates line. When a fellow Confederate general saw Jackson make his move he said "Look, men, there is Jackson looking like a stone wall!"(History.com) this comment is where Jackson got his nickname and the name stuck with him for the rest of his life. When Jackson sent his troops into battle they conquered Union artillery on a hill and fought until the North fled. After the First Battle of Bull Run Jackson was promoted to a major general in October.
Stonewall Jackson proved himself as a strong and independent leader in the Shenandoah Valley Campaign. The Shenandoah Valley Campaign was a series of battles fought from 1861-1865, the Confederate army held the region until 1865 when the North were finally able to take over shortly before the South surrendered. In 1862 Jackson marched his army of 17,000 a total of 650 miles in only 48 days and fighting in five different battles earning them the nickname "foot cavalry". With Stonewall Jackson's foot cavalry winning so many battles so close to Washington D.C., they acted as a diversion to Union armies, the wins pulled thousands of Union troops away from Richmond to help in Washington D.C. Because of Jackson's success he became a popular war hero in the south, and by many is considered the reason that the fall of Richmond was delayed so long.
Stonewall Jackson's last battle was the Battle of Chancellorsville. The Battle of Chancellorsville is said to be one of General Lee's greatest victories, Jackson being his most trusted general and his second in command during the battle. On April 30th, 1863 General Hooker and 80,000 Union soldiers marched behind General Lee and the Confederate Army in Fredericksburg Heights. General Hooker was so confident going into the battle he said the General Lee could either "Ingloriously fly or give battle on our ground"(History.com). Lee and Jackson were outnumbered by 20,000 troops and set up a plan to flank the North. Stonewall took 30,000 Confederate troops with him on a tough march to get on the right side of the North's line. When Jackson and his troops arrived they had incredible success and took out half of the North's line, the only thing that stopped them from a complete victory was the night fall. While Jackson was out that night scouting in the dark some of the Confederate soldiers got confused and mistook Jackson as an enemy, they shot at Jackson. An eye witness reported in a letter to Colonel C.J. Faulkner "Gen. J. was struck in three places, viz, in the left arm half way between the elbow & shoulder, in the left wrist, and in the palm of the right hand."(virginiahistory.org)
Jackson was taken to a field hospital right away and his left arm was amputated later that same night. When General Lee heard the news he said "Jackson lost his left arm; I have lost my right"(Historynet.com), Lee won the battle but also lost his irreplaceable general. On May 3rd he was moved to a house in Guinea Station and appeared to be healing quite well. However four days later when his wife and daughter arrived, pneumonia also showed up in Jackson, and by the 10th he said some of his famous last words "My wish has been fulfilled. I have always desired to die on a sunday."(Historynet.com) and "let us cross over the river and rest under the shade of trees"(Historynet.com). Jackson died a war hero in the south and was respected, militarily, by the world. Jackson was buried in Lexington, but his amputated left arm is buried in another location in Chancellorsville. Jacksons death changed the course of the war and was greatly missed by Lee and the South, many theorists think that of Jackson had still been alive and well for the battle of Gettysburg that General Lee might have been able to win. 
Related Topics