The Interaction of Religion and Terrorism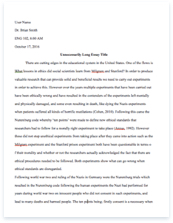 The whole doc is available only for registered users
Pages: 3
Word count: 695
Category: Isis
A limited time offer! Get a custom sample essay written according to your requirements urgent 3h delivery guaranteed
Order Now
The interaction between religion and terrorism became more evident with the attacks of September 11, 2001. Although it may be seen as a new phenomenon, in reality religious terrorism is centuries old.
What is religious terrorism? What are its fundamental attributes?
"Religious terrorism is a type of political violence motivated by an absolute belief that an otherworldly power has sanctioned—and commanded—terrorist violence for the greater glory of the faith" (Martin, 2017, pg.130). Sociological explanations generally hold that terrorism is a product of intergroup conflict that result in collective violence.
Human history has known countless wars based on religion creeds or fought against other religious beliefs. Religion then has been a motivating cause for both good and evil. An example is the Sikh Temple Shooting. "On August 5, 2012, Neo-Nazi Wade Michael Page opened fire in a Sikh temple in Wisconsin, killing six and injured three. Sikhs are often confused by extremists as Muslims and have been targets of violence many times in the post 9/11 Muslims-hating frenzy''
According to the Global Terrorism Index article by George Annett from the Guardian on Nov 18, 2014, Religious Terrorism can be attributed to four groups: Islamic State (ISIS) in Iraq and Syria, Boko Haram in Nigeria, the Taliban in Afghanistan and Al-Qaida.
Terrorism is a social virus that needs to be eradicated for human dignity. If religion is a celebration of life over death, then religious leader must prevent their ideology from creating violence in the first place.
References
Akers, R. (2000) Criminological Theories: Introduction, Evolution and Application. Los 

Angeles: Roxbury. Retrieved from http://ifyouonlynews.com/religion/christian-terror-12-examples-of-terrorism-from-the-right/

Martin, G. (2017). Essentials of Terrorism: Concepts and Controversies. (4th ed.) Thousand 

Oaks. Los Angeles, CA: Sage Publications.
Why are there so many terrorist attacks in Europe now?
I would say that one of the main reasons there are so many terrorist attacks in Europe now is Geography. For Jihadis fleeing the battlefields of Iraq or Syria, Europe is becoming easier to reach than the U.S. Many terrorists left Iraq and Syria to plot attacks in Europe – such as in France, London, Spain and Belgium. The Schengen Agreement, which allowed open borders within the European Union has contributed to terrorism-related incidents.
There have been many terrorist attacks during Europe's history. This includes the March 11, 2004 attacks in Madrid, Spain and the January 2015 attacks by Islamic Extremists ordered by the Yemeni branch of Al-Qaeda, in which 17 people were killed in Paris, France. These attacks are the results of the Taliban and Al-Qaeda seeking revenge for the U.S led invasion in Iraq that gave birth to ISIS.
References:
Why are there so many terrorist attacks in Europe now? (2017). Retrieved from 

https://www.quora.com/Why-are-there-so-many-terrorist-attacks-in-Europe-now 

Chapter 9: Domestic Terrorism in the United States
Should we treat domestic terrorists the way we treat ISIS?
In my opinion I would say that if "terrorism is what the bad guys do," why can't we treat domestic terrorists the way we treat ISIS? I understand that we have a responsibility as a citizen to work closely with the law enforcement and the intelligence community to deter and prevent any kinds of terrorist activities. While foreign terrorists like ISIS and Al-Qaeda are a serious threat to our homeland security, we must constantly monitor and focus on the Right-Wing extremism and other homeland terrorists. This group often utilize the same tactics to coerce great violence against innocent people. We should have zero tolerance for violence, regardless what groups carry it out.
In some cases, domestic terrorists have been using social media platforms to conduct hate crime, cyberbullying to individuals or a specific race. Such actions risks fueling conflicts or genocide at home and abroad.
Anyone who performs actions that pose threats to our fundamental rights and freedoms should be considered an enemy of the state. Violence in some cases leaves citizens injured or dead – especially when firearms are used against innocent people.
References:
Byman, D. L. (2017, October 06). Should we treat domestic terrorists the way we treat ISIS?:

What works-and what doesn't. Retrieved from https://www.brookings.edu/articles/should-we-treat-domestic-terrorists-the-way-we-treat-isis-what-works-and-what-doesnt/ 
Related Topics