The Individual In A Health And Social Care Setting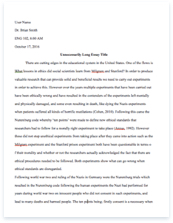 The whole doc is available only for registered users
A limited time offer! Get a custom sample essay written according to your requirements urgent 3h delivery guaranteed
Order Now
1. Understand assessment processes
1.1 Compare and contrast the range and purpose of different forms of assessment There are many forms I use to assess an individual's needs. The first bit of the information comes from Derby City Council, which is called a outcome based support assessment. This is what they use to identify someone's needs and how much care they require. The information on this document is great for Derby City to use, but I also need to do my own and adapt it so it's easier for a care worker to understand as they are the ones who will be doing the care. It's important that I read this document before going out to do my own care plan as it gives me a bit of back ground information first.
Especially if it states someone has Alzheimer's or Dementia as I know, I will have to contact the family to arrange for them to be present at the service users property as well as the service user. The way I assess a service users needs is by visiting them and talking to them about what care needs they require, why they think they need care and where they think there strengths and weaknesses are. I find it easier to talk with them instead of asking straight forward questions as people tend to open up more and you can get a far clearer picture and a lot more information from someone once you start having a conversation with them. It also saves time when doing a care plan as you already have most of the information you need without having to ask them again. Different forms used during the assessment are the following Falls Risk Assessment
Here I look at what the probability is that someone will have a fall in different circumstances such as walking, standing for long periods and rising from a chair. Depending on what the score is, then enables me to look at where we can reduce these risks to bring the score down and reduce the risk of the service user falling. I also look at what can cause them to fall such as medical conditions, medication, communication, clothing and mental state Nutritional Risk Assessment
Here I look at things that could effect the service users food intake and impact on their ability to eat and drink. This is done by looking at a number of thins such as any medical conditions they have, any problems they have with regards to chewing/swallowing foods and any assistance needed to eat. At this stage we also look to see if a M.U.S.T is required and what steps we can take to ensure someone's weight goes back up to where it should be. Skin Care Assessment
The form I use is a score sheet, which I use to assess whether someone is at risk of pressure sores. Many factors are taken into consideration such as level on consciousness, mobility and continence. Once the score is added up I can assess whether someone is low or high level at developing a pressure sore and what actions need to be taken if someone is deemed high risk. Medication Risk Assessment
This form enables me to see what level of support a service user requires for their medication and whether they require assistance from their care worker or whether they have capacity to administer their own medication Environmental Risk Assessment
A lot of this form is looking at the likelihood and severity of an incident occurring in the home and assessing how these risks can be reduced. I look at it from a care worker and a service users prospective. I look at the security of the home and how it's managed, any loose carpets or flooring, cluttered areas etc.
1.2 Explain how partnership work can positively support assessment processes It's important to have a good working relationship with the different partnerships I work with, which includes Derby City Council, Doctors and District Nurses. Working with them means we can all share information with regards to the service user, such as any changes in a person's needs, especially if they've just been discharged from hospital and their needs are different. Working with them means I can change the care plan and assessment straight away, without having to go and reassess it myself. I also work closely with local pharmacies and doctors around the changing of a person's medication. It's important that we work closely together to ensure that the service user is having the correct medication at all times.
2. Be able to lead and contribute to assessments
2.1 Initiate early assessment of the individual
I always ensure that care plans and assessments are completed within the first day of a service user moving into Sunnyfield so the care workers know exactly what is required of them whilst at the call. It is also important that the care worker knows any medical history re the service user before undertaking any tasks with them.
2.2 Support the active participation of the individual in shaping the assessment process
Whilst undertaking the initial assessment, I always make sure that the service user is present and make sure that I am talking to them as opposed to about them with a family member or friend that also may be present. If I am doing an assessment with the service user who has Dementia or Alzheimer's then again, I ensure that I am asking them what they would like, how they would like the care to progress and what they want to achieve from having care works. If they are unable to answer then I will look to the family for guidance, but it is important to make the service involved in their own care planning and assessment process
2.3 Undertake assessments within the boundaries of own role
Whilst I am trained by my own company to undertake assessments for service users there are only certain things I can assess such as manual handling. I am able to do this after completing a 2 day trainer to trainer manual handling course in which I received a certificate. Through training I have received through work, I am able to also assess environmental risk assessments and medication risk assessments. I can also undertake care plan writing using a person centred approach. Due to qualifications I would not be able to assess someone's mental capacity, diagnose their illness or suggest equipment to be used. These would have to be assessed by professionals who hold the correct qualifications
2.4 Make recommendations to support referral processes
During my career as a Registered Manager, this is something I have had to do on quite a few occasions. I always try to ensure that the service users receive care from a minimum of 4 care workers depending on how big their package of care is. This way carers get to build a relationship with the service user and they are usually the 1st ones to notice if a service users needs are changing. If this is the case then the care worker would inform myself straight away. One particular referral I have had to make was to the occupational therapist. This was because a care worker had reported that a service user who used a rotunda to transfer, was now struggling to weight bear. A referral was made straight away and myself and the occupational therapist went to see the service user whilst the carers were there so we could see for ourselves. It was suggested that a stand aid was ordered to see if this would help.
Stand aid was ordered and after feedback from the service users and the care staff it was deemed to be a success. Another referral I've had to make was due to carers concerns about a service user living on her own and not being able to cope due to Dementia. The particular service user was not eating, not wanting to partake in personal care and not being able to remember things such as where she'd put her keys and being locked in the property with care workers not being able to gain access. In this instance I spoke to the family to make them aware and also made a referral to social services. A meeting was held and subsequently it was decided that for best interest for the service user she would be moved into residential care.
3. Be able to manage the outcomes of assessments
3.1 Develop a care or support plan in collaboration with the individual that meets their needs
Developing a care plan should always be person centred and done with the individual involved and any NOK if needed, due to any illnesses such as dementia or Alzheimer's. Whilst developing the care plan, I always ensure I ask what the service user would like to achieve, how they would like their care needs to be met and ensuring it's always focused around them. Such questions include choosing what to wear, what they like and don't like to eat, what social activities are important to them. Once this is completed we then look at what the care workers can do to ensure their needs are being met. For example if they want to socialise a bit more then we ensure that care workers are getting them involved in activities and reminding them about coffee mornings which are held here at Sunnyfield every Wednesday. If their needs are not being met then work together to see how we can change certain things to ensure they are.
3.2 Implement interventions that contribute to positive outcomes for the individual
4. Be able to promote others understanding of the role of assessment 4.1 Develop others understanding of the functions of a range of assessment tools
As a Registered Manager I have had a number of people working underneath me such as Care Coordinators and Senior Care Workers. It is also important that they understand how to develop a care plan and the tools that as a company we use. I initially attended a training course held by City and County re how to complete new documentation paper work and new tools that are used to determine a risk factor. In turn I then sat down with the rest of my team and went through the paper work with them to make sure they understood it. A couple needed clarification on how the risk assessment score card works, but I made sure I sat with them and went through it again until it was understood.
4.2 Develop others understanding that assessment may have a positive and or negative impact on an individual and their families
The Care Coordinators and Senior Care Workers I have developed understand that a plan could have an impact. They are aware that it could be negative due to a service users health declining and the service user and or the families were just not how aware of how bad the situation had become and how much care was actually needed. It's important that the person assessing is reassuring and understanding to the service user and their families whether the assessment is negative or positive.
4.3 Develop others understanding of their contribution to the assessment process
People in the team understand their contribution to the assessment is important and obviously give advice and guidance as much as they can within their own role boundaries. For example I know that one of the senior care workers identified that a service user was struggling with domestic duties whilst she was out doing the care plan so suggested writing it into the care plan that a care worker does certain bits every day to maintain the cleanliness of the home and also suggested a 1 hour domestic call each week to do bigger jobs.
5 Review and evaluate the effectiveness of assessment
5.1 Review the assessment process based on feedback from the individual and or others
Reviewing of a care plan is usually done every 12 months. However, I also ensure they are changed to keep up with any changes in the service user, such as if a service user has gone from a single to a double up call in which case the care plan would change significantly as equipment would now need to be used and risk assessment measures in place to support this to enable the care is carried out safely and the care staff know what they are doing.
5.2 Evaluate the outcomes of assessment based on feedback from the individual and or others
There was a care plan I had to change not long ago due to the service users family requesting an urgent review with myself and the care manager from social services due to a rapid loss in weight from the service user. After the review, it was decided that extra time would be put in at the morning, lunch and tea call to enable the care worker to make a substantial meal sit with the service user whilst she ate it to ensure she was eating. After a couple of weeks the service user went to the Doctors to check on her weight and she had gained 7lbs. This was due to the fact that she was now eating full healthy meals due to a change in a care plan that myself and others worked together to change. This was a positive outcome and it felt good knowing that that little change in the care plan that myself and others worked together to put in place was working.
5.3 Develop an action plan to address findings
The action plan for the service user not eating was to change the care plan to enable the care worker to sit with her whilst she ate her food. It was put into the care plan that the carer would just sit and talk to her so she didn't feel like she was being watched and also encourage her to help choose and make her own meals so she enjoyed what it is she was going to be eating.
Related Topics