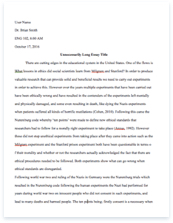 The whole doc is available only for registered users
A limited time offer! Get a custom sample essay written according to your requirements urgent 3h delivery guaranteed
Order Now
Acknowledgements
Completing this S.B.A would not have been an easy task if done by myself. I thank my cousin for providing the necessary assets in order for me to do my S.B.A and also for being there constantly encouraging me to do my work. I thank my mother, who motivates me to do well in my school work, for helping me in the completion of this assignment. My friends have also been a help to me in the completion of this S.B.A, I am very much grateful of their help. Lastly but by no means least I thank God for allowing these people to be here and giving me the patience and strength to achieve full success.
Statement of the Problem
Generation gap – a real problem or just a human figment?
Method of Investigation
The Researcher has chosen to use Questionnaires in order to collect required information. The questionnaires were printed in adequate number and were delivered to persons in the community in order for me to receive my data and analyze it. It consists of four (4) background questions, six (6) questions relating to the causes of the problem, three (3) relating to the effects of the problem and four (4) relating to solutions of the problem. This instrument of collecting data provided with me with the following advantages: It is very much a cheaper procedure.
Time that it took to collect data was fast.
It is a guarantee of identification anonymity.
Reason for Selecting the Area of Research
The reason the researcher chose the selected area is to find out more about The Generation Gap in the community. Then to try and solve this problem by suggesting solutions needed to help prevent this problem.
Procedure for Data Collection
In Aberdeen Heights there are approximately 100 households. I chose to print 20 copies of the questionnaire for distribution in the community. I went through the different methods of collecting data and found that a questionnaire was a better option for me collecting data. Specific houses were selected so that I could ensure a return of the questionnaires after being answered. These houses were given a time frame of 48 hours in order for completion and then be collected. In these households only 45 percent of them were adults and 55 percent were youngsters. Questionnaire
1. Gender
Male
Female
2. What is your age group?
12-15 19-21
16-18 22-over
3. What is your occupation?
4. What ethnic group do you belong to?
Mixed Descent African Descent
Asian Descent Indian Descent
5. Are you aware of any generation gap?
Yes No Maybe
6. In what area do you think the generation gap is the biggest? Work Social Life Family Culture Others
7. When you are facing a generation gap issue, what do you do? Talk about it Fight Run away Forget about it
8. Do you agree there is a problem between the older and young generation? Yes No
9. If yes, then what are the signs?
Not enough respect
Lack of tolerance
Different mentalities
Different approach to technology
Pace to life/ Conforming to accepted society
10. Do you think the generation gap can be narrowed?
Dialogue between generations (mixed activities)?
Education
Projects like this one?
Help from the family (Psychologists etc.)
11. What situation would cause you to be disrespectful to a young/elder person?
12. Does the other generation underestimate you?
13. Do you accept the other generations?
14. Are icons bridge builders? (Marcus Garvey, Bob Marley, Kartel, Tommy Lee etc.)
15. Do you enjoy sharing time with other generations?
Presentation of Data
Figure 1 Pie chart showing the response to question six of the questionnaire "In what area do you think the generation gap is the biggest?" in which 50% of respondents say family is the biggest area.
Figure 2 shows that 40% of respondents say that dialogue between generations (mixed activities) can narrow the generation gap.
Analysis and Interpretation of Data
In the research of Generation Gap in Aberdeen Heights, data showed that 50% of 20 community members believe that the biggest area of generation gap is the family while only 10% say work. Another cause which would be the following cause after family, due to the fact that 20% of the community members believe that social life is the biggest area of Generation Gap. However another 10% respectively believe that culture and others are the biggest in their community. Therefore the data collected proves that family in Aberdeen Heights is the major cause of Generation Gap. The research showed that the main solution to narrowing Generation Gap is to create dialogue between generations (mixed activities). 50% of the selected community members believe that which is a huge difference compared to the other selections. While the least chosen solution is help from the family (Psychologists etc.), which only 20% of the community members selected. And 30% of the community members chose education as the way of narrowing the Generation Gap. The data shows that in Aberdeen Heights, the best solution would be to create dialogue between generations (mixed activities).
Statement of Findings
* The biggest area of Generation Gap in Aberdeen Heights is the family. * The best solution in Aberdeen Heights to narrow Generation Gap is to create dialogue between generations.
Recommendations and Implementation Strategy
I would recommend bridging the Generation Gap by motivating young adults to voluntarily teach their older counterparts the essential skills. Certain information like how google searches the web on the computer etc., will probably make the older generation much more in tune with speed and give them more time to learn about other aspects of computers than just getting the bare essentials. For this gap to become narrower and narrower we need our older adults to also use their curiosity and spend some time looking into what they want out of their digital experience.
Related Topics