The Crucible : Battle of Good and Evil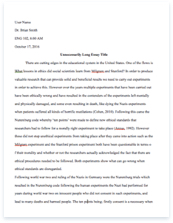 The whole doc is available only for registered users
OPEN DOC
A limited time offer! Get a custom sample essay written according to your requirements urgent 3h delivery guaranteed
Order Now
Arthur Miller's 1692 play named The Crucible took place in Salem, Massachusetts. The Crucible is morally about the battle between good and evil in the town of Salem. When you get down to discussing the most eligible persons to be compared for such a position in The Crucible, it all falls on the two characters Abigail Williams and Elizabeth "Goody" Proctor. Many of the people in the story can also be compared, but when you look at the character trait of Elizabeth and Abigail, the two lovers of John Proctor, they morally represent the battle of good and evil. As you will see the traits of Elizabeth, she holds the good of the town, but Abigail makes it obvious that she is the corrupted and the bad.
One difference between Abigail and Elizabeth is the morality of honesty. Although in the story Elizabeth lied in the courts to save her husbands name, she can be characterized as an honest person. She would be considered honest, because she never admits to any relations to the devil. Through her confession she would have simply been set free and her life would have been saved, but through it all she refuse to give in to the system [government of Salem], which was corrupted by Abigail Williams and her friends who was dancing in the woods. On the other hand, Abigail is a liar and very deceitful. In the town of Salem, Abigail holds a reputation of being a whore. After she was fired from being a helper in the Proctors' home for having an affair with John Proctor she became violent toward many people. She holds this character trait. One of the many reasons was from her obsession with John she began a lie that corrupted the town. People began to accuse their enemies for varies reasons.She then fled the town, because she was scared of what they might do to her when they found out it was all one big lie.
As the story continues, the expression of Abigail and Elizabeth begin to vary in tremendous ways. One characteristic that stood out greatly is their attitude. Elizabeth has an attitude that is very humble, while Abigail has an attitude that could scare the devil. Abigail is feared to the highest degree in the town of Salem. As she walked through crowds of people they would part, because they were scared she would accuse them, too, of having dealings with witchery. The people who she was greatly feared by who were her own, so called, friends. She threatened them, telling them that if they told of their activites in the forest she would come in the night and hurt them badly. Now Elizabeth was very humble and barely expressed her feeling. From most her actions, she was very tranquil and silent. When she [her spirit] was accused of stabbing Abigail in the stomach, she just went to jail without a fuss. Another reason she received such a dominant character trait, she really never should her feelings of her husband actions of adultery with Abigail.
Abigail and Elizabeth had many differences and very little similarities, except the obvious of the gender and race. One similarity between the two was their love for John Proctor. Their love for John was different, but they both had a style of love for him. Elizabeth's love for John was mutual through marriage. She adored John for his personality and love, but on the other hand Abigail was just obsessed over him. Abigail wanted john all for herself and didn't care about anything else but having him. Their love for John differed, the similarity was still their relationship toward John.
Abigail and Elizabeth can be compared and contrasted in many ways. The list can go on for several different reasons. The Crucible shows the world of good and the world of evil in two characters of one town. Elizabeth represent the good and Abigail represent the evil. The crucible will greatly be remember as a terrific play.
Related Topics