The Carter Cleaning Company: the High Performance Work System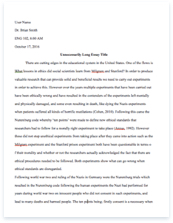 The whole doc is available only for registered users
A limited time offer! Get a custom sample essay written according to your requirements urgent 3h delivery guaranteed
Order Now
The carter cleaning company: the high performance work system
1. Would you recommend that the company expand their quality program? If so, specifically what form should it take?
Answer:
Meeting with the employees directly is a good way to get the accurate feedback from them in order to increase the involvement of the employees in an organization. There can be many opportunities for the Carter company for improving the level of their human capital. For instance, giving training to the employees so that they can become aware of the basic values, standards and methods and procedures of an organization etc.
2. Assume the company wants to institute a high performance work system as a test program in one of its stores. Write a one-page outline summarizing what such a program would consist of.
Answer:
* Those types of HR practices should be implement to which improve quality, productivity, financial efficiency.
* Procedures for job enhancement; strategies for implementing and influence a team-based organization.
* Methods to put into practice and make possible high dedication labor practices; development of employee and capability building to promote enlarged skill and ability in the workforce.
* A reimbursement plan which provides incentives, for instance, sharing of profit; pay for task for achieving chief goals and financial targets.
Carter Cleaning Centers Case Study (solved)
1. Make a list of 5 specific HR problems you think Carter Cleaning will have to grapple with?
1) Recruitment of the company with the correct human capital by recognizing the skills and abilities that are necessary to carry out the tasks and the sort of individuals that ought to be hired. Sourcing candidates and building a proficient and effectual selection procedure will be a key first step. 2) Forecasting and building operational goals/standards and making rules and regulations to sustain business goals. Failing in doing so will give in a lack of precision as an outcome around performance hope down the line as each store becomes operational.
3) Implementing effectual Performance Management by setting benchmarks of performance, high quality evaluation of performance, and providing coaching and feedback to build the talent of each individual and maintain optimistic employee relationships. 4) Scheming an efficient compensation system that will enable company to draw attention, maintain and inspire a excellent personnel, providing suitable salaries and benefits. A badly built system will cause difficulty in attracting candidates, revenue generation and low employee self-esteem.
5) Preparing and grooming employees both at the management and employee level to be capable enough to execute the job to fulfil the expectations. This should comprise of a new employing orientation program as well as a program for current preparation and growth. Lack of awareness to this factor may cause errors, increase in costs, low revenue, and self-esteem problems
2) What would you do first if you were Jennifer?
Assuming Jennifer's role, I would meet with her father and talk about about how everything associated with HR was done in the organization before I came. Then I would establish a meeting of all employees to introduce myself and ask questions to them about what they need and want.
Then I would examine the facts and plan a strategy on how I can stimulate the managers to inspire their staff, how to coach new and existing employees to carry out work more proficiently, and create a recruiting process. After talking with managers and Jennifer's father about the things the employees require to be successful I would then run an advertisement for a hiring occasion, to attract candidates to come in to the store and observe what motivates them to do work.
Related Topics