The Benefits of Hiking in Everyone's Life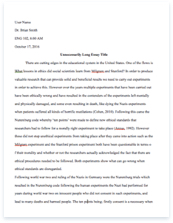 The whole doc is available only for registered users
Pages: 4
Word count: 983
Category: Hiking
A limited time offer! Get a custom sample essay written according to your requirements urgent 3h delivery guaranteed
Order Now
Hiking is an activity that is enjoyed by many individuals. The experience of taking in fresh air, being surrounded by nature, getting in a good workout and forming strong bonds with friends makes hiking a unique experience with many positive rewards. In the world we live in today, almost everyone has access to technology at their fingertips. Although technology can be a useful tool, having smartphones and tech devices not only wastes time but also negatively impacts health. Common health issues due to the use of technology include computer wrist (Carpel Tunnel), eyestrain, obesity, stress, physical inactivity, and isolation (Sarwar). Because of the high pace tech world we live in today, people feel that they don't have the time to go out and explore nature. By choosing hiking you can gain so many benefits through just one activity. Physical, mental, social and spiritual health are key aspects to maintaining a strong, active lifestyle and by hiking you can strengthen those components in your life.
Exercising is an important activity to incorporate into your daily lifestyle. Hiking is an easy way to have fun while working on physical fitness. There are many different types of hiking trails which gives you the option of opting for a flat ground trail on a lazy day or going for a 10/10 rock scramble on a day you want to challenge yourself. It is proven that you are more likely to stick to your exercise program if you exercise outside. Hiking improves cardiovascular performance, increases endurance and strengthens muscles. It also isn't as hard on our joints as going for a run.
Mental health is not thought about as something that one needs to work on consistently. By going on hikes, you can reduce rumination, boost creative problem solving and increase brainpower (Netburn). Focusing on negative thoughts about yourself can lead to an increase in anxiety and depression. In a study at Stanford University, half of participants hiked through an urban environment and half hiked in a nature environment (Stanford). They found that the participants that went out in nature reported lower levels of rumination and reduced neural activity in the subgenual prefrontal cortex which is associated with mental illness. Because our world is becoming more urban, the results make sense as to why we are seeing higher rates of depression, anxiety and other forms of mental illness throughout the population. By disconnecting from technology and reconnecting with nature it can improve your creative problem solving. In a study done by Ruth Ann Atchley and David L. Strayer, participants went backpacking for four days and weren't allowed to use technology (Ketler). They performed tasks requiring creativity and complex problem solving. They found that their participants had a 50 percent increased performance on problem-solving tasks. The results show that technology and noise from our everyday lives decreases our cognitive functions. By going on nature hikes it can reduce our mental fatigue, relax our minds and help our creative juices flow. Exercising also raises levels of serotonin, endorphins and many other chemicals that make you happier and calmer overall.
When you are taking care of your body physically you are also likely to feel better emotionally. Exercising helps you sleep better which will make you less irritable (Adams). The endorphins that are released will help you to focus clearly on relationships and school work which heightens your self-confidence. Due to an increase in self-confidence you are more likely to reach out to others. One of my first experiences hiking was through an old friend from high school. When back home on summer break, she asked me to go on a hike with her. The idea of getting dirty and being in the middle of the woods wasn't particularly appealing to me at first but I went anyway to get a chance to spend time with my friend. That day changed my life forever in the best way possible. We talked about situations we were struggling with in our life as well as everything that was going well for us. I learned that going on a hike is more than just walking in the woods but rather it was a place to strengthen and form bonds with individuals that you can't imitate through video chatting or any other form of online communication. When I arrived back at PSU I joined a hiking club and have formed strong bonds with people I would've never gotten the chance to meet.
Hiking can also help with your spirituality especially if you are feeling lost or losing touch. Being surrounded by the nature that God has created is an awesome feeling. Many hikers have reported that they feel God's presence in the air as they take in their surroundings during a hike. Being in nature helps you get away from the real world and focus on your connection to God. Being exposed to the beauty of nature allows for your mind to expand beyond the materialistic, tangible aspects in life. By getting away from technology it allows you to open your mind and see life through a new lens. Modern day ideals often distract us from listening to the spiritual needs of our body. As a result of this if more people experienced spirituality through nature it would alter their life drastically.
To maintain a strong, active lifestyle it is essential to incorporate physical, mental, social and spiritual health into your daily life. By choosing hiking as your form of daily exercise you can strengthen all of these aspects with just one activity. Venturing out into nature allows you to connect with the world around you as well as strengthen your physical and mental abilities. While many people enjoy physical exercise, they don't consider strengthening the mental, spiritual areas in the body that hiking strengthens. It's hard trying new things but I encourage everyone to go out of their comfort zone to experience all of the benefits that hiking offers.
Related Topics