"The Bell Jar" and Esther's Depression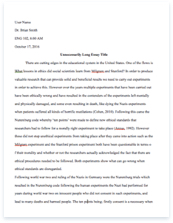 The whole doc is available only for registered users
A limited time offer! Get a custom sample essay written according to your requirements urgent 3h delivery guaranteed
Order Now
In "The Bell Jar" by Sylvia Plath the main character, Esther Greenwood, sinks into depression during the summer after her third year of college. There are many factors and components that cause this to happen to Esther. The social restrictions placed upon women of her time, her own insecurities over her identity, and the pressure she receives from all of her close ones. She felt like her mind and soul should be with her body so she decided to commit suicide. Outwardly, she appears successful and highly motivated, which contrasts sharply with her inner confusion and feelings of helplessness causing her dilemma to depress her even more.
Esther is a young, sensitive and intelligent woman who feels oppressed by the obvious social restrictions placed upon women, and the pressure she feels regarding her future. These emotional burdens result not only in Esther's social and intellectual separation, but also her mental breakdown. Esther despises the superiority that men retain over women and the maternal role which women are expected to fulfill. Clearly, Esther is deeply troubled by the hypocritical world that holds her, and feels overwhelmed and powerless to break free of her inner world of isolation. Instead of firmly establishing a sense of self, Esther adopts and examines the images and personalities of the women in her life. Neither fit nor reflect her character
Obviously, it is Esther's insecurity over her identity that causes her to go with the personalities of others, but is also retains a deeper meaning. Her rejection and failure at conformity shows the harsh, the bitter, the unforgiving, and the sanctimonious world that torments her very existence. Not only does Esther feel rejected from social atmospheres, but also her intellectual atmosphere. It is Esther's imaginative mind that first illuminates part of her true identity and separates her from those around her. It is not until she is rejected from both the social and intellectual worlds that Esther's world completely gets destroyed. Maybe Esther's many attempts to fit into the "inner circle" of society shows the costly consequence of emotional and social detachment, yet Esther does not begin to recover until she realizes the differences between her creative world and the outside society.
Esther's closes ones affect her stage of depression in a very critical way. Esther is sent to see a Dr Gordon at her mother's expense. She is not sleeping, has not "washed her hair in three weeks," and cannot read or write. He prescribes electric shock treatment, which is described as a horrific and terrifying experience. She stops taking the treatment with him, her overbearing mother under the illusion that she had decided not to be like "those awful dead people at the hospital." Far from recovery, Esther begins to experiment with different ways of killing herself. She attempts to drown herself, hang herself, slit her wrists and after taking an overdose of sleeping pills is sent to a psychiatric ward, first in the state run hospital and then in a private hospital.
In conclusion Esther from "The Bell Jar" goes through a very rough time of her life. What caused her to be depressed were the social restrictions placed upon women of her time, her own insecurities over her identity, and the pressure she receives from all of her close ones. All of these factors contribute to her dilemma which is that of a young woman who is unsure about life. After really hard times Esther begins gradually to recover. She enjoys the pleasant country-club surroundings that she is sent to and develops a closeness with her psychiatrist, Dr. Nolan. Esther also undergoes a more successful round of shock therapy, after which she feels the "bell jar" of depression lifting. At the end of the novel, Esther describes herself as optimistic and transformed.
Related Topics