A Tale of Two Cities and Great Expectations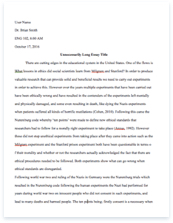 The whole doc is available only for registered users
A limited time offer! Get a custom sample essay written according to your requirements urgent 3h delivery guaranteed
Order Now
A Tale of Two Cities is said to be Dickens' best constructed novel, as his first few were criticized to be strings of sketches. Great Expectations, for example, had a looser framework, as the plot did not include much structure and style, compassing merely of a first-person account of events. In A Tale of Two Cities, there are fewer characters, but more incidents and conflict against backgrounds of seething masses. By means of exercising refined style and accomplished structure, Dickens takes the reader through stirringly, rapidly changing scenes, to the final climax.
The melodramatic nature of this book is due to the author's early love of theatre, though which he employed the style elements of metaphors, similes and realism. Dickens' "magic" can be seen when he arrests the reader's attention with the wealth of detail and color, with which he invested his characters and incidents. Metaphors were used effectively, to convey the image of the scene- people turning into a "living sea" sweeping over the Bastille and the "angry ocean" of the French Revolution. Simile was also used more than anything else to portray some aspect of a character's external appearance.
Mr. Stryver's face among his fellow counsel was "like a great sunflower", and Carton staggering back to his room was "like a disappointed cat. " Realism, used to enhance practicality, is also particularly noticeable. In the prison scenes, there was "the horrible smell of foul sleep" and in the streets of St. Antoine, "(Hunger) was prevalent everywhere. " Thus, metaphors, similes and realism alleviate and enhance the development of the intricate plot and shaped the lives and disposition of each character.
All the world's a stage, men and women merely actors. " (Wordsworth) This statement, poetic as it was supposed to be, is true to a certain extent. On stage, we can pretend to be anything or be anywhere; there are no limits. In life, we lack details. Many of us disillusion ourselves by ignoring certain facts or even certain people and events, making life a continuous theatre performance. In A Tale of Two Cities, Dickens exploits all methods of description, adding detail into every aspect of each incident.
In the story, we read about the poverty of the French peasants, and can even feel their hunger and the misery they live in. Yet when in life there is so much of this, which is even more real than what is in a book, which is being ignored. Ironic as it seems, Dickens wrote this book in terms of the stage, and thus, without limits to how far he can reach. We are truly actors on a stage, where we see and believe only what we want to see and believe. Perhaps the most striking feature of the plot of A Tale of Two Cities is the mystery in which most of the incidents are wrapped.
Only after the reading of Dr. Manette's document do the issues become crystal clear. The story opens in a "clammy and intensely cold mist"(Bk1, Chapter 2, 7), reflecting obscurity and secrecy, with anonymous passengers and puzzling messages. This is followed by Dr. Manette's strange dread, as he foresees the coming revolution and Charles Darnay's unexplained missions.
The secretive movements and maneuverings of the Jacquerie also fuel the reader to an almost feverish pitch, wondering what the outcome will be. A solemn consideration, when I enter a great city at night, that every one of those darkly clustered houses encloses its own secret; that every room in every one of them encloses its own secret; that every beating heart in the hundreds of thousands of breasts there, is, in some of its imaginings, a secret to the heart nearest it! " (Bk1, Chapter 3, 11) All these events are eventually accounted for, but it requires an alert reader with a retentive memory to be quite sure of the complicated relationships involved.
The mystery is rendered more baffling by the tortuous development of the story, actions being described long before their causes are hinted at, and persons occupying our attentions some time before they are identified. A Tale of Two Cities is a tightly-knit story, the scenes preceding the catastrophe particularly more effective in the representation of the play of unseen forces, past sufferings and an influence for both good and evil. Dickens concentrated on the plot, utilizing the style elements of metaphors, similes and realism, enriching it with much descriptions and essentials of the setting and atmosphere.
This is a story of secrets, reflecting how we can never understand the innermost thoughts and feelings of even those closest to us. No one can really know how Dr. Manette felt during his 18 years in prison, or why he would relapse during times of stress. When Darnay asks the Dr. for his daughter's hand, even the Dr. does not know her true feelings on the matter. No one will ever know what caused Carton , brilliant and talented, to become so unmotivated and alienated. Why does Miss Pross still have such loyalty for her brother, even though he treated her badly?
Who can really understand why Madame DeFarge has such hatred for the St. Evri?? monde family? Some secrets are eventually revealed, some remain a mystery. This book reflects to us also that we would never know why certain things happen, as the story tells us of the irony of fate, played by a "hand of cards. " As the story goes, life is like a performance, where no one knows what will happen next. To conclude this final journal entry in the words of Dickens himself, "A wonderful fact to reflect upon, is that every human creature is constituted to be that profound secret and mystery to every other. "
Related Topics