Systems Engineering Management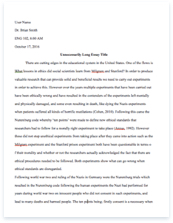 The whole doc is available only for registered users
A limited time offer! Get a custom sample essay written according to your requirements urgent 3h delivery guaranteed
Order Now
Under what conditions would each of the following either not be available or not be necessary for initial planning?
a. Work breakdown structure
b. Statement of work
c. Specifications
d. Milestone schedules
In many cases it is not possible to know every single part of a project. Therefore the whole planning for the project will be based on the assumptions made by the engineer. Misunderstanding of goals or unclear objectives most of times cause some failure or disagreement on project. Part of the planning faze as Work Breakdown, Statement of Work, Specifications, Milestone Schedules looks very simple, have all this documented is a good practice to check in the future since projects are always changing. The Work Breakdown sometimes is not requested, like when the task is simple and don't need to be broken in several steps. The milestone in poor planning will not be accurate due the lack of information or miss use from engineer, and will request a bunch of change orders.
Therefore the Statement of work is affected by a planning with lack of expertise. However all of them is important for the planning of a project but the most important part in my opinion is the Specification, which tell us in detail all the dimensions and what need to be done, all the goals and objectives for the project 11-2 – What planning steps should precede total program scheduling? What steps are necessary? Before a total program scheduling the statement of work, work breakdown structure, all the specifications, a previously schedule and budget must be done. The total program scheduling cannot be done without a clear definition of the work to be done and how long it will be and how much it will cost.
How does a project manager determine how complex to make a program plan or how many schedules to include? The project Manager use the documents he or she had for planning and figure out how complex is the work required. To figure out the schedule the author use three questions as guidelines: How many events or activities should each network have?
How much of a detailed technical breakdown should be included? Who is the intended audience for this schedule? After all those steps the project manager can determine how to make a plan.
Can objectives always be identified and scheduled? I think so since you define a goal your already have an objective which is achieve that goal and a way to do that, people take class about how to define objectives. After the goal and objective is defined it's time to schedule so you need to know how and in how long to finish the project to make a concise schedule. However if the objective is not clear, or some part of the way to perform the project is missing or wrong problems with the scheduling can occur. Therefore it is possible to identify and schedule objectives always. 11-5 – Can a WBS always be established for attaining an objective? I think is always possible divide the work in small process. However sometimes it's not seem necessary do this. To break easy works in several process could be an expensive choice, waste of money, time, and work force. 11-6 – Who determines the work necessary to accomplish an objective?
The project manager is the person in charge of planning the project, so he will define the scope of work, who should perform each work, and how long it should take and specify the technique needed to perform the work. 11-7 – What roles does a functional manager play in establishing the first three levels of the WBS? The functional manger has the expertise about the work that need to be done and how to do it. However divide the work is a project manager role, the functional manager needs to be engaged with the team and provide all information need by the PM 11-8 – Should the length of a program have an impact on whether to set up a separate project or task for administrative support? How about for raw materials? Yes, because if this project take too long they will use many employees to accomplish their task, the other projects need to deal with the lake of employees, so they need to be aware about the time frame so they can plan in advance which professionals they will be available to work in the project.
The director of project management calls you into his office and informs you that one of your fellow project managers has had a severe heart attack midway through a project. You will be taking over his project, which is well behind schedule and overrunning costs. The director of project management then "orders" you to complete the project within time and cost. How do you propose to do it? Where do you start? Should you shut down the project to re-plan it? It is not an easy work to accomplish but it is huge opportunity to become a great project manager, however the chances of fail is bigger rather than success. If I'm accept this challenge I need to be aware of the entire project before start work on it, and maybe re-plan it to achieve my level of work.
After a briefly study we need talk with team members, stack holders, sponsors and define a strategy to complete the project, review some time lines, cost and maybe change some team members. Because this project have too many problems we should take care when review it. Without shutting down the project we need to develop a complete study and plan during a short period of time, so we will come with a new strategy for achieve our goals, afterward we should explain the situation for our whole team and expect then a complete agreement and effort to save the project and finish it.
Related Topics