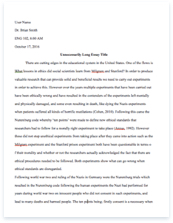 The whole doc is available only for registered users
A limited time offer! Get a custom sample essay written according to your requirements urgent 3h delivery guaranteed
Order Now
In the opening paragraph of Cynthia Ozick's "The Shawl" the author uses symbolism to evoke the characters' despair and coldness. The opening line, stated in the third person, sets the tone for a journey of misery. Stella, a fourteen-year-old Jewish girl, is described as "Cold, cold, the coldness of hell" (Ozick 265). Stella is far too young to handle the never-ending march and becomes envious of Magda, an "Aryan" baby tucked away safely between Rosa's breasts. "Stella wanted to be wrapped in a shawl, hidden away, asleep, rocked by the march"(Ozick 266). In this passage, the narrator uses symbolism to explain Stella's consuming need for safety and warmth.
The lack of cover on Stella also represents how unprotected she is from the elements, the conditions of the barracks, and the might of Nazi power. The shawl's ability to provide warmth for baby Magda begins to fill Stella with burning envy. She too is a growing child. But, unlike Magda, protected by the "magic shawl", she is forced to face the march unaided. The shawl begins to exemplify all the frustration that festers within Stella. Magda has the comfort of the shawl, the temporary fuel from Rosa's drying breast, and the comfort of being held through the march. In contrast, Stella, on her own facing the cold, is bitter with a jealousy that overwhelms her, and the reader.
Accompanying Stella's aching jealousy, Rosa's desperation too keep Magda alive is exemplified in the symbolism of her aching breasts. Rosa gives every bit of extra food she has to Magda, a conscious choice to keep the baby alive. " Magda took Rosa's nipple, and Rosa never stopped walking, a walking cradle. There was not enough milk…" (Ozick 266). Rosa's plight to keep Magda alive has left her a shell, a "cradle" whose only purpose is to sustain this young life. Her milk-less breasts represent the intensity of Rosa's desperation. She is readily sacrificing herself for Magda. But, it is leaving her useless: sore, dried up.
Stella's jealousy and Rosa's anguish create a reality of impossible despair. The symbolism of Rosa's sore breasts and Magda wrapped in the shawl allow the reader to feel the tangible struggle of the women's plight. Stella's initial jealousy eventually falls into a dark resentment. Frustrated and no longer able to bear being "uncovered" she steals Magda's shawl, resulting in the infant's death. The grief of Magda's death leads Rosa back to the shawl; the emptiness symbolized by her barren breasts reflected in her heart. She stuffs her mouth with Magda's shawl. The shawl thus provides one more act of protection, silencing Rosa's screams. This symbolism in the opening paragraph is reinforced throughout the story. The shawl, Rosa's dry breasts, and the relentless cold all serve to provide the reader with emotional insight to the characters, and their lives' harsh realities.
Related Topics