Subsequent childbirth after a previous traumatic birth. Nursing Research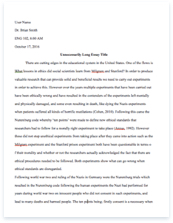 The whole doc is available only for registered users
A limited time offer! Get a custom sample essay written according to your requirements urgent 3h delivery guaranteed
Order Now
Subsequent childbirth after a previous traumatic birth. Nursing Research
This nursing article analyzes women's reactions and experiences with a second childbirth following a traumatic first birthing experience. Beck and Watson (2010) state that a successive childbirth could either aide in the healing process or have the potential to re-open old wounds and make healing harder. The research method used was Phenomenology, which used information from 35 women from across the globe. "In phenomenology, researchers ''borrow'' other individuals' experiences to better understand the deeper meaning of the phenomenon" (Beck & Watson, 2010, p. 243).
The women involved in this study were found to have a distressing first birthing experience, not only occurring just from physical trauma, but possibly emotional and psychological trauma as well. According to Beck and Watson the research results generated 274 significant statements that were then placed into four main themes. Theme one showed women who were terrified of their second pregnancy and felt severe anxiety throughout the 40-week period. The second theme spoke about women, who worked to repossess their own body, which they feel had been violated in some sort of way and "complete the journey to motherhood" (Beck and Watson, 2010, p. 245). Theme three categorizes women who take hold of their first traumatizing experience and work to heal and move past those experiences while becoming stronger emotionally.
The final theme these women were placed in based on their responses, showed the group of women who wished for their second birth to heal and mend their first experience. Many women resorted to using different healing techniques to mend their first experience, which brought healing to some, and not others. Beck and Watson (2010, p.247) states, "To help women prepare for a subsequent childbirth after a previous traumatic birth, clinicians first need to identify who these women are." The article showed some of the women had a previous negative experience in their lifetime, which may contribute to how they handle their birthing experiences. As Beck and Watson state having a negative birthing experience can leave a lifelong emotional wound on some women. However, having a positive second childbirth can have a healing effect on some women, but all parties involved (healthcare workers, nurses, doctors/ midwives) all have to be aware of the previous experience.
Related Topics