Strategic Planning Report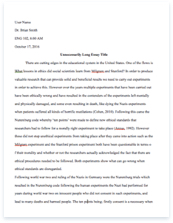 The whole doc is available only for registered users
A limited time offer! Get a custom sample essay written according to your requirements urgent 3h delivery guaranteed
Order Now
A strategic planning report is to explain how the use of the tool will benefit an organization in the health care industry. Discussed in the report address what the strategic planning development and implementation process is and to address why it helps organizations be successful. Mr. Janowski, I am responding to you request to receive information on how the use of strategic management will benefit and help your organization to succeed in the future. By definition a Strategic Planning Report is the use of internal information about an organization that outlines the direction, philosophy, and purpose of that organization. The tool examines the current status in terms of strengths, weakness, opportunities and threats. Helps to set long term objectives and develops short term tactics to reach them. The major components of strategic management plan according The Olsen (2015) website by Erica Olsen are: Mission statement: The mission statement is an overarching, timeless expression of your purpose and aspiration, addressing both what you seek to accomplish and the manner in which the organization seeks to accomplish it. It's a declaration of why you exist as an organization.
Vision statement: This short, concise statement of the organization's future answers the question of what the company will look like in five or more years. Values statement or guiding principles: These statements are enduring, passionate, and distinctive core beliefs. They're guiding principles that never change and are part of your strategic foundation. SWOT: A SWOT is a summarized view of your current position, specifically your strengths, weaknesses, opportunities, and threats. Competitive advantage: Your competitive advantage includes what you're best at compared to the competition. Long-term strategic objectives: These long-term strategic focus areas span a three-year (or more) time horizon. They answer the question of what you must focus on to achieve your vision. Strategies: Strategies are the general, umbrella methods you intend to use to reach your vision.
Short-term goals/priorities/initiatives: These items convert the strategic objectives into specific performance targets that fall within the one- to two-year time horizon. They state what, when, and who and are measurable. Action items/plans: These specific statements explain how a goal will be accomplished. They're the areas that move the strategy to operations and are generally executed by teams or individuals within one to two years. Scorecard: You use a scorecard to report the data of your key performance indicators (KPIs) and track your performance against the monthly targets. Financial assessment: Based on historical record and future projections, this assessment helps plan and predict the future, allowing you to gain much better control over your organization's financial performance Olsen (2015).
All these components are necessary to identify your organizations current position to determine where your organization is, and where you want to see it in the future. The futures of your organization depend on how well you identify these components and or define them in your planning. A strong missions statement and values statement are key to the strategy formulation because it sets the ground bases of why the organization exist, and there goals to achieve. It gives you the ability to communicate your ideas clearly with your management team, your current and potential clients and team members. Through consciously understanding your organization's values and goals, you can clearly express what brought your organization into existence and how it continues to define, benefit and drive the corporation into the future (Wloczewski, 2013). By creating clear, meaningful and reflective statements, you can powerfully communicate your intentions and motivate and inspire your team to ensure they understand the objectives of the organization, to make consistent everyday decisions and to achieve buy-in to new directions.
Your team members will gain a sense of pride in working as part of an organization that stands for something and are united by a common sense of purpose (Wloczewski, 2013). A periodic review with corporate management will enable them to agree on your organization's evolving long-term direction, set a new course if required, get the organization back on track when necessary, or determine whether interim modifications are needed (Wloczewski, 2013). Strategic management will benefit your health care organization. Public health organizations operate in a dynamic environment that is turbulent and unpredictable. It is necessary for these organizations to be able to develop and implement plans to take advantage of their changing environment. Strategic planning is a management tool commonly used in an organization and has many benefits that can be applied to the healthcare and public health industries. Strategic managers have been able to develop successful business plans by taking a proactive approach to the process (Kinsella, 2015).
The effect strategic planning has on decision making and financial performance is key to your organizations success. The introduction of the balanced scorecard emphasized financial performance as one of the key indicators of a firm's success and helped to link strategic goals to performance and provide timely, useful information to facilitate strategic and operational control decisions. This has led to the role of finance in the strategic planning process becoming more relevant than ever. Empirical studies have shown that a vast majority of corporate strategies fail during execution. The above financial metrics help firms implement and monitor their strategies with specific, industry-related, and measurable financial goals, strengthening the organization's capabilities with hard-to-imitate and non-substitutable competencies. They create sustainable competitive advantages that maximize a firm's value, the main objective of all stakeholders (BARNES & KONO, 2010).
Strategic planning helps the organization to respond its environment and all that is going on around at all times to stay competitive and successful. Strategy formulation is undertaken by individuals for an organization existing in a relationship to a dynamic external environment and an evolving internal environment. To make critical strategic decisions, it is essential to gain an understanding of the environment in which the organization operates. By focusing on environmental factors using macro environmental analysis or trends assessment, it is possible to understand, anticipate, and respond to external and internal changes as a part of the strategic planning process. The amount of analysis necessary is determined by how much the organization interacts with the external environment. Public health and health care organizations are extremely susceptible to environmental influences. Analysis of external opportunities and threats is of primary importance in planning for the future of these organizations.
A macro environmental analysis is the first step in the strategy formulation process. The focus of the analysis may involve an assessment of a number of areas of the environment including the political, economic, legal, social, and technological. All of these areas could be important in planning strategies for health care organizations. Information should be gathered through a wide variety of sources. Internal sources could include interviews and surveys of employees, administrators, physicians or from reports generated at meetings. External sources of data may include information from patients, suppliers, consultants, newspapers, academic publications, and conferences. Analysis of trends is especially important in long-range strategic planning, when the objectives will be focused on a point far in the future and not based on current situations. Utilizing the information gained in the macro environmental analysis can be helpful in strategy formulation for an uncertain future. Tools such as scenario planning can be used to evaluate proposed strategies for different potential futures.
Scenario planning involves developing specific strategic alternatives to address different environments which may exist in the future to serve as a foundation for the formal strategic plan. Through using exercises such as scenario planning, the individuals forming a strategic plan are forced to look not only at the organization in its historical and traditional roles, but also at the role it will have in a changing environment. The internal environmental assessment should involve an evaluation of the resources available or needed to perform the operations of the organization, the performance of the organization in accomplishing its services, and the process used to provide resources and services. After information about the environment has been assessed, target opportunities can be identified for the strategic plan. The opportunities should be prioritized by how consistent they are with the mission statement (Kinsella, 2015). Mr. Janowski, in conclusion I look forward to helping you learn to use the strategic planning tool to empower your organization to become more successful as you go into the future. As a leader your staff will all know their place and role they each play in achieving the goals the organization has set and how they will be achieved over a given period of time.
REFERENCE:
BARNES, B., & KONO, P. M. (2010). The Role of Finance in the Strategic-Planning and Decision-Making Process. Grazaidio Business Review, 13(1), . Retrieved from http://gbr.pepperdine.edu/2010/08/the-role-of-finance-in-the-strategic-planning-and-decision-making-process/
Kinsella, A. (2015). Strategic Planning. Retrieved from http://www.cwru.edu/med/epidbio/mphp439/Strategic_Planning.htm
Olsen, E. (2015). http://www.dummies.com/how-to/content/major-components-of-a-strategic-plan.html. Retrieved from http://www.dummies.com/how-to/content/major-components-of-a-strategic-plan.html
Wloczewski, C. (2013). Three Things You Can't Do Without—Mission, Vision and Values Statements. Retrieved from http://www.cellaconsulting.com/blog/three-things-you-cant-do-without-mission-vision-and-values-statements/
Related Topics