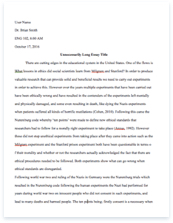 The whole doc is available only for registered users
A limited time offer! Get a custom sample essay written according to your requirements urgent 3h delivery guaranteed
Order Now
"Education is the manifestation of perfection already in man" has been an unwritten motto of my academic life and career. En route to stating my motives, towards gunning for a privileged seat in your prestigious institution, my purpose for pursuing graduate study is to secure a managerial position in which I can apply Information Technology to device solutions for business problems. I want to work in an organization where I can deal with challenges and apply my knowledge and innovative ideas to deal with the problems. I do not want to be 'just another employee' in the organization but the main factor behind its success.
During my undergraduate studies, I undertook projects, Image Stream Transfer Using Real Time Transmission Protocol using JAVA Technologies and Network Functionality in Perl/TK. After my under graduation, I was recruited by one of India's leading IT firms, Infosys Limited where I was exposed to an interesting world of technology and corporate functioning. Currently, I am in Data Warehouse Production Support team of a reputed Australian bank in Infosys Limited as Analyst Programmer. During these years, I encountered numerous obstacles and unforeseen challenges. Owing to my analytical abilities along with my leadership and decision making skills, I was instrumental in rectifying many problems in the production cycle before they caused any service impact. I believe that being in a Production Support team helped improve my thinking and on my feet skills.
To cite an example, we had a high severity issue, in December last year, when 3.5 million accounts were accidentally closed in the warehouse. All the reporting, including the reports to be sent to the regulatory authorities, was affected as a result. I was one of the two team leads who were assigned the task of data recovery. I was leading a team of five members and was responsible for interacting with the stakeholders and SMEs, understanding their SLAs and requirements and providing an appropriate fix. Though the initial estimate was seven days, we managed to fix one of the biggest issues of the bank Data Warehouse, one of the largest in the world, experienced, within four days. I was praised for my efforts in leading the team and setting an example by helping them whenever required and managing the resources without stressing them out in those gruelling circumstances. I was truly humbled when my team members spoke about me in a glowing manner in a team meeting. It gave me a great sense of satisfaction that I earned praise from both my superiors and also from my team members, who looked up to me as an able person to lead them.
During the past few decades, both the generation and collection of data have been increasing tremendously, which lead to computerisation in various sectors such as business, research, entertainment and science. This exponential growth in stored data has generated an urgent need for new techniques and tools that can intelligently assist us in the management of data and information. Management Information Systems has become one of the most important aspects of our life and now it has a greater influence on our world than it has even been before. Organizations are increasingly relying on information systems to provide decision making in operational activities, management functions and for increased effectiveness in its various business areas.
Through my academic and professional experience, I have realised that, in order to further increase myself as an asset to the information industry, I need to pursue course work in Information Systems. Pursuing a course in MIS in Northern Illinois University will provide me a vibrant, creative, stimulating and challenging environment with a high degree of sophistication and matchless charm. Also, the quality of teaching, infrastructure, accommodation services, student support and career services are at their best as per international standards. It is therefore, just the right place that will equip me with unparalleled academic and professional skills and will enhance my personal growth as a Business Technologist.
Upon graduation from the University, I will seek a position as a Systems Analyst with leading organizations, working on complex projects and also interact with various clients to understand their business and provide a suitable solution. One of my long-term goals is to achieve the highest position in marketing and to complete the full circle of the professional life cycle. In this, I visualize myself to be making business generating decisions at an institution-wide level and drafting Corporate and Business Strategies, critical to the success of any organization. These decisions should reflect a successful commercial model and high integrity in my own company. Everything I learn, I would implement in the firm I set up. I assure you that I would keep up my diligence and good demeanour during the course. I hope you find my purpose definitive and fit into your image of a promising student. I look forward to prove myself.
Related Topics