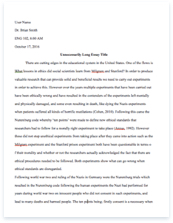 The whole doc is available only for registered users
A limited time offer! Get a custom sample essay written according to your requirements urgent 3h delivery guaranteed
Order Now
My interest and love for a career in science, research and engineering developed while growing up in New Tafo, a town in Ghana's eastern region best known for its Cocoa Research Institute, where my dad, a Civil Engineer, worked as the General Service Manager responsible for the development, construction and maintenance of the institute's physical facilities. My interest in science and technology further spiked by the many byproducts the scientist developed from the cocoa waste such as soap and fertilizer from the cocoa husk, and alcoholic beverages from the cocoa sweating. I also got naturally attracted and fascinated by snippets of the challenges and discipline of an engineering career through various visits to construction sites with my dad. Therefore, When I entered the Kwame Nkrumah University of Science and Technology, (KNUST), Ghana, to pursue a degree program in chemical engineering in 2009, it was only the first step towards my ultimate objective of earning a Ph.D. and beginning a career in engineering practice and research at the highest level possible.
I obtained my Bachelor of Science degree in Chemical Engineering at KNUST in 2013 where I gained good academic training, understood and appreciated published works, learned to balance joint and individual work, and subsequently developed a passion for research at a higher level. These were achieved through lab researches and plant design projects. Upon completion of my undergraduate degree in chemical engineering, I gained solid industrial and supervisory experiences through internships and work. I worked as a trainee engineer intern offshore at the Ghana National Petroleum Corporation (GNPC) where I gained substantial knowledge and experience in drilling and production operations as well as offshore safety and survival skills. I also worked as a supervisor in a construction company where I gained valuable skills in organization, supervision, bookkeeping, and teamwork.
I joined the New Mexico State University in fall 2015 to pursue a master's degree in Water Science and Management. (WSM) During my water science and management degree program, I worked as a research assistant at the New Mexico Water Resource Research Institute with Dr. Jeri Sullivan Graham (former senior scientist at Los Alamos National Lab, currently research professor at University of New Mexico) and others from January to June 2016 on the project "The Regulatory Framework Surrounding Produced Water In New Mexico And Impacts on Potential Use". The project involved investigation into the feasibility of the potential use of produced water from the oil industry for agricultural production in New Mexico. I was involved in an extensive review of literature and community outreach for the project. The findings of this research were published into the New Mexico Water Resource Research Institute Bulletin, and also forms the basis of the EPA/EMNRD MOU white paper announced on 11/09/2018. Again, I worked on the Bureau of Reclamation funded project "Halophyte Biochar for Water Desalination Brine Concentrate Management. For this project, I determined the quantity and composition of salts in Atriplex biomass grown on concentrate, and the quantity, composition, and leachability of salt in Atriplex-derived biochars. This project was also my thesis for the WSM masters program.
I am currently an industrial engineering graduate student at NMSU, working as a graduate research assistant under the supervision of Dr. Delia Valles-Rosales and Dr. Catherine Brewer of the Chemical and Materials Engineering Department, on the USDA Sun Grant funded project "Biochars from Pallet Woody Biomass Residues for Improved Poplar Production". For this project, I was involved in, a 2-year hybrid poplar growth study using excelsior residue derived biochar, evaluating and modelling of current and improved pallet production/waste management for Texas Pallets and Services (TP&S), production of pallets from hybrid poplar, Testing of Pallets and Alternative Pallet Designs for Hybrid Poplar Pallets for TP&S, testing of pallets and alternative pallet designs for hybrid poplar pallets, and data analysis. This project has afforded me the opportunity of acquiring and applying knowledge in methods engineering and facility layout engineering in the wood processing industry. This project will form the subject of my thesis for my master's degree in Industrial Engineering, which I will be defending in the 2019 spring semester. Over the span of my studies in my water science and management, and industrial engineering master's programs, I have presented my research in a number of national conferences as can be seen from my resume. Additionally, I am currently working on two research papers to be published in a peer-reviewed journal article.
Upon completion of my master's degree, I intend to continue my study of industrial engineering at the doctoral level. My primary interest in continuing my studies and research is in the area of sustainable manufacturing, particularly in material developments. I would like to work on composite materials of waste/recycled plastics employing manufacturing techniques such as injection molding and rapid prototyping. Another area in material developments I would also love to work on is the development of conductive polymers from waste/recycled plastics. I believe finding beneficial use of waste plastics will not only have environmental benefits but also economic ones too. I would like to work with Dr. Delia Rosales-Valles on since she has the technical and research know-how in sustainable manufacturing. Additionally, I would be interested in minor research on data science and machine learning, specifically, Big Data. A very small percentage of data from various manufacturing industries is ever analyzed. Analyzing these big data holds enormous benefits globally by assisting manufacturers in increasing operational efficiency, informing strategic direction, identifying and developing new products and service, and determining the precise number of units to be produced just to name a few. I would particularly like to focus on predictive analytics, which basically involves using historical data to make future predictions as a secondary research area for my Ph.D. Giving Dr. Talayeh Razzaghi's expertise in this area, I would love to work with her in this area.
It is my ultimate academic goal to obtain a Ph.D. Having already experienced NMSU's great academic and research training, combined with awesome professors, state-of-the-art labs and resources, I believe a Ph.D. from NMSU would better prepare and equip me with required skills for any postgraduate academic or corporate endeavors.
I thank you for your attention. 
Related Topics