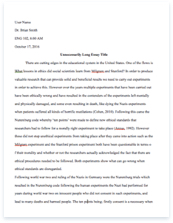 The whole doc is available only for registered users
A limited time offer! Get a custom sample essay written according to your requirements urgent 3h delivery guaranteed
Order Now
Overview of Stakeholder Analysis on City Harvest Church Financial Irregularities As listed in a table, potential stakeholders will be reviewed according to their interests in City Harvest Church. Issues like benefits of the project to the stakeholders or activities that might cause damage or conflict to the stakeholders will be included. Each stakeholder will be listed in one column. Individual stakeholder's interest will be reviewed on its importance to the success of the project. To ensure the project flows smoothly, considerations on things to get stakeholder support and reduce opposition will be reviewed. The kind of information needed, how important is it to involve the stakeholder in the planning process and identify groups that might oppose to the project.
Stakeholders Matrix
Identify uses for the Data
This analysis identifies various stakeholders on the case of criminal breach of trust in misusing and funneling funds from City Harvest Church to the Crossover Project. Prosecutors claimed that personnel from Xtron Productions and AMAC are involved in round tripping. Stakeholder Groups
Stakeholders Areas of Interests
Identifying the impact of stakeholders will allow them to open up discussions and seek for understanding and compromising on areas of conflicts or further motivate the project socially. Below are interests of various stakeholders.
Economically
CHC Working Group
Riding on the transactions to fund Ho Yeow Sun's pop music career, the people responsible for the project especially those in the main working group and Sun Ho will have a cut in the monetary success.
Risks: There could be monetary loss due to mismanagement of funds or no economical success in the project. If the transactions are made known to the public, they may be challenged legally on fraudulence.
Outside CHC Support Group
With support garnered to City Harvest Church working group, people in this category could enjoy preferable treatment on future business dealings with the church.
Risks: If fraudulence is proven for the church, personnel involved may lose other business dealings because of relation to church in bad name.
Crossover Project
Ho Yeow Sun's successful pop career will earn her fame and monetary success.
Risks: Reputation at stake if exposed pop career rides on fraudulence funds.
Church Congregation
There will be a cut in funds to help the less fortunate, needy and disabled. Church congregation will not be able to enjoy the new building facilities as promised by the church leadership.
Risks: No risks involved.
Social change and Mental Health
CHC Working Group
Ho Yeow Suns fame from her pop career will improve branding for the church. They would feel fulfilled with the monetary gains. Risks: If project fails, the church will not be in a good position to reach out to non-believers emotionally and financially.
Church Congregation
If Sun Ho music career succeeds, it will become an inspiration to the congregation. This will also further expand church's branding in reaching out to non-believers.
Risks: If the project is made known, that the church goers might be put off and mistrust or leave the church.
Strategies to Address Stakeholders' Demands
The strategy is to engage and cooperate with all stakeholders. Views of stakeholders are taken, organised and negotiated for decision-making. Continuous dialogue with the stakeholders should be conducted throughout the project. This creates accountability and acknowledgement from most parties.
As companies and societies are interdependent, it is vital to explore underlying interests of less related stakeholders outside the organization. Good intents should be taken when engaging all stakeholders and not corrupted by power differences and strategic motivations among stakeholders.
A strategic and systematic approach is taken to move stakeholders away from project based management interventions to a holistic, collaboration with stakeholders. This shifts companies away from organizational buffering and from reactive issues management to focus on opportunities.
Code of Business Conduct
Code of business conduct is a guide for reference to employees to support conduct in decision makings. It provides a frame to clarify the company's mission, reinforce values and acts as a tool to emphasize integrity, making right business decisions and resolve ethical issues.
A well thought out company code will communicate and cultivate employees to avoid conducts that damages the company's reputation. It will also encourage employees to act legally according to the law while putting the company's interests before personal interests when in an ethical dilemma.
In current times when companies fall easily to fraudulence, a responsible company could gain positive public image by implementing their code of business conduct. This will increase public confidence and trust among
stakeholders.
Although a code of conduct could not substitute local government policies and laws, it is meant to complement them so employees work towards relevant corporate standards.
Corporate Governance and Ethics Violation Prevention
Internal and External Auditing
To evaluate risk management effectiveness and policies compliance in a company, auditing is introduced as an independent, assurance and a consultative activity.
This includes periodic monitoring while assessing company data and processes it to uphold industrial standards and government policies. After the study, auditors will make recommendations to the company on improving procedures, security vulnerability and corrections according to company and government policies.
Monitoring Board
This is organized by the board of directors. They have the authority to appoint trustees to safeguard the company's assets and appoint operation management executives. They may review and provide advice to improve company performances.
Executive directors monitor operations, finance and marketing decisions. Non-executive directors will have on behalf of key stakeholders and can better monitor executive directors due to their independence from the company.
Check and Balances
A mechanism is developed such that individuals or departments will have overlapping authorities in a company. For example, a president and treasurer are two different people.
Report to Ethics & Compliance Office
Some company has a department to investigate fraudulence cases based on employees' reports. Parties who reported irregularities may remain anonymous while the department conducts an investigation. Any retaliation against reporting employees will be protected and they cannot be subjected to adverse employment actions like demotion or loss of benefits.
During investigations, the company will decide whether the company code or state law has been violated. A responsible corporation will then take corrective actions on individuals or on the situations.
Related Topics