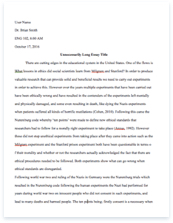 The whole doc is available only for registered users
A limited time offer! Get a custom sample essay written according to your requirements urgent 3h delivery guaranteed
Order Now
This chapter discusses the related works that this study has relied to in its development. Chapter 2 discusses how published studies and literatures contributed to the conceptual formulation of the study. Moreover, the foundation of this research with regards to its framework is also defined and described in this chapter.
Review of Related Literature
According to the book of John Ivancevich in his book entitled Human Resource Management 2007, he define Human Resource Management as a function performed in organizations that facilitates the most effective use of people to achieve organizational and individual goals. Also he said that we must understand clearly that to grow, prosper, and remain healthy, they must optimize the return on investment of all resources. Moreover, stated that Human Resource Management function today is concerned with much more than simple filling, housekeeping, and record keeping. When strategies are integrated within the organization, Human Resource Management plays a major role in clarifying the firm's human resources problems and develops solutions to them. Today it would be difficult to imagine any organization achieving and sustaining effectiveness without efficient Human Resource Management programs and activities.
This literature discussed the importance of Human Resource Management in a certain organization or company. It is related to this study since this study will be focusing on the Human Resource Department of National University. This literature also shows the effect of Human Resources in an organization.
It is often recognized that new technology is integral to a Human Resource Management strategy, both in its use in advocating a strategic approach to the use of labor and in the link between computerization and more flexible
production. New technology can enhance the goals of management: computerization and the use of numerically controlled machines have all tended to make individual jobs more self-contained, more skilled and more varied, reducing the need for supervision and increasing the degree of workers control over their own activities. (Reassessing Human Resource Management, Bliton et al., 1992)
This literature discussed the integration of modern technology with the functions and process of Human Resource Management. It also shows the effects of computerization of the process of the Human Resource Management. It is related in this study in a way that the proponents will also integrated the use of modern technology to the process of the Human Resource Management to optimize its functions.
Review of Related Studies
In the study of L. R. Decena in 2008 entitled Dynamic Expert Locator: An Application of Human Resource Information System at the University of Baguio. She stated that many organizations are finding a better way of executing Human Resource Management functions because efficient and effective management. One of the latest technologies that would answer this is the introduction of Human Resource Information System, it helps the organization achieve their goals, increase the level of employee performance, save cost through the improved efficiency and productivity of workers, and improve the ability to manage change.
This study is about the introducing an Information system to Human Resources. It says that it would be better to execute its function thru information system. It is related to the study since the proponents will also be using an Information System in the process of the Human Resource.Organizations today incorporate the use of technology in managing their human resources called Human Resource Information System. This aims of improving the quality of management with respect to planning, employee information access, and the employer regulatory compliance. This has become one of the most importance tools for many businesses.
The study also finds that manual preparation and updating of employees-related documents takes a lot of time which sometimes causes delays. Problems in the HR department are due to the most manual procedure use in the HR Department. Also in this study it is stated that due to manual evaluation of qualified approach it took a lot of time for the preparation of selection line-up and evaluation reports in the Human Resource Department, because of this a Human Resource Management Information System plan is needed to address said problems. A recruitment module that must generate a report interview test and appointment results must be create. (M. B. Maddul, Human Resource Management Information System Plan of Ifugao State College of Agriculture and Forestry, 2009)
In this study it also introduces the used of Information System in managing Humana Resource Department. This is also states that the problem arising in the HR Department is its manual processes especially in the recruitment process. Since the study that will be develop by the proponents focuses more on recruitment this study will be a great help in the development of this study.
The study about Local Area Network-Based Human Information System for PLT College Incorporated by A. A. Buyacco in 2003, stated that existing system of manual Human Resource Information system should be operationally modified through the computerization of processes in all the sub-unit offices. Networking provides fast coordination of computer generated data on Human Resource Information System and provides ease of record retrieval and report generation. Thru this it will be able to cope with the modern society's growing and demanding population of employees.
This study states that the computerization of Human Resources process like implementing LAN base system will be a big help in the employees specially in supporting a large number of employees. In the study of the proponents this just proves that the use of networking will be a help to the process of the HR Department especially in record retrieval that will be requested by different departments that the HR department serviced.
Human Resource processes depend heavily in spreadsheets and paper records. Resumes and employee files are maintained in hard copies, and the employee rosters and workers compensation information were tracked on spreadsheets. Employee's records are frequently lost, and data inaccuracy led to payroll going to the wrong departments and employees appearing in the wrong cost centers. Findings in this study shows that the manual and traditional way of processing in the Human Resource gave rise to the inconsistency and inaccuracy of information reported, slow processing and generation of the information, loss of needed data or information and lack of required Human Resources for the HR Department. In this related study, the proposed system provides for timely generation of reports and other needed information.
This will boost productivity of the HR Department in terms of the accomplishment of its functions. It is stated that is can save 90% of the time required to handle the same procedure using paper. It will typically boost productivity while improving customer service and providing far better internal controls. On this study it is recommended that workflow automation is the best solution to existing problems that were found herein and that it should be implemented to address the problems of low productivity, achieve a higher degree of working efficiently and improve its functionality in terms of assessing the skills of its workforce for better management. (G. R. Hufana, AMA La Union Corporate Human Resource Information System, 2004)
This study states that the manual process in the Human Resource Department will lead to various problems and that the solution for this is through implementing an information system that will lead to a more productive and efficient result.
In the Study of C. Zamora entitled Human Resource Information System of University of Luzon in 2010 states that Human Resources have come to play a very critical role in a business. New technologies are now being introduced on a regular basis in order to make a Human Resource department more effective and efficient. This enable much simpler yet more modernized system. It also offers that one of latest human resource is the introduction of Human Resource Information System; it is an integrated system is designed to help provide information used n HR decisions. It does not only simplify the decision making process, but also aid in complex negotiations that fall under the Human resource umbrella. The basic advantage is to computerized employee records and database and to maintain an up-to-date account of the decisions that have been made or that need to be made as part of human resource management plan.
This related study states that the way to resolve the problems that arise in the human resource department is through implementing an information system. On this study it focuses to help the human resource department on decision making task. This study is related to the proposed study of the proponents since it will include a Decision making module of function that will be applied on the recruitment process.
Synthesis
The proponents have found out through all this gathered literature and studies that the use of an Information System in the Human Resource Management field will be have a positive effect on their process and also on their work efficiency. It also defines the functions of Human Resource Department and its importance in an organization. The collected information will serve as a basis in pursuing this study and will provide additional ideas that will have a significant effect on the study. This will also serves as a guide in developing this study. The integration of modern technology will solve the prolonged period for ranking and identification of qualified employees for hiring, promotions and rewards; time-consuming retrieval and inappropriate storage of accounts; erroneous reports and incapability to generate timely reports about employee and department.
Conceptual Framework
INPUT PROCESS OUPUTFigure 1.0 is an IPO chart that shows the conceptual framework of the system. This shows the gathering of information. Data collection was done in the Human Resource Department of National University. The proponents conduct an interview to the personnel and staff of the Department. The proponents use PHP/ JAVA in creating the programs and the user interface while we use My SQL as the back end of the system. The use of broadband with load is to send notifications to applicants. The process that will be used is Rapid Application Development, which includes Requirement Planning Phase, User Design Phase, Construction Phase and Cutover Phase.
Definition of Terms
The following terms have been defined to aid in understanding the technical terms that was used in this study. Computerization – it is the process of converting an manual process to automated process through the use of modern technology. Computerized Election – it is the process of converting an manual process of election into automated through the use of modern technology.
Biometrics –
Local Area Network – refers to a computer network that connects computers and devices in a limited area such as home, school, computer laboratory or office building. In the study , it is use to facilitate an online examination for the applicants.
Visual Basic .Net –
MS Access –
Manual Procedures – refers to the process that is done without the aid of modern technology like computers. In this study it refers to the process of the Human Resource Department like, hiring, record keeping, manual evaluation, etc.
Organization – it is an entity or a business that have Human Resource department.
Recruitment – refers to the process of hiring or selecting applicant for a certain position.
SMS – refers to short communication transmitted by word from one person to another. In the study it will be used as a way of notifying applicants about their employment status.
———————–
Figure 1.0 Input-Process-Output (IPO) Chart
Evaluation of Project Acceptability
3-PT E-Recruit System: An Online Recruitment System with SMS and DSS Function
Requirements Planning Phase
• Planning
• Analysis
User Design Phase
Construction Phase
• Programming
• Coding
• Unit integration
• System Testing
Cutover Phase
• implementation
Information & Knowledge Requirements
• Research
• Observation
• Problems Encountered
• Interviews
• PHP/ JAVA codes
Software Requirements
• PHP/JAVA
• My SQL
Hardware Requirements
• PC Unit (at least processor Core 2 Duo)
• Broadband with load
People Requirements
• Human Resource Officers/ Employees
Related Topics