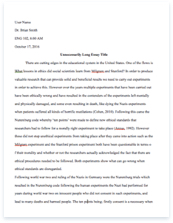 The whole doc is available only for registered users
A limited time offer! Get a custom sample essay written according to your requirements urgent 3h delivery guaranteed
Order Now
Assignment: Goods Spend Analysis in My Organization – Company N The objective of this essay is to describe components of a goods spend analysis in the organization that I am currently working for – Company N. It is composed of three major components: the steps I would use to conduct goods spend Analysis in Company N, the specific key triggers and how spend analysis would fit with the organizational procurement strategy. I will apply the appropriate concepts and tools from the Session 1 of this Module to analyze the components above and provide detailed explanations. I. The steps I would use to conduct a goods spend analysis for my organization In my organization I am not aware of a Spend Analysis Tool/Database set up to perform the spend analysis. Therefore, the entire process will require a lot of manual efforts; however, purchasing a tool is one of my recommendations in order to improve the business efficiency. Step 1: Identify the goal of spend analysis and communicate it to the team who will be conducting the analysis. The goal is primarily to capture accurate understanding on the spend and identify any cost-saving opportunities. Step 2: Collect data on spend.
Any data such as A/P data, invoice data, PO/Contract commitment data, expense data, can be relevant to Spend Analysis. Currently my organization is utilizing two tools for Accounting, Finance, Project Control and Supply Chain: Unifier and JD Edwards. Both tools have the feature of running reports to capture the cost/spend, given what was requested. At this stage the Finance/project accountants need to run a report from Unifier on all spend. JD Edwards analyst will create a report from JDE individually. At this time JDE is only utilized for Corporate Spend. Step 3: Sort the Data by commodity.
The data extracted from two different database needs to be manipulated or sorted out according to the categories. At this stage of our refinery project, I recommend to consider a "commodity" as a "category" of spending, such as Contracting, Procurement of Equipment, IT/IS, Office Services, Business Management Services, Labor services, Business Development, etc. Currently, there is no such tool established in Company N to perform this function. In addition, the two systems i.e. Unifier and JDE reporting don't interface. Therefore, the spend data needs to be consolidated and sorted out manually. Data fields will be determined, whether to be items, category, suppliers, and annual total spend, etc. Step 4: Normalize, calculate and analyze the data.
From the sorted data, the total spend by category can be calculated and exported with the help of Excel functions e.g. pivot table functions. A chart of top 10 or 20 commodities can be made by descending dollar amount. The biggest opportunities for cost savings may come from the highest level of spend, e.g. procurement or contracting as per my assumption at this point. If any category total shows unexpectedly high, then there is opportunity to look into it and reduce the cost. From the commodity sorts, the team can also find the number of suppliers by commodity. Perform a descending sort of number of suppliers by commodity. Meanwhile, make a chart of top 10 or 20 commodities by descending number of suppliers. If a category has a very high number of suppliers, then there is a need to see if the suppliers can be reduced or re-developed to first, second or third level of suppliers. Create a spreadsheet or chart to show the average spend per supplier by commodity. A low spend per supplier indicates that there are too many suppliers and the recommendation could be to increase the volume per supplier to seek discount while decrease the number of suppliers. For example, as far as I am aware of, our company's different office locations are using different vendors for paper supplies, paper shredding, coffee supply. This can be evaluated and vendors can get consolidated where it is appropriate. Step 5: Make reports of the spend data analysis and make recommendations to achieve cost saving. The analytical spend analysis needs to be put in a formal report and presented to senior management and/ or relevant department manager.
Ideally, the report should be developed into a generic format so all future reports follow the same capabilities. One important point is to make sure this report will be kept as a record for long-run reference perspective. Spend Analysis tools e.g. software/database are available in the market and it is highly recommended to purchase such tools to make reporting easier and to save manual labor cost. Recommendations on the areas for cost reduction will be proposed based on the findings of the spend analysis. Recommendations should be clear, concise, realistic, and achievable and should be communicated to people who need to be informed. II. The specific key triggers and why I choose them
The most critical trigger for Section 1 where the processes are elaborated is to identify cost-saving and cost-reduction opportunities to contribute to the company-wide Cost Saving Initiative and to improve the business efficiency of the organization. The reason I choose it is company N's Refinery Project is completely cost-driven. The budget for entire project was set to be $5.6 billion and almost 2 billion has been committed so far although we are still undergoing phase 1. It is extremely important for the entire organization to make full efforts to meet the cost target; otherwise, the project may be declared as a failure.
III. How spend analysis would fit with the organizational procurement strategy This spend analysis would definitely and absolutely fit with company N's procurement strategy. Our procurement strategy is set to achieve the maximum possible reduction in capital and operation costs. The key elements for procurement strategies include cost certainty, schedule, global sourcing, quality and fair business practices. The spend analysis will help the SCM department to establish a great understanding of the spend, to go beyond tactical purchasing and approach strategic sourcing. Spend Analysis will help procurement to contribute to the company's overall success. Identifying and achieving cost savings goes directly to the company's bottom-line, immediately increasing the possibility of the project success. Every company performs differently in Spend Analysis. I feel our company for the time being has some basic understanding of how much it costs to provide products or services so that we can price the deliverables correctly. But the value of spend analysis is being underestimated and the analysis is not being fully conducted yet. Very often the individuals responsible for procurement are assigned to specific commodities or business units, which creates split information silos. This creates problems, e.g. these silos lack relevant information across different commodities/categories and make the analysis difficult. Elevating an organization's spend intelligence certainly requires upfront investment of resources; however, it will be clearly the path forward to ensure our company's success.
Related Topics