SparkNotes: To Kill a Mockingbird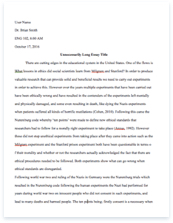 The whole doc is available only for registered users
A limited time offer! Get a custom sample essay written according to your requirements urgent 3h delivery guaranteed
Order Now
"Remember it's a sin to kill a mockingbird… Mockingbirds don't do one thing but make music for us to enjoy. They don't eat up people's gardens, don't nest in corncribs, they don't do one thing but sing their hearts out for us." Harper Lee, To Kill A Mockingbird.
Many of the characters in this novel show that they are the symbiotic embodiment of a mockingbird, but we are going to focus on literature's all time favorite character: Atticus Finch. In Harper Lee's novel, To Kill A Mockingbird, numerous readers many consider one of the main characters (Atticus Finch) to be a mockingbird because of his wise, courageous, and modest personality traits. Which makes him become more distinct than other characters.
Primarily, We still see Atticus show us that wise personality trait of his's when his daughter (Scout) does not want to go back to school as she has a distaste for her new teacher Miss Caroline. What he tells her so she can come to a understanding about her teacher's perspective is "You never really understand a person until you consider things from his point of view… until you climb into his skin and walk around in it." (Lee 39).
There's a common saying used in the everyday life "Put yourself in someone else's shoes.." This saying is commoningly used when people tell others who perhaps do not know where people are coming from or know their situation. As of in this situation Atticus telling Scout to put herself in Miss Caroline's shoes as she's the new teacher to the school and was taught a different education system and he wants her to take that to consideration. With this in mind readers see that Atticus has a wise personality trait.
Further on in the book, his oldest son Jem gets into trouble for destroying a mean old lady's (Mrs. Dubose) flowers. So his punishment was to read to her everyday but little did he know that a month later. Mrs. Dubose dies and Atticus tells his son that "I wanted you to see what real courage is, instead of getting the idea that courage is a man with a gun in his hand.
It's when you know you're licked before you begin anyway and you see it through no matter what. You rarely win, but sometimes you do." (Lee 149) earlier in the book readers see that his children start to see that Atticus has a courageous side when he shoots a rabid dog with a rifle but Atticus does not believe that's what it means to be courageous, as it means in his head that you have been "licked" meaning you have been beaten and/or defeated. But he still reckons that you still can try to win and/or succeed. With this also in consideration, readers see that Atticus has a courageous personality.
Last but not least of all, readers see that during this time Atticus is appointed a case where an African American man named Tom Robinson was wrongfully accused of sexually violating a white woman. But sadly even with all the evidence with also the discover that Tom Robinson was crippled; He was wrongly found guilty.
After the trial, the next day, Atticus gets a big surprise in the kitchen as he sees many different types foods from other Africans Americans for trying to defend Tom; which makes Atticus breakdown and cry but he regains and tells his housekeeper Calpurnia " Tell them I'm very grateful…
Tell them they must never do this again. Times are too hard…" During this 1930's (which this is the time where book takes place in) the Great Depression was going on where the economy crashed and inflation caused prices on any item went up which made getting food or even trying to buy food for your family was difficult to do. While Atticus did the lose the case, African American was still grateful that he tried to defend Tom.
With this gratitude they have for Atticus they gift him with food. And even though he appreciates it deeply but he knows that everyone is struggling during this time so he's humble about this situation and hopes they do not do something like this again. Lastly, readers see Atticus's modest personality trait be represented as he do not vaunt his gifts as he's meek about and hopes they don't do something like it again as everyone is struggling.
In the Final Analysis, According to Atticus, "…Mockingbirds don't do one thing but make music for us to enjoy…" Atticus Finch is confirmed to be a mockingbird because of his Big 3: Modest, Courageous, and Wise personality traits. What if he did not have these special traits? Would Atticus just be your old run of the mill lawyer? If do every feel like you don't fit or they's nothing special; just remember you are an mockingbird just like one of literature's all time best character Atticus Finch.
Related Topics