Southwest Airlines Company Financial Analysis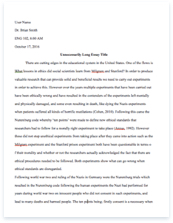 The whole doc is available only for registered users
Pages: 3
Word count: 646
Category: Airline
A limited time offer! Get a custom sample essay written according to your requirements urgent 3h delivery guaranteed
Order Now
Over the past five years, Southwest Airlines has showed to be growing at a steady pace, with the exception of the economic crisis in 2009. As you could perceive in 2008 the company's profit margin was 1.61%, in 2009 .96%, then in 2010 it when to a whopping 3.79%. Southwest Airlines continues to grow stronger year after year. Even with the economic crisis, Southwest continue to hire more and more employees. From 2008 Southwest had 35,499 employees. To 2011 it has 45,392 employees.
Current Marketing Situation:
Market Description
Southwest Airlines Company (NYSE: LUV) is headquartered in Dallas, Texas. The company began service in 1971. Southwest is unique in the airline industry in that its entire fleet is made up of Boeing 737s. Southwest Airlines reports increase in annual profits; this is the company's 40th consecutive year of profitability. Southwest Airlines has accomplished so greatly in the year of 2012 by being recognized with numerous awards and recognitions, most notably being named customer service champions by JD Powers, included in the 2012 customer service hall of fame by MSN Money, and named one of America's Top 500 companies by Barrons. Also the company has returned $422 million to Shareholders through repurchasing $400 million of common stock (approximately 46 million shares) and distributing $22 million in dividends. Southwest airlines is carefully designs it image as "the only LOW-FARE, easy to fly, getting its customers from point A to B faster." Southwest wants to customers to know how unique its service are that they are not following the traditional 1.0 airliner. Southwest offers no first class and business class seats; no food other than peanuts; no assigned seats; no transfers of luggage to other airlines. They have marketed their service as flying 2.0.
Product Review COPY AND PASTED! WARNING:
One of the product distribution strategies that Southwest Airline uses are different from custom to airlines, Southwest Airlines does not rely on travel agents to distribute their products. Travel bookings on Southwest Airlines are done primarily through direct marketing by phone and the Internet (Miller, 1999), without a middleman. Southwest also does not interline or offer joint fares with other airlines, nor does it have any commuter feeder relationships. Southwest employs a relatively simple fare structure, featuring low, unrestricted, unlimited, everyday coach fares as well as even lower fares available on a restricted basis. In January 1995, Southwest became the first major airline to introduce a Ticketless Travel option, eliminating the need to print and process a paper ticket altogether (Harrison, 1999). This innovation was born out of necessity after it was tossed out of three computer reservation systems (United, Continental and Delta's, as these airlines felt threatened by Southwest's competitiveness). This innovation allows customers to completely bypass the computer reservation systems of major airlines by obtaining a confirmation number and showing up for the flight (Freiberg and Freiberg, 1997). Customers loved the idea and the paperwork was reduced tremendously therefore, saving money. This practice is now pervasive in the industry, due to its cost savings ability. Currently, if a customer wants a printed ticket, there is usually a surcharge of $20; and if a passenger uses a travel agent, there is an additional $25 service fee.
References:
Abenes, F, B. Marketing Study Of SOUTHWEST AIRLINES.
Cite this as:
YouSigma. (2008). "Southwest Airlines Marketing Strategies." From
http://www.yousigma.com.
Competitive Review
Targeted Segment| Customer Needs| Corresponding Features/Benefits| Business man/women| One day trips| Having multiple flights thought-out the day| Price sensitive people| Lowest possible fare| Southwest nabs many people who driven before| Family oriented| Easy to fly| Friendly services|
Time sensitive people| In and out on a airplane| No assigned seating| As the southwest airlines continue their success. Many competitors try to follow and/or refine their product and practices to Southwest's strategies. However, fail in doing so. The top three competitor for Southwest are: JetBlue, Delta Airlines, and AMR Crop.
Related Topics